GORGEOUS is a photography book curated by photographer Rob Lebow and Creative Director Masha Kupets that seeks to explore the power of beauty, gender and their illusionary qualities through portraiture and personal interviews.
The series of portraits features prominent queer artists and performers with the goal of empowering artists and audiences alike by questioning mainstream definitions of gender and standard visual expectations with every photo.
Slated for release in the spring or summer of 2014, GORGEOUS is currently the subject of a Kickstarter campaign to help fund the project. The book's release is expected to coincide with a gallery exhibition in Los Angeles, Calif., that will celebrate GORGEOUS and introduce the book to the public for the first time. A portion of proceeds from the event will benefit LGBTQ youth organizations.
The Huffington Post caught up with Lebow and Kupets this week to discuss GORGEOUS, what the pair are attempting to accomplish with the photo series and the larger conversation that the pair wants to engage the audience in through these photos.
A slideshow of images from GORGEOUS is available below.
The Huffington Post: Tell us a bit about the project -- who is represented in these photos and what are they trying to accomplish?Lebow: GORGEOUS showcases timeless iconic fine art portraits and up close and personal interviews from some of today's hottest LGBTQ artists and performers, including Armen Ra, Candis Cayne, Jimmy James, Tammie Brown, Delta Work, Laganja Estranga, Ernie Omega and many others. Our goal for the book is to entertain, empower and hopefully challenge some societal gender norms by celebrating individuality and the outrageous beauties in our book.
Kupets: GORGEOUS will be a large format hardcover art book that explores gender norms, the power of beauty and their illusory qualities. The book will feature portraits of some of today's most visible LGBTQ artists, film and television stars, gender illusionists, musicians, Vegas headliners and celebrated drag performers. In collaboration with the artists, our team has personally curated each portrait from styling and makeup to art direction, with the intent to educate and empower. We plan to donate a portion of the proceeds from our gallery opening and book sales to select LGBTQ charitable organizations.
What is the inspiration behind this photo series?Lebow: Initially, GORGEOUS grew out our fascination with today's emerging "drag" culture and its prevailing influence on our society. Turn on your television: "RuPaul's Drag Race," "Drag U" -- or see live theater, "Kinky Boots" currently on Broadway, or "La Cage aux Follies." GORGEOUS channels these themes and brings you our unique interpretation. It also brings a powerful social message that celebrates individuality and supports the community.
Kupets: Much of my personal inspiration has come from the iconic images I experience in popular culture. And just like the subjects in this book, we too are inspired to become more and to create beautiful images. Our process is influenced by everything from glamorous Hollywood black and white photography, film noir, rock iconography and the editorial fashion world. We pay tribute to greats like Diana Vreeland, Helmut Newton, Richard Avedon and others. By channeling some of these visual themes we came up with a style that is uniquely our own.
What are some of the major theme within this book -- what is being explored?Lebow: Glamour, Glamour, Glamour. We have personally curated each portrait as a celebration of individuality and to challenge gender norms in the most beautiful way possible. GORGEOUS is our exploration of the power and true beauty that comes when one becomes fully self-realized, and I believe we have captured that.
Kupets: We chose very specific lighting, framing, color scheme, styling and retouching to create something unique and special. We portray these subjects in a curatorial context that showcases natural beauty mixed with iconic glamour. In so doing, I want the book to challenge mainstream definitions of gender by encouraging the viewer to express their own persona, despite the visual expectations of mainstream culture. There's more to each portrait than meets the eye and our cast interviews tell personal stories of journey and identity. What they all have in common is a passion to create and transform their everyday selves into something extraordinary…. Something GORGEOUS.
What do you hope viewers take away from these photos?Lebow: Our goal with GORGEOUS is to empower and inspire our viewers, in particular our LGBTQ youth who may be questioning their own gender issues. I believe featuring strong successful LGBTQ role models in a book like ours says, "Let's break the gender lines -- we're proud, successful and GORGEOUS dammit!" The message our photographs and interviews share is that by living our own truth and loving who we are, all things are possible.
Kupets: Our book offers a unique perspective into the transformative world of some of today's hottest LGBTQ artists and performers. The project is designed to educate and empower viewers, and shine the brightest light possible on an amazing cast of outstanding role models and leaders in the community. Pick your favorite, read their story and be inspired! They're icons and they're gorgeous.
For more information on GORGEOUS, visit the project's Kickstarter, Facebook or Twitter. Also, be sure to check out a slideshow of images from the photo series below.
Before You Go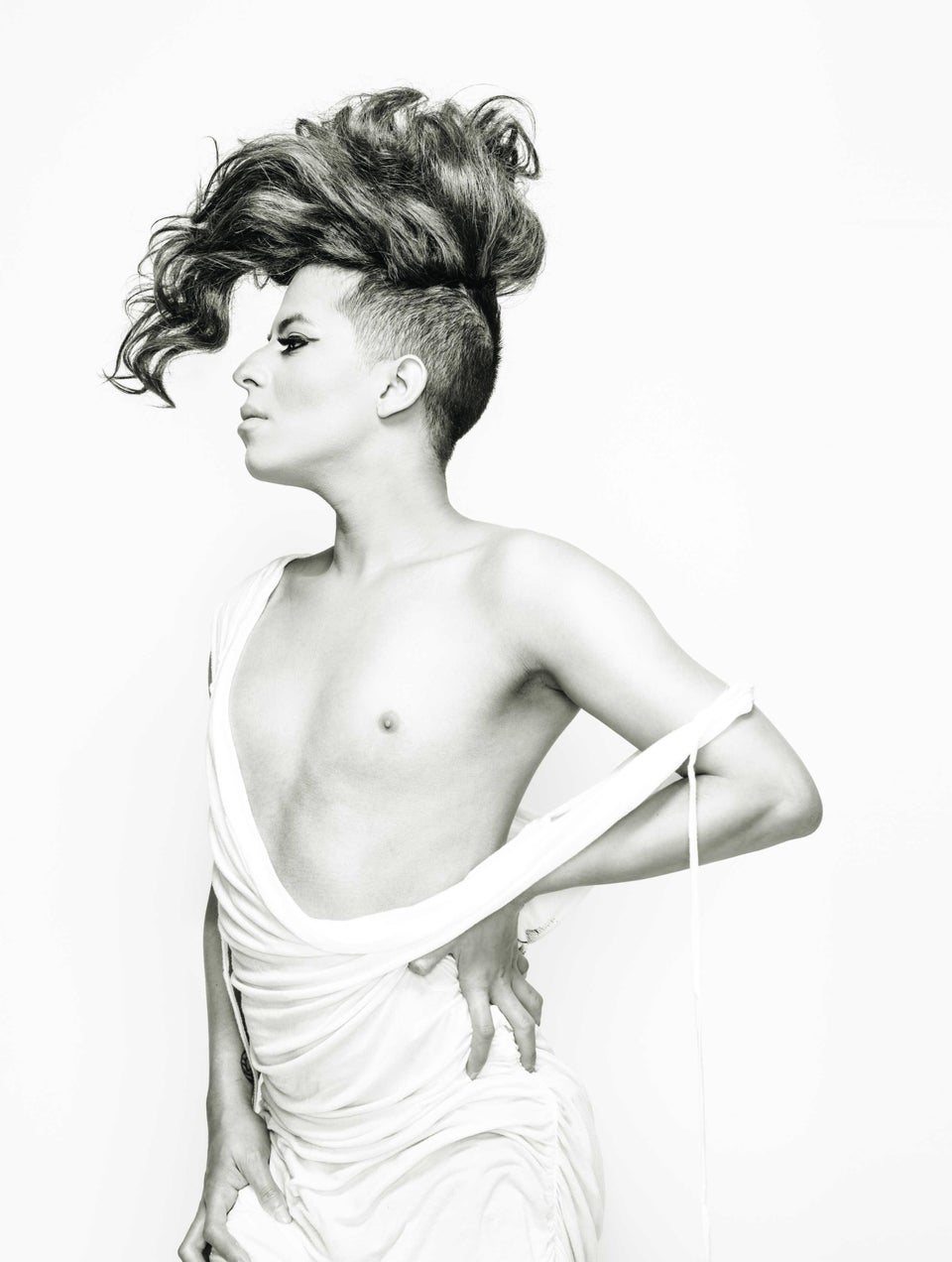 THE GORGEOUS PROJECT
Popular in the Community