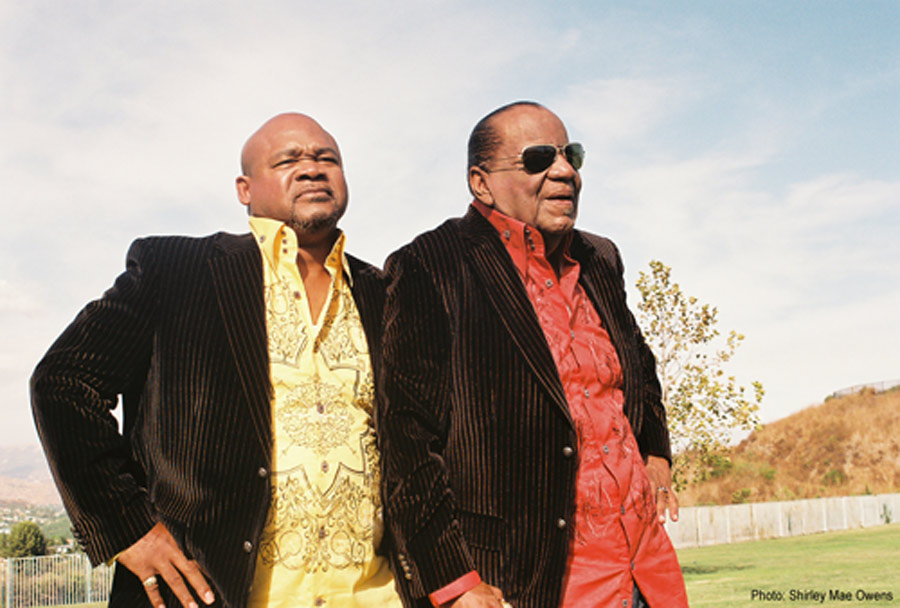 At last month's Grammy Awards, amid Katy Perry popping out of a banana, the "Rap Pack" hip-hop summit, and Taylor Swift & Miley Cyrus lamenting their teenage angst, a group of blind gospel singers in matching white suits quietly received two awards.
The Blind Boys of Alabama were honored with a Lifetime Achievement Award, and they won for "Best Traditional Gospel Album." The legendary gospel group, which was formed at the Alabama Institute for the Negro Blind in 1933, has released more than 60 albums. The Blind Boys set the standard for gospel vocal groups. They are also required listening for any self-respecting music lover, because it's gospel that begat R&B, and R&B that begat rock 'n' roll, and rock 'n' roll that begat hip-hop. All musical rivers flow from gospel music. And the Blind Boys of Alabama are the source of much of that water.
Clarence Fountain is a founding member of the Blind Boys of Alabama. He has spent his entire life in the service of singing for a higher power (asked his age, Fountain replies, "Whatever").
At age 55 Sam Butler is one of Clarence Fountain's many students. But unlike Mr. Fountain, Butler has ventured into rock 'n' roll waters. He has sung with such strayed flock members as Keith Richards, Joe Cocker, and Donald Fagen (when's the last time Keith Richards even drove by a church?). However, after "getting beat up on the other side," Butler returned to his gospel roots and to his mentor.
Together, they have released a new album, "Stepping Up and Stepping Out" (on soul legend Solomon Burke's The One label). In a world full of songs and albums that exist solely to persuade a listener to buy, "Stepping Up and Stepping Out" is music for a higher purpose. The songs on this album exist to remind us that we are alive, we are bound together, and we are strongest when we give thanks. It's music for the soul. Which is what the best music always is.
These two friends who are over a generation apart answered 10 questions for me.
How did you meet?
Clarence: I knew Sam since he was four years old. I raised him [laughs]. I taught him what he knows.
Clarence, how did it feel getting that Lifetime Achievement Award with the Blind Boys?
After being on the road as long as we have, it's an honor just to make it. I think we earned it for serving the Lord. You know, we've always tried to make people feel something they never felt before. I guess this proves we've done all right.
What is some of the first music you remember hearing as kids?
We heard gospel all our lives: The Golden Gate Quartet, Sam Cooke, Archie Brownley, Rev. Claude Jeter [singer with the Swan Silvertones].
How is gospel music different from secular? The album seems to walk the line between the two.
Clarence: You need to crossover. Let people know you can sing a song.
Sam: We need to find a way to attract an audience. It's a different world now. You can't pray in school. We've got rights we never had before. Some are good, some not.
Donald Fagen plays a song on this album. How did that come about?
Sam: In '83 I was asked to put together the "Gospel at Colonus" (which was the catalyst for the Blind Boys to crossover to the masses) at the Brooklyn Academy of Music. I brought in the Blind Boys and the Soul Stirrers. Donald came to a show and loved it. We stayed in touch and are constantly working together. He's a real student of gospel music: he plays melodica on the album. It was a real thrill, since he really doesn't play outside of Steely Dan.
You both have done lots of session work for secular artists. How do you approach a session with someone like Peter Gabriel, who comes from a different musical world than you?
Clarence: I make them come on my side [laughs].
Sam: I used to sing secular, so I know that world a bit. But I had to come back home. For me, no matter what, I have to be on my heart. I have a heart to serve God. That's where I'm going to remain no matter who I'm singing with.
How has the music business changed for you both?
Clarence: I wasn't making no money, then I got lucky and started making some money. Once you make that jump, you know you can make it.
Sam: It can never go back to how it used to be. All of these computers and downloading is wonderful, but it's putting a lot of people out business.
What inspires you after all this time in music?
Clarence: To look back and see where God has brought me. That and the search for the final reward.
Sam: My faith keeps me inspired to be a servant.
Who would you like to record with?
Sam: Stevie Wonder. Jose Feliciano. We want to work with everybody that has a message. We're after reaching young people. If we don't get them, we'll lose them and ourselves.
Clarence: Anybody that makes a dime.
What gets better with age?
Clarence: Time. I live what I sing about. Time moves on and has way of moving yet standing still.
Sam: Age, not wine, plus, our work. We're better at being a living example.
Drop by GetBack.com for your daily dose of pop culture pleasure.
Popular in the Community