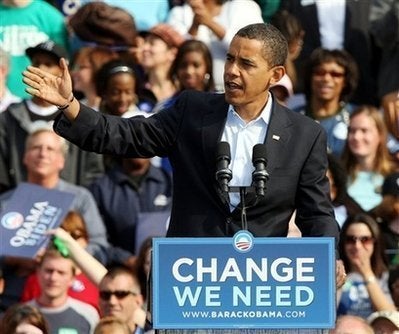 The old adage goes, "A picture is worth a thousand words," and for the 2008 presidential election the phrase could not ring truer. Images spanning the globe have frozen in time the immense joy and pride that many have felt at seeing Barack Obama become our nation's first African-American President-elect - and regardless of one's political affinity, no one can deny the tremendous historical nature of this election.
Indeed, from neighborhoods across America to the global community, people are energized by the possibilities which a new administration might offer. On the heels of an election that was often touted for its historic significance for women - a constituency that voted 56% in his favor on November 4th- the Obama administration would be wise to build on that momentum by addressing the struggling status for women in the U.S.
Despite the rise of women as political contenders and voters in the 2008 election season, the U.S. is woefully behind other nations in terms of parity in representation. Over the last decade, the United States has fallen from 47th in the world in women's political representation to 71st - behind such stalwarts of democracy as Iraq (33rd), Sudan (65th) and the Democratic People's Republic of Korea (57th). Only weeks ago, Rwanda made global history when it became the first nation electing women to outnumber men in parliament.
Yet for all the advances that women are making on the global front, women's political participation here in the U.S. is lagging far behind the times.
Even in this election, where more women ran for congress than ever before in a presidential year, the net gain for women candidates was a mere four seats - one in the Senate and three in the House. We raised the percentage of women in Congress from a meager 16% to an equally paltry 17%, assuring that the U.S. would continue to lag woefully behind other countries in the numbers of women in national political leadership.
Historically, women have been the "government in exile" - leading at the foot of the table as a marginalized constituency. Yet to address the myriad of issues which confront women - from poverty and domestic violence to healthcare and work-life balance - women must be represented in the upper echelons of government where such issues are tackled and policy is enacted. Instead of addressing these issues in an inefficient and piecemeal fashion, a Presidential Commission on Women and Democracy would present the new administration with a vehicle to enact permanent and systemic change: by finding ways to have a more women at the tables of power at all levels, and fostering a truly representative democracy.
A diverse and critical mass of women in leadership - not to replace men, but to lead alongside them - would allow both genders to contribute new ways of dealing with the most difficult challenges our country has faced in this century. Programs such as The White House Project's Vote, Run, Lead have been critical to getting more women to enter the political pipeline, by equipping them with the inspiration, information, and necessary tools to run for elected office and win. Yet academic researchers have demonstrated that achieving a critical mass of women in politics requires an equal effort from governments - which is why The White House Project is spearheading the effort to urge the next administration to create this Commission.
The Presidential Commission on Women and Democracy would utilize leading academic and experiential methodologies to reverse our nation's dismal lag in gender parity. Members of the commission would be carefully appointed from a variety of sectors to bring a full range of nonpartisan domestic and international approaches, setting achievable goals by way of practical methods. Possible strategies might include: priority voting and other democracy reforms which result in wins by outsider candidates; guaranteed campaign loan funds; civil society curriculum in schools; increased training for women candidates; increased support from central party leadership for women candidates; and popular culture initiatives.
With the unprecedented popular momentum towards bipartisanship, civic engagement, and deep-seated political change, now is the time to move women from the "government in exile" to the "government in power." The prospect of an Obama administration which is open and appreciative of this effort is high; now is the time to capitalize on the opportunity. In a campaign whose rallying cry was "change", shifting the status of women in this country by bringing them fully to the tables of power would be a great place to start.
REAL LIFE. REAL NEWS. REAL VOICES.
Help us tell more of the stories that matter from voices that too often remain unheard.