Boulder, CO – Chants of "When Grad Ed is Under Attack, What Do We Do? Fight Back!" echoed this morning throughout the main courtyard at the University of Colorado Boulder (CU). Approximately 150 CU graduate students, faculty, and school administrators gathered in protest of the House GOP's proposed tax bill that includes a provision to eliminate the long-standing tax exemption for graduate student tuition waivers.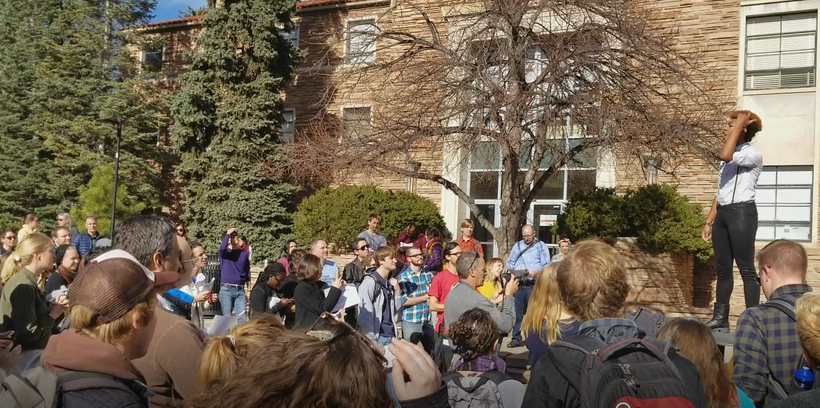 The CU rally was one of more than 55 protests and walkouts staged by graduate students today across the country. This day of action was co-organized by two grassroots student groups—Grad Tax Walkout on the West Coast and Save Grad Ed in the Mid-West—that recently emerged out of the growing frustrations among graduate students nationwide.
"Without graduate students as a workforce on campus, higher education as we know it will cease to exist," said Jax Gonzalez, a PhD student in Sociology at CU who attended today's rally. "We teach the majority of introductory coursework at all research universities in the U.S. so without us disciplines like the humanities, social sciences, and the arts cannot function. This proposed bill represents the political agenda of the right—to dismantle liberal arts education and critical thinking."
Noah Charles, a fourth-year Physics PhD student at The Ohio State University (OSU), formed Save Grad Ed after hearing about the proposed tax bill provisions earlier this month. He and his peers at OSU called an emergency meeting to organize fellow graduate students on campus, which quickly spread to a national scale.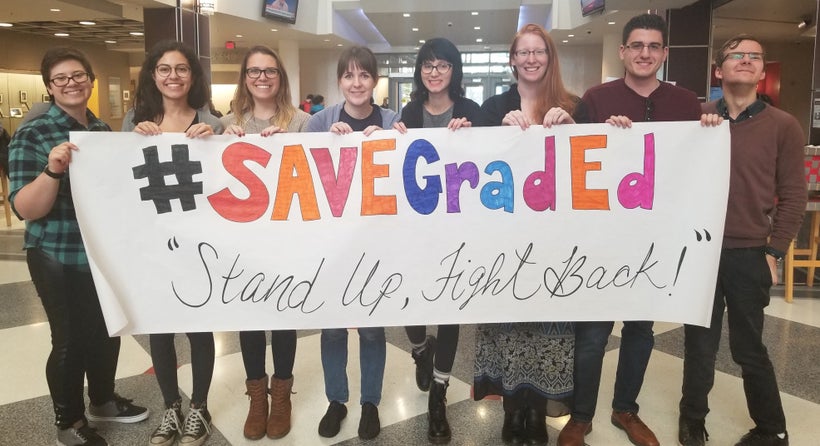 "We expect this to become the lynchpin of efforts to resist provisions that affect graduate students and higher education more broadly," said Charles. He remains hopeful that the growing social media campaigns #SaveGradEd and #GradTaxWalkout coupled with today's demonstrations will influence the Senate to keep the tuition provision out of the final tax bill.
As a second-year PhD student at CU, I find all of this very concerning. I serve as a teaching assistant for a 400-student lecture course, which includes weekly recitation sessions that I and three other graduate students teach. I earn less than half of what the average person my age earns in the U.S., and one-third what the average person in Boulder, Colorado earns. I can confidently say that I am not in graduate school for the money.
Thus, it does not take a PhD student to figure out that the proposed House bill is not financially motivated. Cutting taxes for corporations and increasing taxes for graduate students completely contradicts Economics 101. So why is the GOP targeting graduate students? What would it have to gain from hindering access to higher education and limiting the production of knowledge at the university level?
This question—my fellow graduate students, intellectuals, lovers of knowledge, or simply anyone who values education—is perhaps the most troubling of all. The proposed financial barriers to higher education will disproportionately affect students who are not independently wealthy, thus further reinforcing existing inequalities within our society and siloing the production of knowledge.
During this time in our country when knowledge and facts are continuously misappropriated and misconstrued, we should be advocating for more intellectually diverse and dissenting voices—not less. Fostering critical thinking among young, curious minds is quite possibly the most serious threat to the current administration and the GOP's right-wing agenda.
As Nelson Mandela found, "Education is the most powerful weapon which you can use to change the world." And for many of us graduate students, that is exactly what we intend to do.
Join us in our rallying cry for higher education. #SaveGradEd #GradTaxWalkout
Calling all HuffPost superfans!
Sign up for membership to become a founding member and help shape HuffPost's next chapter
This post was published on the now-closed HuffPost Contributor platform. Contributors control their own work and posted freely to our site. If you need to flag this entry as abusive,
send us an email
.