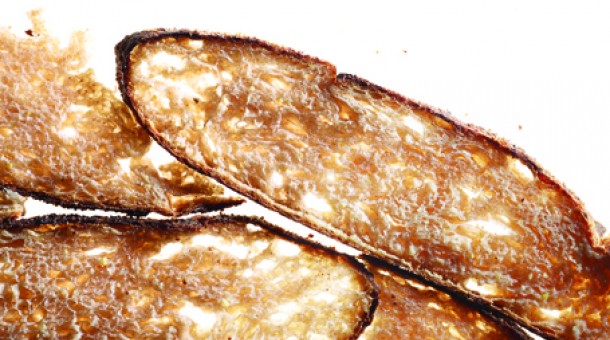 "And that day--three years ago--was the last time that I used white flour."
In a deeply beige conference room at the Hyatt Regency San Francisco, baker Craig Ponsford, founder of Artisan Bakers in Sonoma, pauses dramatically to survey the remarkably rapt group before him. His audience is members of the International Association of Culinary Professionals (IACP) attending a panel discussion called "The Revolution in Local Grains," and he's talking about the ingredients he uses at his two-year-old San Rafael bakery, Ponsford's Place. But he could just as well be testifying at an AA meeting, so passionate is his fervor for a new, but actually very old, flour-processing technique. "Now I get energy from what I'm baking, instead of a sugar rush and crash," he continues, sounding for all the world like he's talking about that other addictive white powder.
The attendees bite into buttery, toasty-tasting shortbread cookies from Ponsford's homey smidge of a bakery, which has become cultish because it's open only on Fridays and Saturdays. The room vibrates with a collective mmmmm. From the back, Corby Kummer, the famous food writer for the Atlantic, shouts out, "How much white flour is in this?" Ponsford proudly proclaims it white-flour free. "No way!" exclaims Kummer incredulously, as if he's just tasted a miracle. And in some ways, maybe he has.
But before we get to that, let's first say that this is not another fear-mongering story about wheat. To assume otherwise would be understandable, given that we're living in a time when the word "gluten" makes parents cover their children's ears, and the bread aisle--still smarting from the Zone and Atkins diets of yore--is avoided like the plague. Self-diagnosed, self-sacrificing gluten-intolerants are everywhere: It's estimated that nearly one in three Americans is currently trying to eliminate or reduce dietary gluten. They gallantly order their burger with lettuce instead of a bun. They profess their love for quinoa tagliatelle. The pizza delivery guy? Persona non grata.
The public outcry against gluten has been heard loud and clear by the food industry. For eating in, there are about 1,000 gluten-free cookbooks available on Amazon, including the charmingly titled new release Gluten Is My Bitch. And chefs--even the high priests and priestesses of the Bay Area's culinary world--have become sensitive to (or at least opportunistic about) diners' demands. Thomas Keller has attached his name to a gluten-free flour called Cup4Cup; Delfina offers gluten-free pasta; pastry chef Elisabeth Prueitt of Tartine Bakery is launching a gluten-free blog; and Josey Baker of the Mill will soon be offering a gluten-free bread.
Suffice it to say that the G-word is definitely the elephant in this particular Hyatt conference room. But actually, gluten is not the topic of the panel in which Ponsford is participating. In fact, the baker has a hunch that it's not gluten that causes the cramps, the rashes, the momentary desire to kick one's cat, and all the other maladies--psychosomatic or not--that have become identified as gluten sensitivities. Rather, Ponsford thinks that people are reacting negatively to the how, not the what, of modern wheat flour...

Read more at sanfranmag.com
REAL LIFE. REAL NEWS. REAL VOICES.
Help us tell more of the stories that matter from voices that too often remain unheard.