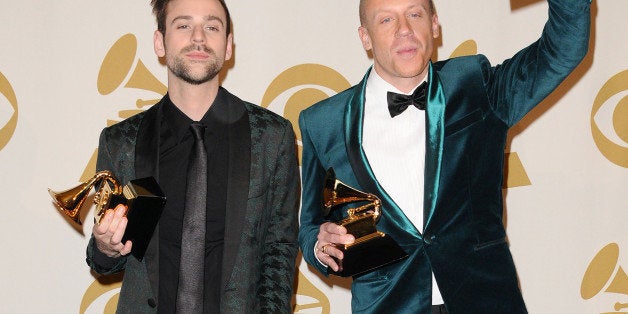 This past weekend at the 56th annual Grammys, during a performance of "Same Love," the critically acclaimed marriage equality anthem written by Grammy winning rap artist Macklemore, a historic moment took place. Thirty-three couples, gay and straight, married in a ceremony officiated by Queen Latifah. Even before the event took place it was under fire.
Conservatives deemed the mass marriage a direct "attack on Christianity," and some gay people were less than impressed that a white, cis, straight man was nominated for awards for a song on a queer struggle. The queer community is currently split between those who welcome Macklemore's efforts, those who are angry, and those who really don't care. It has really has come down to questions that have been in the back burner of this conversation for a while now: What is an ally, what is their role and what should our response be when allies make mistakes while defending the queer community? For the queer community, it becomes a battle of: Can we critique our allies, and who decides the standards?
Some queer people are happy that Macklemore is even discussing marriage equality in the mainstream media, while others are critiquing how he has done it. Others question his motives. Gay N.Y.C. nightlife promoter Justin Luke took to his Facebook in support of Macklemore:
The mainstream music industry didn't 'take advantage of us,' they just threw their support behind us, featured our love as worthy of prime time, risked a TON of bad press and complaints and boycotts from haters and right wing fanatics, and made history all at once. Allow me to thank the music industry for doing what they did tonight. I appreciate your bold move more than I could ever possibly say.
I agree, it was a bold move, and the bad press is here. People on all sides of this argument are contributing their opinions, and I have to say that the performance brought tears to my eyes. It definitely was a historic moment, and the fact it happened on primetime television truly does show the change that is taking place culturally. I commend Macklemore, the Grammys and every producer that stuck their neck out to be on the right side of history. But can we be grateful for what is taking place without settling for less than equality?
As a queer man, I don't discount Macklemore or the song "Same Love." I have seen how it has helped to create a paradigm shift in people's word view. It even helped this pastor come out as loving. However, I discount the systematic injustice that leads to the mainstream media feeling more comfortable hearing my story through the mouth of a white cis straight man, instead of my own.
Stories are the foundation for change. It's what personalizes topics we talk about in hypothetical ways. It puts human faces behind the topics we argue relentlessly on Facebook. In every bout for equality, it is the stories that have shifted the paradigm, and it's our stories that connect us as humans.
I am a huge supporter of allies; probably more than a lot of queer folk I've met. I'm completely aware of the privilege-ridden, patriarchal world we live in and that there are venues and people that will listen to the voices of straight, white, cisgender allies before they'll even consider listening to my story. It's a sad truth, but that's the reality we live in. It's because of the work of allies like Macklemore that, in the future, voices like mine will get to see the light of day. But hasn't a venue like Hollywood proven that it can host LGBT voices? Why must we still applaud white straight cis individuals, and I repeat this because privilege does have a part in this, for telling stories LGBT folk can and have been telling for decades?
The inclusion of Mary Lambert was imperative, if not a strategic move, for this song to have the success it does. Aside from her awesome vocal talents, having a queer voice involved in a marriage equality song lends to its credibility. And while this is a good start, we shouldn't succumb to the idea that queer voices should only be included on queer songs as a sideline feature. I want us to be the main event. Queer voices shouldn't be settling for the back-up vocals, echoing the words of the straight person taking center stage -- it's the queer voices that should have the spotlight.
Colleague and Harvard Law student Shane Hunt said this about advocacy:
"Well-intentioned advocacy can and has in some instances silenced the advocacy of those who can, desire to, or need to speak for themselves."
The fact this topic (I hate to say issue because we LGBT folk are not an issue) is out there in mainstream media is incredible. I applaud for these things for even happening but to say it's enough would be a further injustice to the community. As one internet commentator says "As long as the voices of straight, cisgender supporters get more attention than the voices of queer people, we are not equal."
As allies of any marginalized community, it's our job to raise the voices up from those communities, not to take their place. There are spaces that straight cis folk will be heard over queer voices. I recognize that. Hollywood and the entertainment industry as a whole shouldn't be one of those places as they have had, although minimal, queer voices in the past.
Allies are not hurting us. They are fucking necessary. No no no..I see what you mean you want more queer people in the front lines because that's how it should be. But here is the problem with that entire argument -- we don't live in the future. We can't live there. The future doesn't exist.
What Arielle seems to miss here is that if it weren't for queer folk settling with our present, we wouldn't have the rights and platforms for a queer woman herself to even speak on these subjects publicly. She's right. Being a minority group we are in desperate need of allies. If we want rights, straight allies will be the ones we get them from but only because they were the ones to take them away in the first place. The court that gave us Lawrence and Windsor had a grand total of zero out LGBTQ individuals. The legislatures that are passing gay marriage are mostly straight. But however admirable their support and advocacy is, it does not mean the media should prioritize their voices over our queer ones.
For every Macklemore, there is a Mary Lambert. I want to live in the present where her voice is valued as much as Macklemore's. I don't want to settle for what we're given. I want to honor the queers, drag queens and trans folk at Stonewall who didn't just sit and accept what they were given, but fought to make their voices heard, and their existence valued.
Calling all HuffPost superfans!
Sign up for membership to become a founding member and help shape HuffPost's next chapter