As a self-proclaimed foodie, I have attended many walk-around grand tastings in the years past, including the Thrillist's Fest of the Best, D'Artagnan's Duckathlon, and Saveur's Summer BBQ. However, both the scale and the variety of food and drinks at these "grand" tastings paled in comparison to what I experienced this past Saturday, March 13, at the Village Voice's 8th Annual Choice Eats Tasting Event.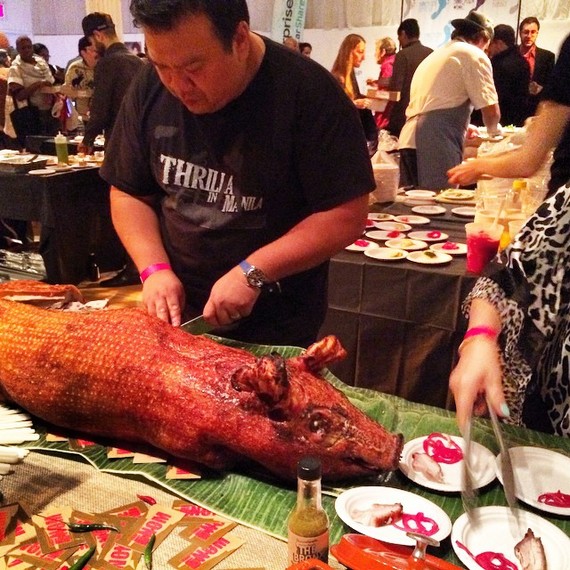 The packed crowd at this sold out event sampled some of the best dishes from nearly 70 restaurants from all five New York City boroughs. As I perused through two levels of Metropolitan Pavilion with my paper tray full of food, I enjoyed savory entrees like melt-in-your-mouth grilled beef tongue and chewy, handmade potato pierogies, sweet treats like peanut butter banana pudding pie and rich, creamy ricotta cheese cannoli, as well as complimentary craft beer, wine, and liquor.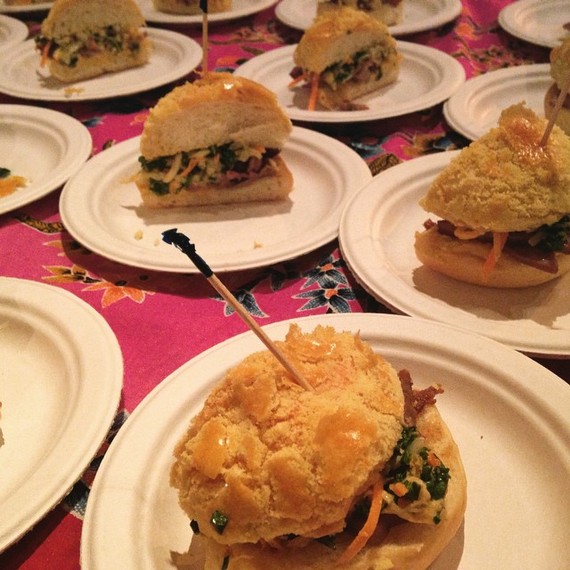 As though the variety of food wasn't enough to entice my taste buds, the event also highlighted the eclectic and diverse cuisines of New York City, including Vietnamese, Italian, Brazilian, Cambodian, Russian, and Greek.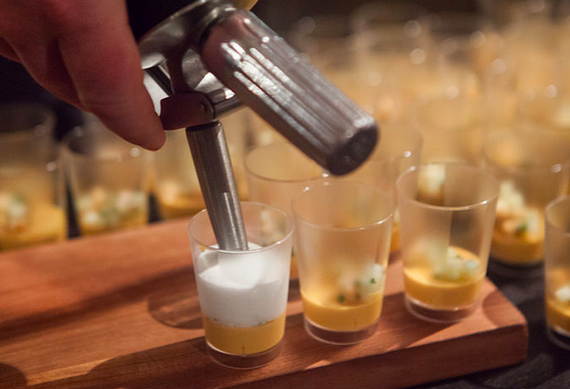 Of all the delicious food I sampled, I want to spotlight some of my favorites from the event for each category. The most innovative from the savory side was the Sea Urchin Panna Cotta from the NoMad. Served in a plastic shot glass, the sea urchin panna cotta was topped with cubes of Granny Smith apples and chives. The chef squirted a generous amount of foam on top before serving the food. The dish was not only presented beautifully, but had many complex flavors from the fruit and the seafood, as well as crispy, foamy, and spongy textures that all balanced perfectly well together.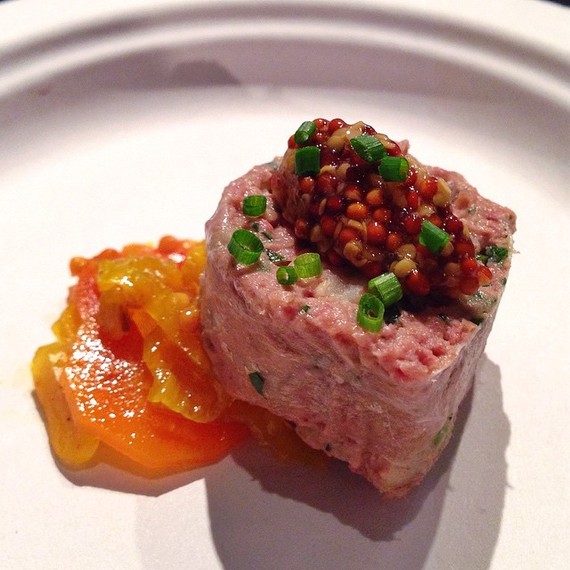 Tied for my favorite savory dishes were Duck and Farro Boudin from King Bee and the Jalapeno Corn Cake with Smoked Pulled Pork from Mable's Smokehouse. First, the bite-sized Duck and Farro Boudin, or sausage, from King Bee, was so juicy and tender that I mistook it for smooth mousse or pate. The boudin was topped with generous amount of mustard seeds and scallions.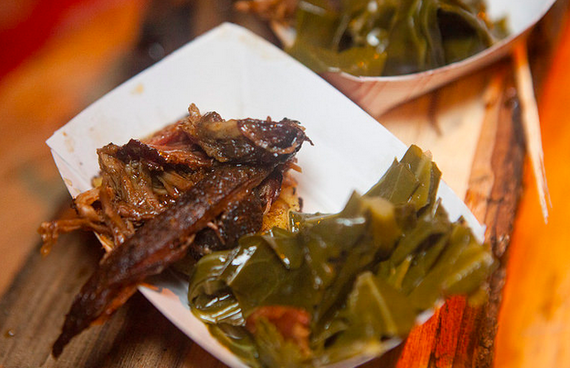 Second, the dish from Mable's Smokehouse featured round, pan-fried jalapeno corn cake topped with BBQ pulled pork and a drizzle of maple bourbon with a side of collard greens. While the pulled pork was a bit dry, I loved the sweet addition of the maple drizzle. The jalapeno in the corn cake wasn't overpowering.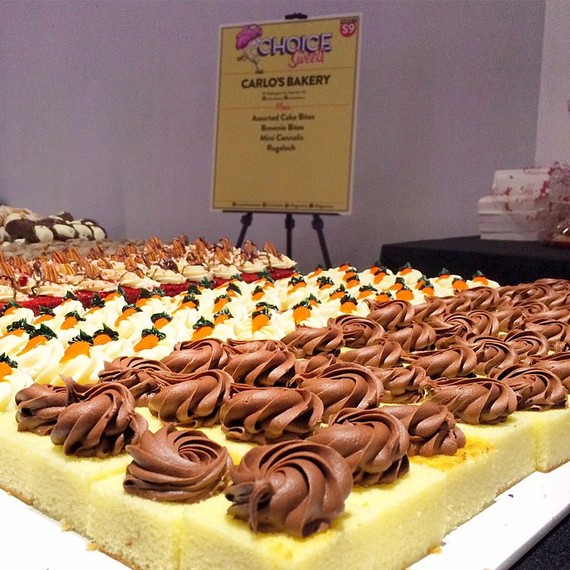 All the desserts were located on the second floor of the venue, perhaps to encourage guests to burn off some calories before diving into the sweet heaven. The dessert selection ranged from ice cream to cupcakes to doughnuts, and also featured assorted cake bites and cannoli from the famous Carlo's Bakery from TLC's Cake Boss.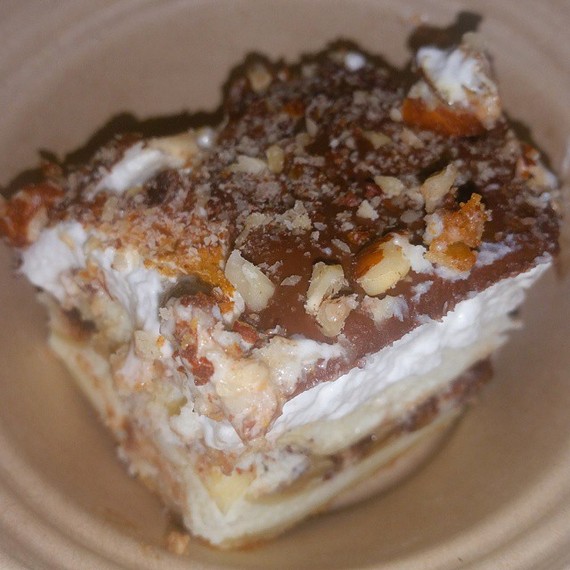 I was really excited to see Robicelli's Nutelasagna, which has been heralded as the new Cronut of New York City. A play on the words "Nutella" and "Lasagna," this dessert had layers of buttery lasagna noodles with cannoli custard, toasted homemade mashmallow, nutella ganache, and all topped with roasted hazelnuts. Personally, the Nutelasagna was a bit too heavy for my liking. One bite was enough!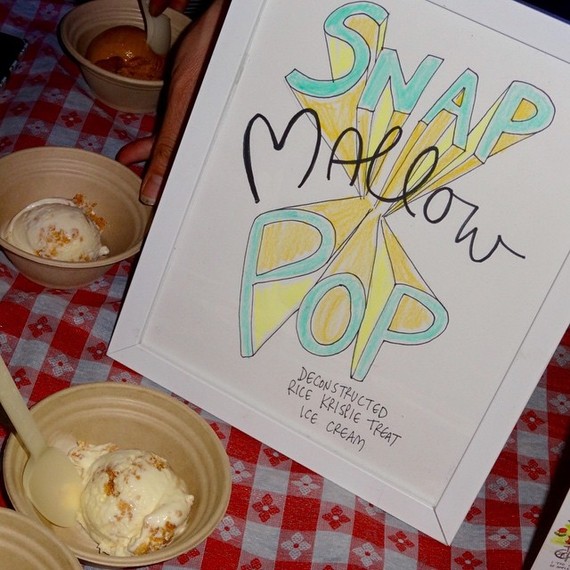 I couldn't stop myself from getting second and third scoops of the Snap, Mallow, Pop ice cream from Ample Hills Creamery. A twist on the traditional Rice Krispie treat, the Snap, Mallow, Pop is made with sweet marshmallow ice cream with buttery, toasted Rice Krispie clusters. Each scoop of the smooth ice cream had plenty of crunchiness from the Rice Krispie.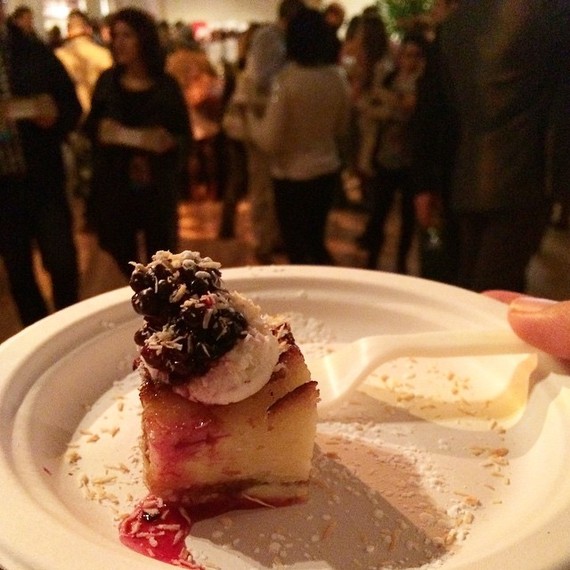 Funnily, my favorite sweet treat was alongside all the savory dishes on the first floor. The Torrejas de Oliva, or bread pudding, from Coppelia was absolutely heavenly. Each morsel of the soft, moist, and perfectly spongy bread pudding had caramelized, sugary coating on top to resemble crème brulee. To finish off, the pudding was topped with fresh blackberry and a dollop of whipped cream.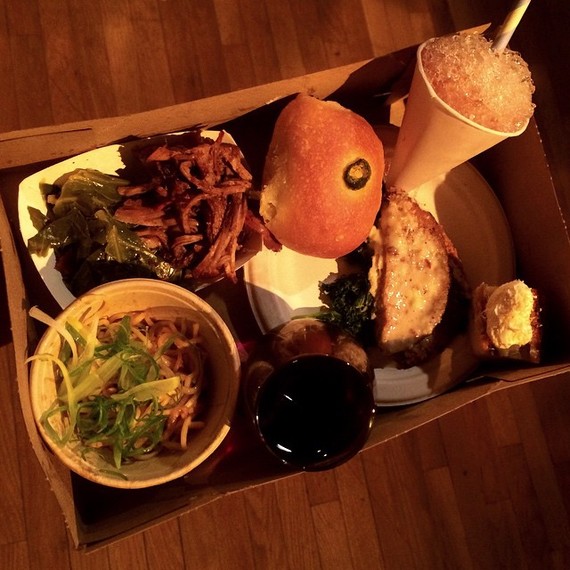 With a week's worth of food in my stomach after more than three hours of tasting, I walked out of this truly grand event with a fuller appreciation for New York City's diverse culinary landscape.