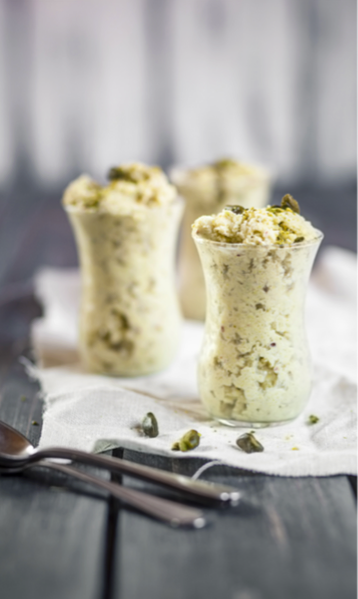 There is an Italian saying that "class is not water." But that's not always true, especially if the water is partly frozen and blended with sugar, syrup, fruit juice or creams to turn it into something special. In that case, though, it's called granita. It is a specialty that becomes a true ritual only in Italy, where it was invented, and is halfway between a cultural tradition and the celebration of summery deliciousness. First of all, granita means Sicily, as it was rst made on the island, and then it went from a simple idea to beat the heat to a recipe that now has demanding admirers and in exible judges. Everyone debates on the perfect consistency, the ideal mixture, the avor that best brings it out. The classic and most popular are lemon, almond and coffee. But there's also mulberry, pistachio and chocolate. To respect tradition, granita must be consumed within 5 hours of when preparation (to prevent the ice crystals from separating from the liquid: true granita doesn't contain any thickeners. It is then scooped into a large glass cup and served with whipped cream and brioche. Note that the latter has nothing to do with French brioche. The original name in Sicilian dialect, brioscia, is obviously a derivation, but it is actually a hemispherical bun that is much denser than its French cousin.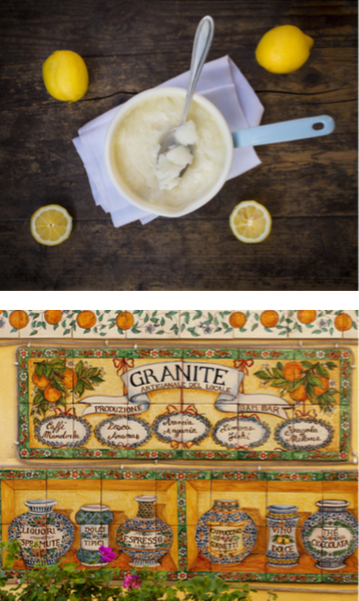 In Rome there is a local variant of this icy concoction, called grattachecca, but it is prepared quite differently and only partially resembles granita. In the latter, the water is blended with syrup (or another chosen ingredient), and only later is it frozen—and the paddle never stops turning during this process—whereas to make a grattachecca a solid block of ice is shaved manually and then other ingredients are added.
But remaining in the realm of classic Sicilian granita, we have chosen three addresses in both the north and south of Italy, where you can nd out what this specialty really is. Because words on paper are one thing, but having a cup in hand is another.
Turin
Torre Cremeria (Corso Regio Parco 28, Tel. +39 011 2476284)
In the Savoy city, this is the cult address for Sicilian-style granita. The basic avors are available all year, but in summer the range expands to seasonal ones like peach, melon and an extraordinary mulberry, made with fruit that comes straight from the Sicilian town of Marsala.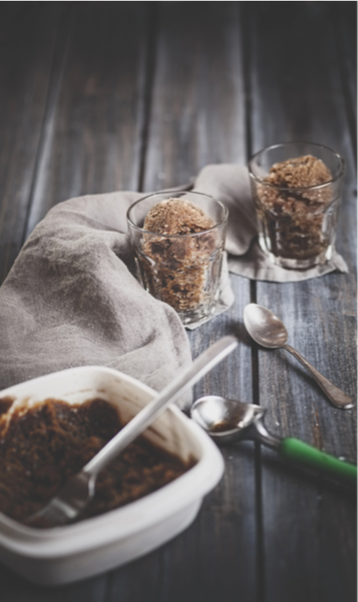 Bologna
Galliera49 (Via Galliera 49, Tel. +39 051 246736)
This historic ice-cream shop has changed name, but has lost nothing in expertise. Here you'll nd some of the best granita in northern Italy, made with organic brown sugar. Be sure to try the one made with pistachios from Bronte and ricotta.
Isola di Salina (Messina)
Da Alfredo (Via Marina Garibaldi, Lingua di Salina, Tel. +39 090 9843075)
Very little sugar, not much ice, top-quality ingredients and no limits to the imagination. For decades, this little café with a view of the sea has been making unforgettable granita, served with typical pane cunzato.