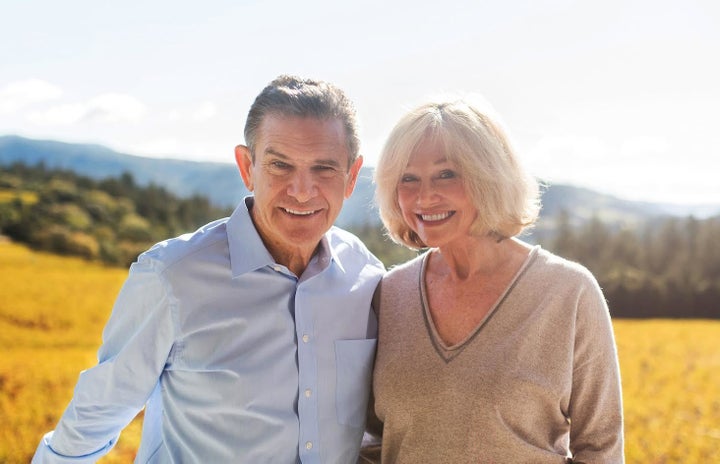 It's hard to throw around the word "perfect," but it seems like when coming up with a word to describe anything regarding the fantastic branding empire from the unstoppable Hall couple, Craig and Kathryn, "perfect" is really the only adjective that fits. The true definition of a power-couple, these two enviable industrialists have perfected every aspect of life from running multiple successful businesses, owning large stretches of picturesque land, being revered members of their community and charitable philanthropists, looking amazing, and simply living well. So, with so many accolades and a knack for perfecting everything they do, it would be no surprise that acclaimed wine critic Robert Parker of The Wine Advocate awarded this terrific twosome a rare perfect score for their 2010 Excellenz Wine.
Now, the grape-wielding couple has ventured into another project that they are sure to master; the world of literature, putting out a book that details their journey as they navigated through the wine business. Titled "A Perfect Score," the Halls not only describe the beautiful life that they have come to know, complete with a breathtaking vineyard overlooking the Napa Valley named "Sacrashe" that people have described as being in another world, but they also strip away the curtain as they debunk myths of what people think the wine industry might be.
Two extremely interesting people, Craig Hall is a wildly successful entrepreneur who was part owner of The Dallas Cowboys before settling into his life as vintner, while wife Kathryn, born into the life of grape-growing, served as the United States Ambassador to Austria! But, even with brilliant heads for business and a company that has sky-rocketed to the top of the wine charts- even though it's fairly young next to its competitors, the Halls can't consider what they do work. In love with everything they do from greeting the tourists they welcome into their winery, to the active parts they play in giving back to the community as they band together with other committee members to help causes like domestic abuse and children's health, the Halls cherish every moment and are glad to share it with the world. Sounds like they found more than just the secret to "The Perfect Score." Sounds more like, the perfect life!
As she sat in her office, overlooking her beautiful vineyard, Kathryn Hall was kind enough to take a phone call and talk all about the book and explain what goes into making a perfect scoring wine! Read the interview below to see what she had to say!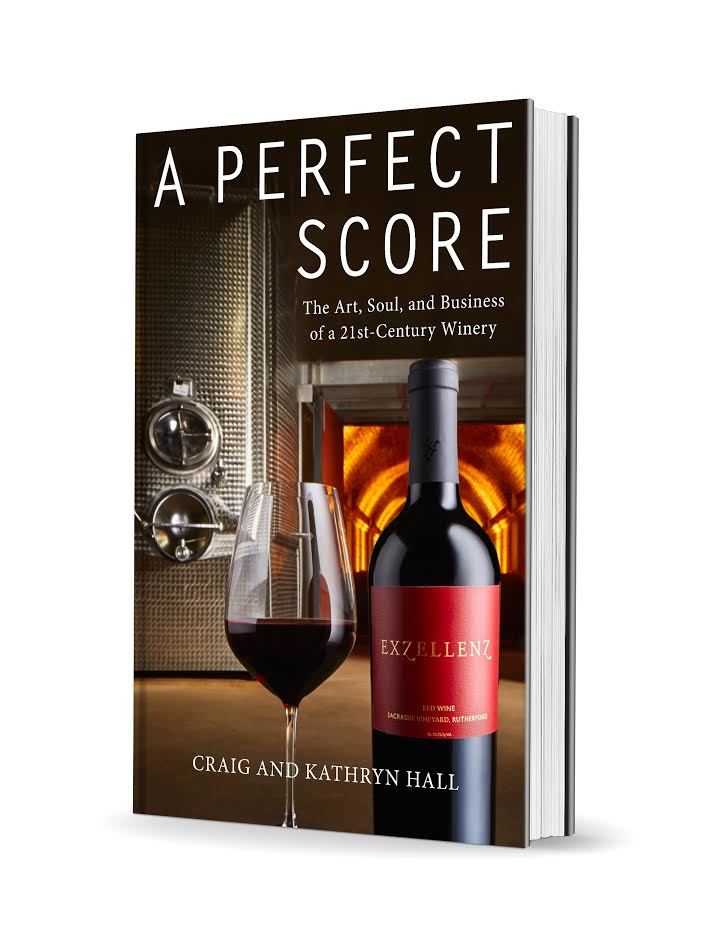 Let's start with the book; "A Perfect Score." The title clearly comes from the perfect score your 2010 Excellenz wine received in 2013 from Robert Parker of The Wine Advocate magazine. Talk about how you and your husband felt to achieve that score, and what it's done for business since then?
It felt just thrilling. It was a reaffirmation of a lot of hard work. It made me feel very proud. When you take a wine, you really try and make the very best wine that you can- and you don't do it with the best score, you do it with the intentions of making the best wine. And I don't know Robert Parker, I think if he saw me on the street he would walk past me- I never met him. So, to have an independent critic of that stature taste a wine you worked so hard to make and give it that kind of score is incredibly gratifying. It made me very proud for our whole staff. And to your question about what that does for business, it's been quite amazing. There are a lot of people that buy wine totally based on score. And for those that don't buy wine based on score, and that's a small minority of wine drinkers, they are still influenced by those that do. That particular wine ends up being a strong reputation builder about a brand. So, it has been a real gift to us. We've been in the wine business for twenty years, but that is still young compared to some of the great wines around the world. So, we are still building our reputation, and having this score has really been amazing and we feel extremely grateful.
This book really chronicles your road with your husband as you navigate the California winemaking industry. You plan to debunk a lot of the illusions of glamour behind the world of wine. Tell people what they can expect from the book a bit, and some of the struggles you faced along the way. What are some of the hardships of the life of wine?
The book really does detail building a wine business in the 21st century, and it talks a lot about how this business is changing. In the wine industry itself, we've had many changes over the course of my lifetime. When I was a kid, my dad was a grower- so, I've lived in this business all my life. And I remember going to meetings with my father and I was the only female in the room. They were all men who were running the vineyards. And if they brought their children, they always brought their sons- they would never bring their daughters. My father was the exception. Now, there are vineyards that are run by women, and wineries that are run by women. Some of our best wine-makers are women. Two of my best wine-makers are women. So, the gender profile has been one of the major changes and we've also really seen a broad integration of art, and lifestyle, and experience into great wine. So, that's another big change that's really happened, wineries of the top quality level are realizing they can have a direct and more personal relationship with their buyers- so they are opening up their doors and inviting people in and really creating a lifestyle out of it. So, that's really created the tourist scene in Napa Valley. And as we opened ourselves up more, it really invited more people in for people to get to know us and want to see what we have to offer.
And on that journey, your husband was a previous part owner of The Dallas Cowboys, and you served as the United States Ambassador to Austria! Pretty impressive gigs. What was it like in those prestigious jobs and what made you decide to take a new direction?
Well, for me, coming into the wine business was not really a new direction since I grew up in the business on the agriculture side- my dad was a grower of grapes. So, I always knew that I would come back into the industry eventually, I was surprised actually that it took so long. As you say, I was a diplomat, and I practiced law and was pursuing other businesses. But, the goal for me always was to come back to wine country in California and get involved. I really think having experience outside the industry was not only good for me for the business, but also helps me really appreciate this life- I'm really living my dream. I get to live in this world that I love so much and wake up every morning to the Napa Valley beauty and spend my time around people who enjoy this good life, and spend my time making really good wine- which isn't just a great business, but it's a wonderful art. And my husband, who has been a very successful and an accomplished businessman, he had never drank wine or known anything about it- but he really came to this business out of love, more than any true desire. He backed it because he knew it was my passion and he wanted to be supportive of me. So, that's what brought him here and he's loved it more and more as the years have gone by, and I think now he is totally in love with it. But, what's not to love? We are living in one of the most beautiful places on the planet, bringing a product that brings joy to so many, and having a great time doing it.
And of course, this life isn't without total glamour. Your property and vineyard named "Sacrashe" has been described as "being in another world," overlooking most of the Napa Valley, with art you can die for. Describe your beautiful estate and vineyard. Do you often times feel like you're living in "Falcon's Crest?"
[Cracks up- for a long time] I'm here right now, so I can describe this first-hand. We're about 750 feet in elevation, and on a clear day I can see very close to San Francisco and most of the lake of the valley- which is about 20 miles long. We live across the valley to one range of mountains called the Mayacamas, then behind us is Mount Vaca. So, for wine, it creates this warm and protected area- but it also has a cooling influence in the morning and the evening from the coastal fog. So, that, plus the wide variety of soil makes it one of the true unique beneficial places to grow grapes- but it also makes it one of the most beautiful places to live. Often in the morning, I wake up and see these hot air balloons floating in the valley- which is the most gorgeous sight to look at from the vineyard, but it's also such a gorgeous experience for all the people who get to come and take a balloon ride. The winery itself was built with caves, and we did so with Austrian brick and limestone, with a chandelier that is made with Swarovski crystal. Austria has become a very important part of our lives. As a family, we all have been there and grown to love their culture, so we really found it important to use materials from Austrian architecture to take us back a bit to our heritage.
You also give back to the community and sit on the board for the Grant Review Committee for Napa Valley Vintners- just this year you've raised fourteen million dollars for children's education and community health. Talk about these causes a bit and what else the committee has planned?
One of the really special things about living in Napa, is as I was saying earlier, getting the opportunity to live in a community that I so cherish. One of the beautiful things about the Napa Valley is the recognition that we are all in this together and our camaraderie. We have a very wonderful Napa Valley Wine Auction every year where the proceeds go into the community, and it raises millions of dollars. So, the committee of community members look at various organizations people are invested into and try and allocate the money around. They really help such great causes like family, and children's health, and education. We really have been able to impact children's health in the valley with a health clinic that is funded through the Napa Valley Organization. We also deal with organizations that deal with drug abuse, domestic violence and all these issues that come up wherever you go, and we really try and come together in this very spirited way to try and help as much as we can. It's truly wonderful, and I'm very proud to be a part of it.
Your book is also good for foodies! I'm going to name five different dishes for readers, and maybe you can pair it with the perfect wine?
That sounds like so much fun! Let's do it!
1. Lobster ravioli in a butternut squash reduction sauce?
I would pair this flavorful dish with WALT 2014 Bob's Ranch Chardonnay. We had only a small production of this vintage. It has lovely flowery aromas and bright acidity which will be a counterpoint to the ravioli, and its hearty flavors with delicate apricot tones will balance wonderfully with the richness of the lobster.
2. Honey Dijon goat cheese and herb stuffed chicken with a side of white polenta with mushrooms?
This dish would be lovely with HALL 2015 Sauvignon Blanc. This varietal is light bodied with delicate acidity. The flavors of melon in the wine will not overpower the herb stuffed chicken and the acidity will enhance the flavors of the goat cheese and polenta. Our Sauvignon Blanc comes from a couple of special vineyards in Napa Valley and bursts with delicate flavors.
3. A blue cheese crusted filet mignon in a port wine reduction sauce with a side of bacon mashed potatoes?
Filet mignon was destined to pair with Cabernet Sauvignon, the full bodied, powerful king of all wine varietals. I would recommend the HALL Kathryn Hall 2013 Cabernet Sauvignon to pair with this dish. The wine has decadently rich dark berry flavors and an opulent texture. The 2013 vintage of this wine which we have been making for over a decade is my favorite so far. The critics seem to agree. Robert Parker of the Wine Advocate has given this wine a prerelease score of 98 to 100 points so this may be our third perfect score when the final numbers are released. But regardless of score, the wine is a memory in itself. The flavors in the wine are reminiscent of a port and will be a great complement to the sauce. Bacon mashed potatoes and blue cheese crusted fillet are powerhouses of flavor and need a strong wine to stand up as an accompaniment. This wine will do the trick.
4. Crabmeat stuffed Mahi-mahi in a creamy pesto sauce over linguini?
Here I would use WALT 2014 La Brisa Chardonnay. The mineral and fresh fruit textures will complement the richness of the creamy pesto sauce. The honeysuckle and hazelnut flavors of the wine will enhance the Mahi Mahi but not overpower it.
5. A chipotle avocado burger with a side of truffle fries?
This has to be a beautiful Pinot Noir pairing. Pinot Noir is a wonderful food friendly wine. This varietal is light on the palate, yet at the same time delivers flavors that range from delicate to intense, depending on the vineyard and winemaking techniques. For this dish I would pair our WALT 2014 Clos Pepe Pinot Noir. The wine is soft and luscious and full of bright raspberry compote flavors. Pinot Noir is a perfect choice and I think especially this beautiful wine that we grow in the Santa Barbara will make this fabulous dish even more so. As for the truffle fries they of course can't be anything other than wonderful, but will benefit from the chewy tannins.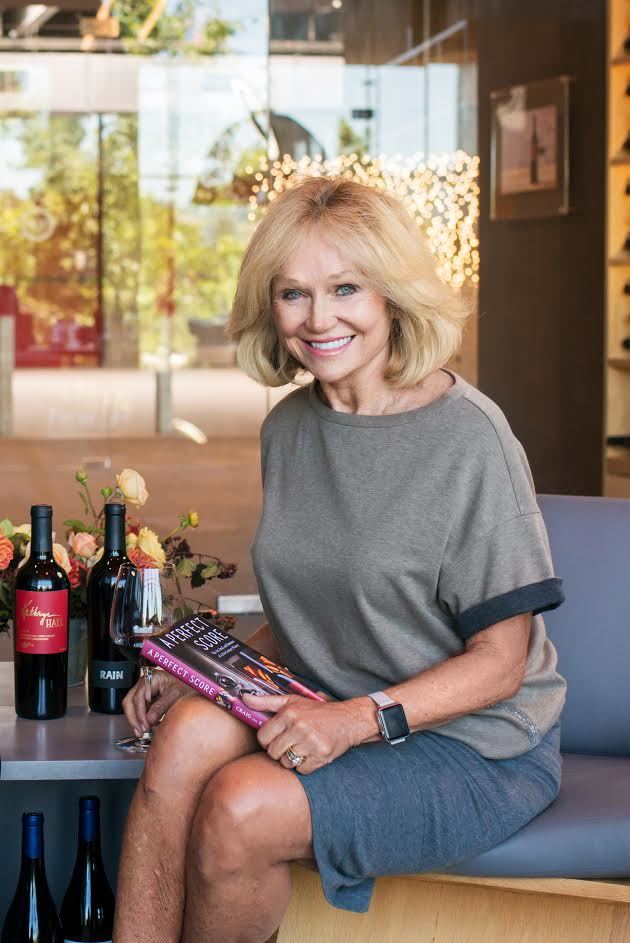 That was sure to make every reader hungry. And better yet- thirsty! And if there was ever a great wine to wash down the perfect meal, it would come from Hall Wines. After all, they do have "A Perfect Score!"
Related
Popular in the Community