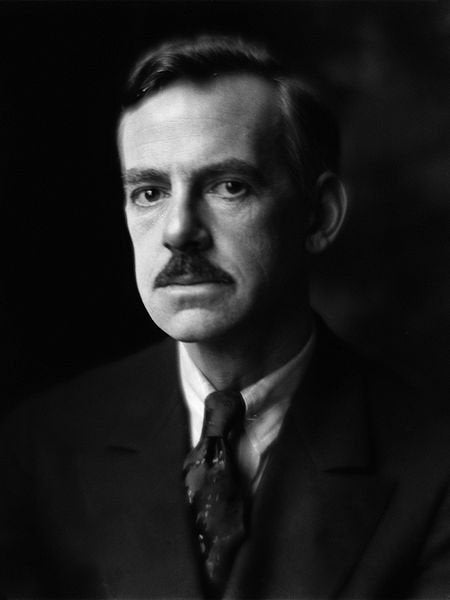 I'm sensing a pattern here. I know that's not unusual for me, but this one is pretty straightforward. With the New York Neo-Futurists' production of The Complete and Condensed Stage Direction of Eugene O'Neill Vol. 1: Early Plays/ Lost Plays, The Wooster Group's latest offering of Early Plays, and now The Irish Repertory Theatre's Beyond the Horizon, Eugene O'Neill is having a good year so far. Though all of these productions show that O'Neill still has relevance today, Irish Repertory's production, as the most traditionally staged of these three, proves this case most strongly.
At first glance, the brightly painted walls filled with abstract shapes and raked platforms that adorn the stage of The Irish Repertory Theatre don't seem to evoke the O'Neill known for his painstakingly described, realistic detail. O'Neill spends several pages describing the intricate set for almost all of his plays, including Beyond the Horizon, the play that won him his first of three Pulitzer Prizes in 1920. Yet by using simple staging and solid acting director Ciarán O'Reilly's newest production proves that this O'Neill play is still emotionally effective today.
In many ways, Beyond the Horizon is one of O'Neill's happier tales. Though by no means a walk in the park, there is a feeling of airy romance from the start that is never quite snuffed out by later events. The cast here also does O'Neill an excellent service by finding the lighter moments in the play, with characters like Mrs. Atkins, well played by Patricia Conolly, providing unexpected comic relief.
Indeed as the three acts trot through time, it is the winning combination of O'Neill's well-crafted characters inside of a beautifully structured plot and the ensemble's overall strong acting that makes this production shine. The standout performance is undoubtedly that of Lucas Hall, whose Robert Mayo is someone we immediately root for. Hall is well supported by Wrenn Schmidt, who plays Ruth, and Rod Brogan, who plays Andrew Mayo. Despite a few odd vocal choices/directions, Schmidt's Ruth is moving, while Brogan's Andy is a nice foil to brother Rob.
What is evident in this production is that there is something indelible about the power of this play. I was personally rather shocked at how easily I was drawn in to what is a rather simple plot. You see, O'Neill's characters are alive in this production, and all of the emotional power of early 20th century American realism is evident. I see a lot of experimental theatre, which I also am passionate about and appreciate in a plentitude of ways, but a show like this reminds me that there is still a place for a well-done production of no-frills realism.
For me, this ability to sculpt an emotional landscape lives not in the actual lines of dialogue, but in the moments between those words. O'Neill's stage directions, as the New York Neo-Futurists have so wisely pointed out, are incredibly detailed in terms of emotional instructions. Some of them seem un-actable, but I think that these are the moments that I love to watch acted most. It is here that the production itself is able to partner with the text of the play so completely.
One example of this comes at the very end of the play, whose written text ends with a dash, an unfinished thought trailing off into space. The stage direction that follows means that the play actually ends with this line: "She remains silent, gazing at him dully with the sad humility of exhaustion, her mind already making back into that spent calm beyond the further troubling of any hope." I saw this moment occur because I was looking for it, and though others might not have been able to identify what they were seeing as this exact sentence, it was a successful button to the performance (even if it was cut a bit short by a light cue).
It is for moments like these that going to see The Irish Repertory Theatre's production of Beyond the Horizon gives you something that picking the book up at the library cannot. It won a Pulitzer Prize for its written form, but it is first and foremost a text for performance, something made very obvious as it pulls itself from the theatre archive and energetically takes to the stage. The world we see represented might not be exactly the same, but O'Neill has captured something about people and their constant wondering about other loves, other jobs, and other grass in other pastures.
Related
Popular in the Community