This past weekend -- July 3, 4, and 5 at Soldier Field in Chicago -- the "core four" surviving members of legendary rock band, the Grateful Dead, played their final three 50th anniversary Fare Thee Well #Dead50 reunion shows, a celebration of longevity, peace, friendship and love.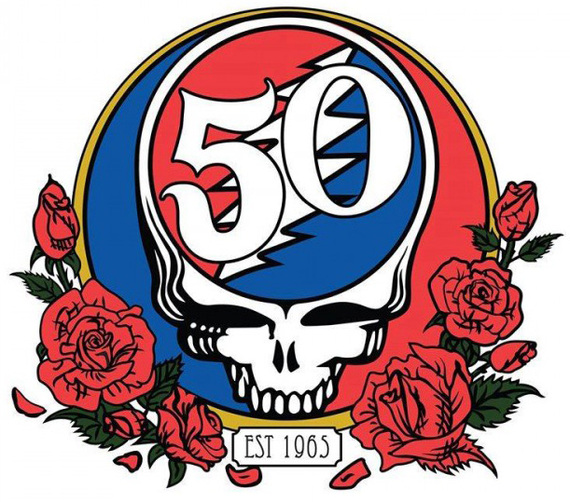 The string of shows sold out on Ticketmaster immediately when offered and then became the hottest ticket of the summer. Deadheads broke ticket sales records at Soldier Field each successive night with 71,000 ticket holders at Sunday's performance.
We were all here -- hippies, hangers on, party animals, spiritualists, investment bankers, students, U.S. Senators, surfers, yogis, CEOs, NBA Basketball Hall-of-Famers, marathon runners, bestselling authors, couch potatoes, organic pot farmers, militant tapers, Grateful Dead trivia savants, Golden Globe winning actors, plumbers, flower children, real estate agents, obnoxious "woo hoo" screamers, hipsters, posers, famous musicians, university professors. All of us were here. We had to be. It was the end of an era.
Prior to the shows, President Barack Obama, who calls Chicago home and is reportedly a fan, issued a statement describing the Grateful Dead as "an iconic American Band that embodies the creativity, passion and ability to bring people together that makes American music so great."
Bob Weir, Phil Lesh, Billy Kreutzmann, and Mickey Hart will continue to play in their own bands and in ad-hoc combinations, but these shows have been billed as the last time for the full team to play together. Joining them on stage in Chicago were Phish front man Trey Anastasio on lead guitar, with Bruce Hornsby and Jeff Chimenti on keys and vocals.
Building a Passionate Fan Base
The Grateful Dead built a tribe of passionate fans over 50 years by bucking music industry "rules" again and again.
For example, unlike other bands, the Grateful Dead encouraged concertgoers to record their live shows, establishing "taper sections" behind the mixing board where fans' recording gear can be set up for best sound quality. When requesting tickets to a show, a taper would request a seat in the special section reserved just for them.
Every other band said "no" to tapers while the Grateful Dead said "sure, why not?"
People attending a Grateful Dead concert for the first time were often surprised to see the forest of professional-grade microphones rising to the sky in the audience. Tapers, as these Deadheads are known, were allowed to freely record Grateful Dead shows using their own equipment. Photography was also encouraged.
The circle of people who collected and shared tapes built into a social network before Mark Zuckerberg was even born and continued into the era of electronic swapping of recordings. Despite the fact that people could get their product for free, the Grateful Dead found themselves playing in larger and larger stadiums as the number of fans swelled and, ironically, it fueled album sales, too: 19 gold albums, six platinum and four multiplatinum.
As a result of being exposed to the music that people recorded for free, many listeners became fans and fans wanted to see shows. The Grateful Dead became the most popular touring band in history, selling a billion dollars worth of concert tickets over their career. The Grateful Dead removed barriers to their music by allowing fans to tape it, which in turn brought in new fans and grew sales.

On multiple occasions during songs like "Ripple", "Scarlet Begonias", "Jack Straw", "Bertha" and "Not Fade Away", all 71,000 of us in what often felt like an intimate theater, a church of music, locked onto the same vibe, uniting as one living, breathing, sweating, dancing organism, channeling our ecstatic energy into a feeling I'll never forget. Seventy thousand fans dancing and singing as one literally rocked Soldier Field's stands and locked minds into one driving force. Band members fed off the energy, pushing them ever further, circling back to drive the audience to unimagined heights.
At the end of Sunday's show people hugged friends, loved ones, and strangers alike. Many of us were in tears. Tens of thousands of fans couldn't bear leaving the stadium for a final time and remained in their seats or standing on the field for an hour, until they were politely asked to leave by the ushers who sported tie dye uniforms. Many fans then congregated in Grant Park or on the sidewalk in front of the Chicago Hilton where hundreds partied until dawn.
Although Sunday night was the last Grateful Dead show with the core four playing together, I'm sure each will play on and in various configurations until they can no longer hold their instruments. Live music lives on in CDs issued by the band and at archive.org and other places for shows recorded by fans.
Indeed, like other great American composers -- Duke Ellington, Scott Joplin, George Gershwin, and John Philip Sousa come to mind -- Grateful Dead music will live on not just in our memories. The best songs have already entered the great American songbook, becoming musical canon that will continue to be played live by bands of all kinds for centuries to come.
Photo: David Meerman Scott on July 5, 2015 at the final Grateful Dead show
Calling all HuffPost superfans!
Sign up for membership to become a founding member and help shape HuffPost's next chapter