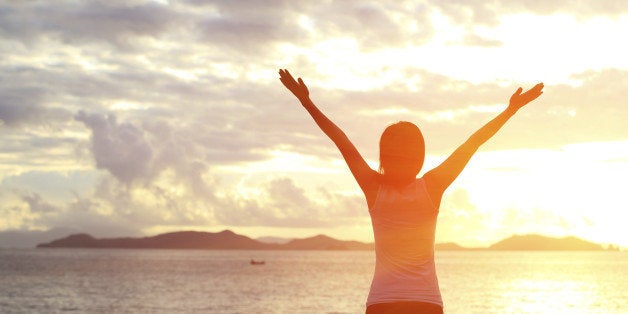 In an interview with author Gretchen Rubin, author and University of Houston research professor Brené Brown said, "I don't have to chase extraordinary moments to find happiness -- it's right in front of me if I'm paying attention and practicing gratitude." Brown's philosophy wasn't wrong, at least not according to research. Studies show that the more you express thanks, the happier you are.
So with that in mind, I made a vow to myself to write down what I was grateful for every day for 10 days. The whole point of this endeavor was to put figurative money where science's mouth is. Does writing down what you're thankful for truly make you happier? The honest truth is, I'm still waiting to find out (and that's OK).
I won't deny that I didn't get enjoyment out of this challenge. But it also took a lot of mental effort, despite its small time commitment. Was I supposed to be existential? Was I supposed to only focus on the emotional stuff? Could I really, truly write that I was grateful for puppies? (I did.) Does that even count? (It should.)
It's been a week and a half since I started my gratitude journey -- but what I've realized is that this project is just that: A journey. This isn't something that's going to end once the challenge is over or the hashtag fades into oblivion. Gratitude isn't just an assignment, but a habit. A habit that needs to be practiced and nurtured.
I promised I'd break down my progress, so below are a few days worth of things straight from my journal that #IAmGrateful for. Spoiler alert: Some of them are shallow. But they're also a reminder that what really matters in life may already be right in front of us.
Day 1, AKA the day I got deeply emotional:
I'm grateful for my incredible job. I get to spend eight hours a day doing what I love. Not everyone can say that and I'm appreciative that I can.
I'm thankful for the amazing support system I have in my life. My friends and family always push me to travel outside my comfort zone and I'm lucky they believe in me so much.
I'm grateful for the relationships and friendships that didn't work out. They still taught me invaluable lessons.
Day 3, AKA the day we spread gratitude across NYC:
Note: On this day the Healthy Living team and I wrote a few thankful statements in chalk on the sidewalk.
I'm grateful for the things I wrote on the sidewalk: Puppies (particularly Golden Retriever puppies -- don't lie, you know they're cute), smiles, Fridays and YOU.
I'm thankful (ironically enough) that I get the chance to escape the city this weekend with my roommates. I miss the suburbs sometimes.
I'm grateful for my family's health. They mean the world to me.
Day 7, AKA the day I started running out of ideas:
I'm thankful for my Papa! Yesterday was his 89th birthday.
I'm grateful for back-to-school sales and that I still have a student ID so I can take advantage of them (even though it's expired).
I'm thankful for good music that gets me through my commutes and my workdays, whether it's acoustic jams, classical melodies or boy bands. I'm also thankful for the new Taylor Swift song because it's catchy and I can't help it.
Day 9, AKA the first day I've gone out to dinner in a really long time, apparently:
I'm grateful for my roommate's wonderful grandparents, who are treating us to a nice dinner and evening out in NYC tonight. I've been looking forward to this all week -- it is exactly what I need. I can't wait!
I'm thankful that, despite how frustrated, stressed or overwhelmed I may get, I can always find one thing to laugh about. It doesn't matter if it's a dumb inside joke or my inability to do a pushup in kickboxing class. Laughter truly is the best medicine for a bad day.
I'm grateful for public transportation. Just because.
Day 10, AKA the day I can't express enough gratitude:
Today is officially my one year anniversary of living in New York, and I can't put into words how thankful I am for this place. This city has made me a stronger, happier, kinder individual and I can't imagine living anywhere else right now.
I'm eternally grateful for the people who constantly encouraged me to pursue my dreams and a life in NYC.
I'm also thankful for this challenge (and everyone who participated in it). It opened my eyes to how blessed I really am. It also showed me, through writing in this journal, that I really need to work on my penmanship.
Related