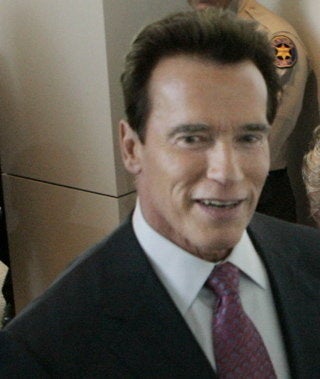 The word "workout" takes on special meaning this time of the year. We're so predictable. Holiday binging leads to fitness cringing. And one of our chief New Year's resolutions is to get on a workout plan, maybe with the assistance of a trainer. In fact, during the first President Bush's administration, his Chairman of the President's Council on Physical Fitness, Arnold Schwarzenegger, acted like the country's personal trainer by creating a highly-publicized "Great American Workout" in 1992 fashioned to help us realize just how much we were gaining around our midsection and what we could do about it. Today, Governor Arnold has installed a digital clock (sort of like a weight scale) outside his office at the Capitol in Sacramento showing the state's "waistline" (in the form of a budget deficit), which is around $7 billion as of now, but is expected to rise to $15 billion by the end of the fiscal year in June. Arnold's sweaty workout in 2009 is going to be with lenders, not in the gym.

We've been binging on debt for way too long. That great American tradition of signing up for a gym membership in January will be replaced this year with signing up for an appointment with your lender. There is no short-term recovery in sight and most of us are dangerously fat. We're going to see massive retail industry restructurings in the new year after the historically weak holiday sales. The car industry may avert the cardiac arrest of bankruptcy, but even with a bailout, anyone associated with this industry is going to be on a crash diet this next year. Unemployment is going to experience a painful spike-up in the next few months which will put more loans at risk. Residential real estate prices still have another 10% to fall, thus putting lenders at greater risk given that their equity is about as lifeless as the guy face down in the pool. A financial workout is defined as "the process of a debtor's meeting a loan commitment by satisfying altered repayment terms." If you're lucky, your lender may become your rigorous personal trainer and be willing to work with you on a new workout plan. If you're not and your trainer fires you, then there's always the path of Lehman Brothers or Sam Zell's Tribune Corporation.

I spent the post-Christmas weekend in the Inland Empire of California, an ironic name given that few real estate markets in America have been more exposed as an "emperor with no clothes." With unemployment over 10%, real estate prices down 30%, and those sad minimum wage-earning folks standing on street corners with their gesticulating oversized cardboard arrows pointing to tract home developments that are seriously off-track, there's an emotional fog overhanging Palm Springs, Riverside, and Indio. Amidst some sunny R&R, I made time to meet with a lender on a Sunday late afternoon to see a hotel that was seriously underwater. You know the world is upside down if a lender is traipsing around an abandoned hotel with a barbed wire fence around it on a prime golfing day. The lender told me the sad tale of this hotel and how its borrower just kept adding on the debt with "a willing bartender - a variety of lenders - serving this drunk customer until he passed out." The lender said to me, "I was let go by one failing bank a few months ago, but hired by this other bank since I was a 'workout specialist,' which I learned back in the real estate debacle of 1992." I didn't ask if he learned his workout techniques from Arnold back then. He surmised that, "We are on the verge of the biggest meltdown we've ever seen for lenders. The lenders and the borrowers who will survive this time are those that know how to become great workout partners."

Working out is an acquired taste. It isn't something you enjoy at first. In fact, the American fitness club industry binges on a predictable numbers game that suggests few of us are as motivated to visit the club in May as we were in January when we signed up. But our financial health depends on the kind of working out, stretching, and dieting we're going to do in 2009. It requires a change in mindset and a willingness to show our trainer (the lender) that we're humble, motivated, and capable of slimming down. While a lot of blood, sweat, and tears will be expended along the way, the result may be a svelte and attractive body that's in better health than it's ever been in before. Good luck with your workout!
REAL LIFE. REAL NEWS. REAL VOICES.
Help us tell more of the stories that matter from voices that too often remain unheard.