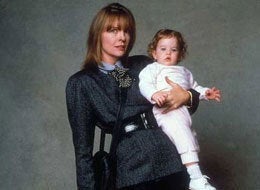 Although I spend most of my time talking about getting ahead in your life and career, for a lot of young professionals, there's a big white elephant in room any time career plans come up: What about starting a family?

Whether you're a man or a woman, it's bound to be something you've discussed casually or pondered, if not completely obsessed about for years. Either way, with so many young people starting families or beginning to think about it, I thought I would address the other side of the work-life balance spectrum (and what tends to tip the scales the most): Babies!
I can't say I'm immune to this topic. At 34, I get asked the question a lot. Yes, I know "the clock is ticking," that "business isn't everything" and that "there's never a good time." But for me and my beloved, we have very consciously decided to give our other baby -- YSN -- more time to grow and become independent on a day-to-day basis before taking the big plunge. (YSN.com, by the way, stands for "Your Success Network" and it's an online universe we launched earlier this year to arm emerging adults around the world with the tools and connections they need to be successful in their careers.) After all, as I sometimes joke, I already feel like I have thousands of kids since taking care of young people is something I do everyday! Sure, I want to have my own one day but I'm not pining away at the idea or aching every time I see a baby. I have a really full, busy life and I love my job, but of course children is something I think about -- sometimes unavoidably.
People do ask me all the time, even prospective investors. But I don't really blame them: commitment is something they're definitely concerned about. Luckily, with 14 years under my belt, I've got that in spades. Friends with babies bring it up all the time. I just tell them I'm waiting for their kids to be old enough to baby-sit mine! Our parents (the grandparents-in-waiting) have been really cool about it, too, though we do get the occasional hints here and there. I am grateful they don't nag though. And every now and then I encounter someone who asks, "Well, what if you wait so long that you can't have them anymore?" We just tell them that if that happens, we'd be thrilled to adopt and give a child without hope a real chance at an amazing life with incredibly loving parents. That's the whole truth and I'm stickin' to it!
Whether you are not even thinking about parenthood, starting to consider it, seriously contemplating it, working on it or already proud, happy parents, check out what some of YSN's members, colleagues and close friends have to say about how and when children fit into the lives of young professionals:

- "The way I see it, my company is my child -- it was a colicky infant, and now it's starting to walk, though it occasionally falls on its butt. However, it is now speaking complete sentences!" - Jennifer Iannolo, food media entrepreneur, mid-30s, no kids
- "I think they're a fabulous source for drive and inspiration. So much of what we professionals do we do for them (or at least that's what we tell ourselves)! On the flip side, we also observe them day in/day out, and find that we take ideas and use them in the business world. They tend to put things in perspective by stating the obvious and thereby keeping things simple." - Oliver Brenninkmeyer, entertainment/consumer products, early-40s, three kids
- "The thought of having kids scares the crap out of me! For mainly two reasons: 1.) I can't even afford myself, so how could I afford a child and 2.) My wants and needs would have to take the backseat to the kids and my life would no longer be all about me and the luxury of doing what I want when I want. Even though this sounds a bit selfish, I feel like at 25 it shouldn't be any different...speaking only for me, of course. I guess, the bottom-line here is that financially and emotionally I am nowhere near ready for kids!" - Katie Ketchum, customer support manager, 25, no kids
- "I don't want kids, neither does my husband. We love our nieces and nephews and often play for hours with our friends' kids, but we have never felt that pang in our hearts that allegedly signals a desire to procreate. We love to travel, a lot. Sometimes it's a last minute weekend getaway, sometimes it's a planned week-long trip, and every month since we've met my husband surprises me with a 'full moon' date. I'd hate to think a lack of a baby sitter could disrupt a seven-year tradition. We also want to retire in our 40s (yes, it's possible) so that we can travel the world, stopping in a tropical or exotic locale for months at a time, years if it's fabulous! I plan to write about our travels and I cannot wait! As we will have no heirs to worry about, we plan to spend our hard-earned savings on ourselves, traveling the world. Our favorite thing to tell people is that we hope our check to the gravedigger bounces!" - Angela Moore, late-30s, publicist, no kids
- "Don't have kids until you want kids. We worked really hard, built a business and traveled the world. Then I was ready for a kid. Don't let culture or family push you, entrepreneurs run on a different clock. I am thrilled to be a father at this stage in my life!" - Barry Gribbon, television producer, early-40s, one kid (another, hopefully, on the way!)
- "Well I'm barely 21 but the only babies that are going to be in my near future have four legs, tails and are covered in fur. Scooping litter is as close as I'm going to get to changing diapers in the next decade, and that's plenty of work for me. - Bianca Vance, product development, 21, no kids
- "When your kid walks into your office, sits down at your desk and calls it HIS (just like you did when you were a kid), you immediately realize how lucky you are and that there is no better feeling in the world!" - Doug Kushell, franchise recruiter, early-40s, one kid
- "Currently I am single and 24, and when I think about kids, one day I find myself wanting to have them and the next day I find myself thinking NO WAY. I think kids (will one day) add to my overall happiness and I can find a balance of personal Jill and Mommy Jill. I am self-employed, so my goal is to have a running business that I can continue to grow as I focus on my kid's growth and development. I think my husband and babysitters will make it possible for me to be a mommy and business woman." - Jill Esplin, professional speaker, 24, no kids
- "I can't imagine a baby at this point in my career. Although to most entrepreneurial standards, 16-hour workdays are only a piss in the bucket, my life sort of revolves around my work at a small company and my independent contracting. But I do have an adolescent child. He's a boy -- which makes it easier -- and I work in the music industry -- which makes it fun. He loves music, so we have fun conversations on different artists and trends (ring tones, YouTube, MySpace, etc.). Having him in my life actually works to my advantage because he gives me a different perspective in an industry ran by adults but largely consumed by kids. And he's very understanding when I have to travel or work late. He doesn't like coming to work with me when I'm on location (because it's too loud! That cracks me up!), but he does like sharing his opinion on anything I'm working on -- and that makes him feel very involved in what I do for a living. So, I guess that's the key to our harmony!" - Jaynell Grayson, music promoter, late-20s, one kid through a relationship
- "KIDS: double edged sword. You have to embrace that, if you have not reached some of your career goals, having kids will delay it even further. However, on challenging days on the path to your goals, nothing is warmer than your kids' hugs at the end of that long day. I have to say that my business and my bank account would be much richer if I didn't have kids, but the equity in my heart outweighs all the riches in the world." - Bruce Somers, Jr., direct marketing and real estate entrepreneur, two kids
- "Representing the young 20-something workaholic I would say the only way I'm ready to have kids is by accident. Just call me Uncle Josh." - Joshua Hoppes, director of operations, late-20s, no kids
- "At 27-years-old and only two years into my career, I'm in no way ready to take on the life commitment of children. Until I'm able to spoil myself financially, you won't be seeing me pushing a stroller anytime soon!" - Adrienne Borgstrom, public relations, 27, no kids