With 74 pristine islands nestled within the largest coral reef in the world, Yvonne Yorke explores the destination which first inspired her wanderlust, and stays at a luxury resort which has set the standard for all others in Australia.
I still vividly recall my first introduction to the Great Barrier Reef. It was on a high school field trip, and there, projected on film across the entire span of the planetarium's ceiling, the larger-than-life, aerial images of the breathtakingly immense coral reef ecosystem and its cornucopia of marine life left me with an indelible aspiration to explore that part of the world. Not only that, but I wanted to see the reef from the air, as well as delve into its depths. It was as if I had started my personal "where to go list" that day. Many years and many travel adventures later, I arrived in the state of Queensland in northeastern Australia.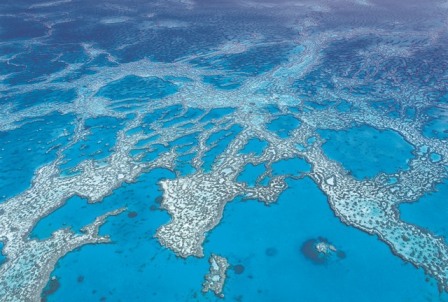 Stretching over 1,600 miles in length, the Great Barrier Reef is the planet's largest single living organism, and the only live entity on earth visible from space. Located in the Coral Sea off the coast of Queensland, the Great Barrier Reef Marine Park is actually composed of 2,900 individual reefs, 600 continental islands and 300 coral cays covering an area of approximately 133,000 square miles. The variety of aquatic wildlife reads like an open casting call for Finding Nemo: Over 1,500 species of fish, 5,000-8,000 species of mollusks, 30 species of whales and dolphins, 600 species of echinoderm such as starfish, 17 varieties of sea snakes, and 6 species of marine turtles which are listed as threatened.
Cradled in the heart of the Great Barrier Reef, and protected by it from the ocean swells, the Whitsunday group of islands are the ideal base to explore the region from above, below, and somewhere in the middle. Due to the surrounding calm seas, and an abundance of secluded coves and anchorages, the Whitsundays have gained a reputation as a sailor's paradise with the largest array of skippered and chartered boating options in the Southern Hemisphere. Known also as one of the world's premier diving destinations, the Great Barrier Reef is an irresistible draw for scuba divers and snorkelers, while many others enjoy a birds-eye view of the vast ecosystem with a scenic flight.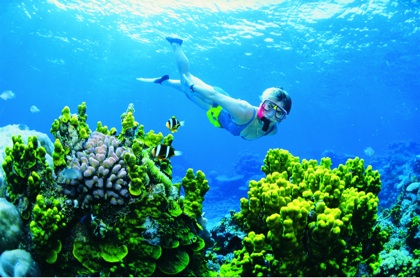 Named by Captain Cook for the day after he sailed through (the second Sunday of Easter) in 1770, the 74 Whitsunday Islands, eight of which are inhabited, have 11 island resorts providing a range of accommodations: from ecological to luxury, to tented selections in rustic settings. Seventy percent of the Whitsundays is designated national park, and there are plenty of secluded beaches and small sheltered coves that can only be explored by kayak, so visitors can feel that they are in their own private slice of heaven.
Many visitors to the region filter through Hamilton Island as it has one of the main airports for the Whitsundays, and I arrived from Sydney with a plane full of holidaymakers and their families. Hamilton Island's village is packed with an eclectic array of shops and restaurants, as well as day-trip cruise proprietors and water sport tour operators.
When I arrived on Hamilton, I was met by a man in a crisp white uniform who noted my suitcases so that they could put onto the boat. That's because I was staying at the upmarket Hayman Island - the premier island destination in the Great Barrier Reef, and the "boat" for the one-hour transfer to the island was the resort's own luxury cruiser. Onboard, champagne and canapes were served while check-in formalities were completed. There was a bit of discreet stir amongst the passengers as Kate Ceberano, the Australian pop star, was also traveling with us - she was going to Hayman to perform at a private party at the resort.
I discover that Hayman is certainly no stranger to celebrities - both local and international. While the Hayman Island Resort has long enjoyed a reputation overseas for five-star luxury, for many Australians, it is their most celebrated resort destination, and a stay there is the epitome of taste and sophistication. In fact, try mentioning that you've been to Hayman to Australians and watch them smile with approval. I've met some Australians who divulge where they've spend their vacation by simply stating,"Well, we were at Hayman...." Enough said. It has become an Australian tourism icon.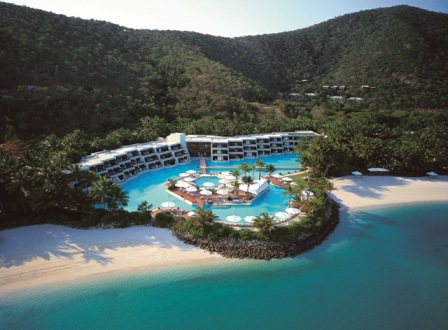 The most northerly island in the Whitsundays in the Great Barrier Reef, Hayman is a private island resort covering 726 acres and situated on a crescent-shaped beach with views across the Coral Sea. As our cruiser approached the resort, we can see a row of uniformed staff waiting dockside to greet us and personally escort each guest to their rooms by golf buggy. Mine was a spacious beach front room with a private terrace which opens up onto Hayman beach. Right next door to me is the honeymooners favorite, the Beach Villa, which comes with its own private butler, an enclosed garden, and an outdoor deck and plunge pool. All guests in Hayman suites have access to personal concierge service, while penthouse and Beach Villa guests will have full butler service at their disposal.
As I explored the verdant resort grounds during my stay, I was pleasantly surprised to encounter a whole menagerie of animals. A colony of endangered Prosperpine Rock Wallabies (which resemble small kangaroos) was established here by the Queensland Parks and Wildlife. Elsewhere, flocks of swans and geese glide in the resort's lagoons and ponds, while the surrounding reef waters are teeming with schools of Maori wrasse, angelfish, marlin and sea turtles. Hayman works closely with the Great Barrier Reef Marine Park Authority to improve the park's environmental sustainability, and has been named by "Good Morning America" in the U.S as the "best eco-resort in Australia".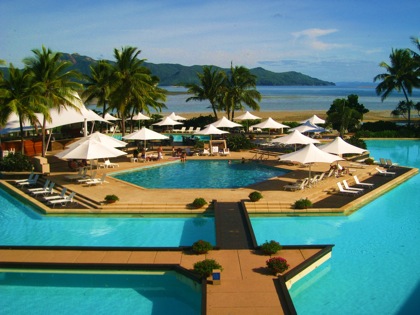 I also discovered that Hayman's acclaimed dining is made possible by a team of 50 international and Australian chefs, a 10,000-bottles wine cellar, a Chocolate Room, and the largest hotel kitchen facilities in the Southern Hemisphere. If you're a gourmand, and you're fortunate enough to be in residence while the "Chef's Bench" takes place, do not pass it up. This gastronomic experience allows a maximum of four guests behind the scenes into the Main Kitchen where the Executive Chef prepares before them a 16-course tasting menu utilizing seasonal ingredients. If you can't make this event, try the weekly "Chef's Table" for a less indulgent but just as sensational 6-course dinner with matching wines.
While gourmet dining and luxe accommodations are true and good, Hayman's reputation as Australia's premier resort destination ultimately comes down to this: location, location, location. On the same latitude as Tahiti and Rio de Janeiro, the region enjoys a year-round tropical climate with average winter/spring (May-Oct) temperature of 77 degrees, and an average summer/autumn temperature of 88 degrees.
Someone at the resort suggested that I visit Whitehaven Beach on nearby Whitsunday Island - reputed to be the most beautiful beach in Queensland, and classified as one of the top five beaches in the world. You can get there by Hayman seaplane, Hayman helicopter and of course, by various sea vessels such as luxury cruising yacht. I opted for the 'Whitehaven Picnic Flight', which entailed a helicopter ride to the beach for a spectacular aerial view of the surrounding Whitsunday islands and the peripheral reef before touching down onto the private beach and relaxing with a picnic lunch and champagne. I can't think of a better way to spend the afternoon.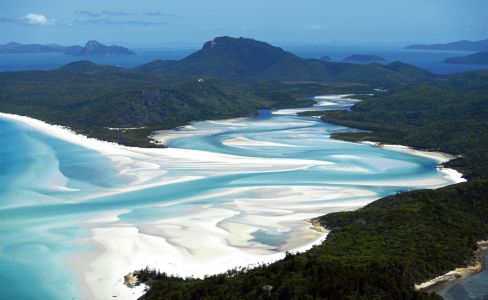 As my helicopter approached Whitehaven, and the six-mile crescent of pure white sand beach embraced by acacia forests came into view, I realized that the accolades are justified. Furthermore, Whitehaven's privacy is enforced by stringent national park rules which prohibit over-nighting on the island, and only allow for day trips from nearby Airlie Beach and some island resorts. As I wandered towards the northern end of Whitehaven to Hill Inlet with its stunning cove, my footsteps seemingly left virgin prints across the powdery soft silica sand.
While appreciating the idyllic beauty of Whitehaven, I longed to explore what I've come all this way for - the Great Barrier Reef itself. There are a myriad ways and locales to see the kaleidoscope of life teeming beneath the ocean's surface, and I chose to venture out onboard the 'Seaflight', the Whitsundays' leading day cruise catamaran to the Knuckle Reef Lagoon, touted as the regions' most spectacular Great Barrier Reef site. The lagoon's relatively shallow waters protect it from the surrounding sea conditions yet contain a diverse aquatic ecosystem not found in more open areas. Having scuba-dived in other parts of the world (Belize and the Red Sea being just two), I can attest that I've never come across such a plentiful and vibrant array of multi-hued fish, corals, sponges as I have seen here. However, that wasn't the only natural wonder in store for me.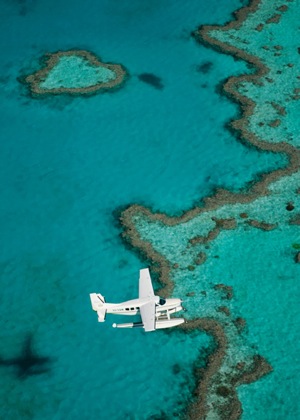 Before I knew it, I was aloft in my second helicopter ride in so many days. This time, it was for a 20-minute flight over the Hardy Reef region and Heart Reef - a naturally formed coral reef in the shape of a heart, and arguably the most photographed reef in the world. As I surveyed the reef system below me - a patchwork blanket of turquoise and jade threaded with coral ridges as far as the eye can see, I realized that I've finally fulfilled my teenage ambition of exploring the Great Barrier Reef - from above and below. It was everything that I thought it would be.
Tourism Whitsundays; www.tourismwhitsundays.com.au or www.australia.com
Cruise Whitsundays - Shingley Drive, Abel Point Marina, PO Box 1268, Airlie Beach, QLD 4802, Australia; tel: (61-7) 4967-7240, email: sales@cruisewhitsundays.com
Aviation Tourism Australia, Hamilton Island, Whitsundays, Australia; tel: (61-7) 4946- 8249; www.avta.com.au (inter-island transfers to half and full day excursions to Whitehaven Beach and the Great Barrier Reef)
Hayman Island Resort, contact Hayman reservations tel: (61-2) 8272-7000, email: reserve@hayman.com.au, www.hayman.com.au
Photos courtesy of Yvonne Yorke, Hayman Island Resort and Tourism Whitsundays
Popular in the Community