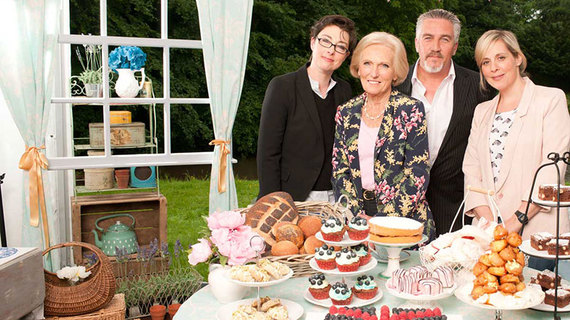 After an extended break, the "Great British Bake-Off"--everyone's favorite slow-paced, well-natured, not-at-all-cutthroat reality show--returns next week for its seventh season.
There appear to be no major shakeups in the show's DNA: a dozen (not a baker's dozen, a regular dozen) new contestants will compete in three challenges per episode to impress two judges, the grumpy goateed Paul Hollywood and the genial grand dame Mary Berry. Creations in the past have ranged from baklava to bagels, tarts to tortes, and meat pies to macarons.
The BBC recently revealed names and brief bios of the twelve new contestants; this year features more male competitors than ever before, as well as the show's first Sikh participant. Our favorite, just from those blurbs? We'd have to go with Kate, described in that formal British way as a farmer's daughter who loves using seasonal fruits and produce from her parents' farm.
Contestants from prior seasons have also made good use of England's summer bounty, transforming it into homemade jams and jellies, for instance. One competitor, who kept his own bees, brought in home-grown honey to use in his baked goods.
The new season premieres Wednesday, August 24th, on BBC.