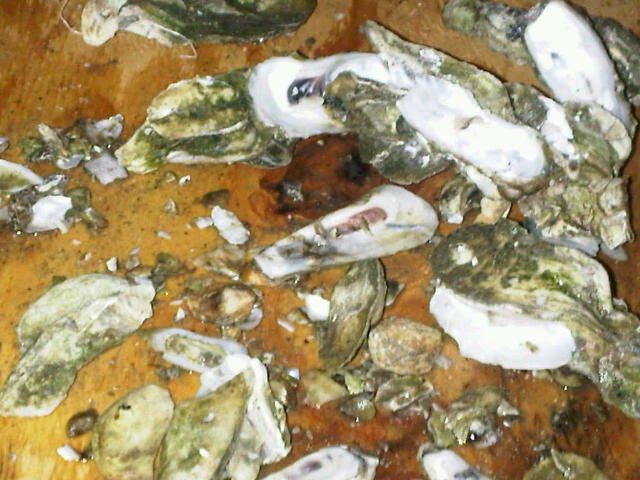 Before Saturday night I had never watched animated tuna fish cans fornicate, received a gift bag of doggie treats drawn from the leftovers of homemade beer, and eaten low country South Carolina oysters roasted after having been driven nearly 1,000 miles.
Much gratitude goes to childhood friend Amy Kantrowitz, one of the event's producers and the gatekeeper on the guest list that included Dunreith and dear friends Derrick Milligan and Kathy Tossas.
Amy who stayed with us earlier in the week, had come straight from New York's annual film and food fest. She raved about the problem-solving mentality of the food/film community there.
The same spirit was in evident supply at Kendall College. Dunreith and I took a while to figure out the detour from Halsted and Division after exiting the El at North and Clybourn, but the sight of the three open fire pits raring near the Chicago River told us we had arrived at the right destination.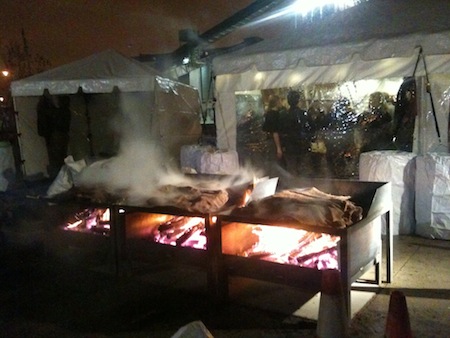 Photo by Kathy Tossas
Generosity instantly enveloped us.
From the event volunteers to the Kendall students to staff like Amy to the many vendors showing their ware to Executive Producer George Motz, each person thanked us for coming, made sure we had plenty to eat and drink -- this was the least of our concerns -- and conveyed a bone-deep appreciation for helping to make the event a success.
The festival took place on Kendall's fifth floor, and began after we had sampled some of the available food treats that included red chocolate-covered almonds from Zagat's -- you could get a free guide for identifying and commenting on your three favorite restaurants -- a tasty lager from Argyle Brewing Co., a micro-brew set to launch next year on Irving Park and the source of the aforementioned dog biscuits, and exquisite crusted pork cubes topped by coleslaw whose juices exploded in your mouth.
The seven films were short and varied in quality.
Beyond the copulating cans, we were treated to movies that took a sensual look at a woman preparing to eat an octopus, Parisian pastry and deconstructing vegetables from a refrigerator.
Food service that matched the movies' theme accompanied the films.
We had samples of octopus with the second film that showed the tentacular octopod's path toward consumption.
A chocolate mousse went with a short about the preparation of a Valentine's Day meal.
And a flaky pretzel-shaped pastry to munch on during the film set in Paris.
Motz set the stage for the night's main event with The Mud and the Blood, the final film and a paean to the oystering region from which he hails. The movie showed his cousin and a fellow oysterman doing the hard work of harvesting the mollusks that grow for anywhere from two to eight years. This means wading through mud, plucking the oysters that are sufficiently grown, placing them in a bag and driving them back to shore.
Typically, the film explained, Bell's Bay oysters are only consumed by locals.
Which made last night's roast all the more special.
Motz's uncle Oliver Thames, a sturdy and tall man with a wintry beard and kind open face, drove 950 miles in a Yellow Penske truck over two days to bring the 40 bushels of oysters.
In between carrying shovel load full of piping hot oyster to the wooden tables where attendees stood eagerly awaiting the opportunity to carve open and consume the salty treats, he told me about his nephew's request to bring some of South Carolina's best to Chicago.
"I told him, 'If you want it to happen, we'll make it happen,"" Thames said.
The effort did not go wasted.
Thames was greeted with rousing applause, as was Motz's cousin Steve, who had picked the oyster.
I dug into at least a dozen myself, managing not to cut myself on the razor-sharp edges, savoring the savoring-drenched oysters and washing them down with some Palmetto beer only found in South Carolina that Thames had brought up for good measure.
If sensual and sexual pleasure were two major themes of the event, sustainability was another.
Motz's film discussed how the harvesters let immature oysters grow and do not deplete the available stores.
An adverstisement and sliced apple from a stand sponsored by the The Good Food Project talked about the need for introducing children to healthy food for the long haul.
And Matt, the Argyle Brewing master, talked about how the brewery will be a Community Supported Brewery based on the community supported agriculture model.
"This is going to be huge next year," Derrick told me as he wrestled to pry open a resistant oyster.
For those of you who did not have a chance to attend this year's festival, mark it down on your calendars now.
This post was first published at http://www.kellylowenstein.wordpress.com.
Calling all HuffPost superfans!
Sign up for membership to become a founding member and help shape HuffPost's next chapter