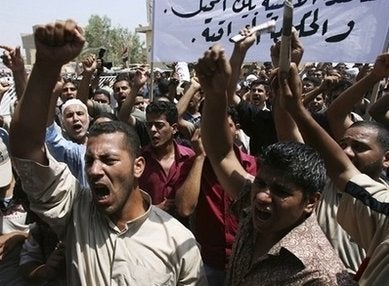 On May 28, McClatchy's Washington Bureau reported that a Marine in Fallujah had outraged the city's residents by passing out coins that read, in Arabic, "Where will you spend eternity?" on one side, and "For God so loved the world, that He gave His only begotten Son, that whoever believes in Him shall not perish, but have eternal life. John 3:16" on the other.
The military immediately began trying to pass this off as an "isolated incident." On May 30, two days after the McClatchy story broke, the Associated Press reported that, "Lt. Col. Chris Hughes, a spokesman for U.S. forces in western Iraq, said it didn't appear to be a widespread problem, stressing that the military forbids 'proselytizing any religion, faith or practices.'" and quoted the following from an e-mailed statement from Hughes: "Indications are this was an isolated incident -- an individual Marine acting on his own accord passing out coins." Stars and Stripes similarly reported on May 31 that Capt. John Caldwell, a spokesman for the Multi-National Forces - West, said that "Maj. Gen. John Kelly, the commander of U.S. troops in western Iraq, has discussed the matter with local sheiks, who said they understand it is an isolated incident."
The majority of Americans will undoubtedly buy into this "isolated incident" line and be satisfied that the removal of this lone Marine will remedy the problem. But, the truth is that Iraq is crawling with missionaries and evangelists, both civilian and military, who show little or no regard for laws or military regulations. Why? Because the "Great Commission" from Matthew 28:19 -- "Go and make disciples of all nations" -- trumps all man-made laws.
The Military Religious Freedom Foundation (MRFF), founded by Mikey Weinstein in 2005 to protect the constitutional right of our service members and veterans to be free from religious discrimination and evangelism by the military, has been uncovering evidence of widespread attempts to convert the Iraqis for some time now. (I should say here that I'm MRFF's Senior Research Director.)
In the course of investigating organizations like the Campus Crusade for Christ (CCC) Military Ministry, whose goal is to transform our enlisted trainees and future officers into "government-paid missionaries for Christ," we began to look not only at how CCC's activities, and the military commanders who allow these activities on their installations, were violating military regulations, but what these "government-paid missionaries" were doing once they were on active duty. We quickly discovered that converting the Iraqis is a project of numerous private organizations (some with the help of the military), as well as military personnel and military organizations. Some missionaries even take jobs with DoD contractors to gain access to the Iraqi people. All have found ways to circumvent the prohibitions on sending religious materials contrary to Islam into the region. There are literally thousands of people involved, and hundreds of thousands of Arabic language Bibles, tracts, videos, and audio cassettes have made their way into Iraq, along with Christian comic books, coloring books, and other materials to evangelize Iraqi children.
Fulfilling the Great Commission, at any cost, is the primary goal of both civilian mission organizations and many of our military personnel. It is also the goal of groups like CCC's Military Ministry, who have decided that the way to reach the world is to use the military to do it. CCC's Military Ministry has six "strategic objectives." The first is to "Evangelize and Disciple Enlisted Members of the US Military;" the sixth is to "Change Continents for Christ. Transform nations of world through the militaries of world. Train, Equip, and Partner with indigenous leaders to establish strategic sending platforms in each region of world."
Young recruits are under great pressure as they enter the military at their initial training gateways. The demands of drill instructors push recruits and new cadets to the edge. This is why they are most open to the 'good news.' We target specific locations, like Lackland AFB and Fort Jackson, where large numbers of military members transition early in their career. These sites are excellent locations to pursue our strategic goals." As Maj. Gen. Bob Dees, U.S. Army (ret.), the Executive Director of CCC's Military Ministry, explained in the October 2005 issue of the organization's "Life and Leadership" newsletter, "Militaries exercise, generally speaking, the most intensive and purposeful indoctrination program of citizens.
In addition to their "gateway ministries," targeting enlisted trainees, CCC has ministries to target future officers at the military academies and in ROTC. In a promotional video filmed at the Air Force Academy, Scott Blom, CCC's director there at the time, explained their mission: "Our purpose for Campus Crusade at the Air Force Academy is to make Jesus Christ the issue at the Air Force Academy and around the world. ...We're seeing kids come to Christ, being built up in their faith, and being sent out to reach the world. They're government-paid missionaries when they leave here."
None of CCC's goals, however, could be accomplished without the military chaplains and commanders who allow the organization onto their installations. But, this doesn't seem to be a problem. There's no shortage of officers who share CCC's goals. The Officers' Christian Fellowship (OCF), whose mission is to "Create a spiritually transformed U.S. military, with Ambassadors for Christ in uniform, empowered by the Holy Spirit," endorses CCC's Military Ministry. OCF consists of over 14,000 officers, with chapters on virtually every U.S. military installation worldwide.
OCF membership reaches into the highest ranks of our military. The organization's current president, Maj. Gen. Robert L. Caslen, Jr. was just named Commanding General of the 25th Infantry Division. Caslen also appeared in uniform at the Pentagon in a promotional video for CCC's Christian Embassy, in which he states, referring to the group's Flag Officers' Fellowship, "we're the aroma of Jesus Christ." The current Secretary of the Army, Preston M. "Pete" Geren, also appeared in this CCC video. A past president of the OCF is LTG Robert L. Van Antwerp, Jr., who recently became the Commanding General of the Army Corps of Engineers.
Is it any wonder that the rampant evangelizing of Iraqis is not only being condoned, but aided and participated in by our military?
Mikey Weinstein, a U.S. Air Force Academy graduate, former JAG, a former White House counsel under President Reagan, and former general counsel to Texas billionaire and two-time presidential candidate Ross Perot, sums it up in a nutshell: "The United States armed forces have unconstitutionally and inextricably intertwined and interbred their already dubious Iraqi mission with virulently fundamentalist Christian missionary organizations and defense contractors to create a pervasive and pernicious cabal, a fundamentalist Christian 'Military-Parachurch-Industrial Proselytizing Complex' as it were. It constitutes nothing less than a seething internal national security threat to our country, every bit as formidable as the external national security threat confronting us from a resurgent Taliban and an al Qaida that is at LEAST as strong as it was on 9-11."
Here are a few examples recently discovered by MRFF.
Chief Warrant Officer Rene Llanos of the 101st Airborne Division, referring to a special military edition of a Bible study daily devotional published and donated by Bible Pathways Ministries, told Mission Network News that "the soldiers who are patrolling and walking the streets are taking along this copy, and they're using it to minister to the local residents," and that his "division is also getting ready to head toward Afghanistan, so there will be copies heading out with the soldiers." And, like the many civilian missionaries who see the U.S. occupation of Iraq as a window of opportunity to evangelize the Iraqi people, Chief Warrant Officer Llanos continued, "The soldiers are being placed in strategic places with a purpose. They're continuing to spread the Word."
The Bible Pathways Ministries book, although not printed in Arabic, presents another problem. It has the official military branch logos on its cover, giving the impression that it is sanctioned by the Pentagon. While these logos are frequently used without permission, and may have been on this particular book, the Iraqis don't know that. And, there are also Bibles sporting the official military logos with the permission of the Pentagon, designed by the Pentagon chaplains. The stupidity of this needs no explanation.
In the Spring 2004 issue of "Gatherings," the newsletter of the International Ministerial Fellowship (IMF), Army Chaplain Capt. Steve Mickel spewed the same lie as the civilian mission organizations -- that the Iraqis are begging to hear about Jesus. As the Fallujah residents and clerics made quite clear in their reaction to the Bible verse coins, this is simply not the case. Even the Iraqi Christians are opposed to the American evangelizing efforts.
According to Chaplain Mickel, who was doing his evangelizing while passing out food in the predominantly Sunni village of Ad Dawr, "I am able to give them tracts on how to be saved, printed in Arabic. I wish I had enough Arabic Bibles to give them as well. The issue of mailing Arabic Bibles into Iraq from the U.S. is difficult (given the current postal regulations prohibiting all religious materials contrary to Islam except for personal use of the soldiers). But the hunger for the Word of God in Iraq is very great, as I have witnessed first-hand."
Joe Phoenix, founder of Phoenix Mission of Mercy, works for DynCorp International, a contractor with a $1.2 billion DoD contract to train Iraqi police officers. Phoenix has launched a number of ministries in Iraq, and says of his team of DynCorp "American Highway Patrol Advisors," each of which is assigned a military counterpart, "Each member is a Christian and has strong ministry ties with their Church back home. We as a team see to it that each ministry need is fulfilled and support them one hundred percent. Without our team of American Highway Patrol Advisors these ministries would cease to exist."
While none of this has been reported by the American media, it has by the media in other countries. A nine minute report from the German TV news magazine "Panorama," which can be viewed here, reveals what's really going on, focusing on two organizations, The Voice of the Martyrs and the Southern Baptist Convention.
When asked in this report if his organization's activities can lead to people dying, Todd Nettleton, Director of Media Development for The Voice of the Martyrs, responds, "Our activities can lead to people dying, and we understand that...but, the reality is an eternity with Christ in heaven is so far better than an eternity in hell that it is a good deal. It's a good decision, even if it results in physical punishment here on earth."
The Great Commission must be fulfilled -- at any cost.
Popular in the Community