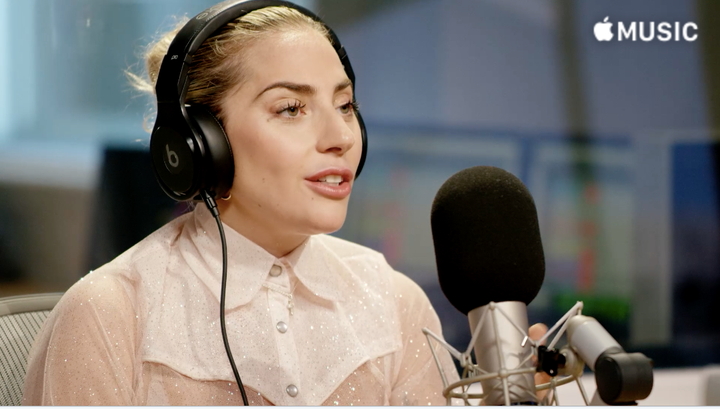 Stefani Germanotta has been Lady Gaga for almost a decade now, but she still can't escape the inevitable Madonna comparisons every time she puts out a record.
Ahead of the release of "Joanne" on Friday, the singer sat down with Zane Lowe on the DJ's "Beats 1" radio show to discuss her new sound, but all anyone will remember is what she said about being compared to the Queen of Pop for the umpteenth time. 
"There is another artist who has lived a very parallel existence," Lowe said in the far-reaching interview. "Based on this story, which I'm sure you can relate to. You know Madonna tells a very similar story ... overprotective father ... 'Papa Don't Preach.' You know what I mean." 
"Madonna and I are very different," Gaga matter-of-factly responded, shaking her head before cracking a smile.
The singer then proceeded to list the ways the two differ by essentially categorizing herself as an artist and Madonna as a pop superstar. 
"I wouldn't make that comparison at all," she continued. "I don't mean to disrespect Madonna ... she's a nice lady. And she's had a fantastic, huge career. She's the biggest pop star of all time. But I play a lot of instruments. I write all my own music. I spend hours and hours a day in the studio. I'm a producer. I'm a writer. What I do is different." 
Gaga and Madonna have been endlessly pitted against each other as early as 2011 when some, including the Material Girl herself, noted sonic similarities between "Born This Way" and "Express Yourself." Both have repeatedly shut down the rumors of a diva feud, calling instead for women in the industry to celebrate each other's triumphs, not their mutual destruction. 
"The only time I ever criticized Lady Gaga was when I felt she blatantly ripped off one of my songs," Madonna told Rolling Stone in a 2015 interview. "It's got nothing to do with 'she's taking my crown' or 'she's in some space of mine.' She has her thing."
Gaga for the most part seems to agree, telling Zane that she refuses to be "compared to anyone anymore."
"I don't mean that in a disrespectful way," she stated emphatically. "I am who the f**k I am and this is me. My life story is my life story, just like yours is. The thing is we all express things in different ways." 
Watch the full interview below: 
Calling all HuffPost superfans!
Sign up for membership to become a founding member and help shape HuffPost's next chapter
BEFORE YOU GO