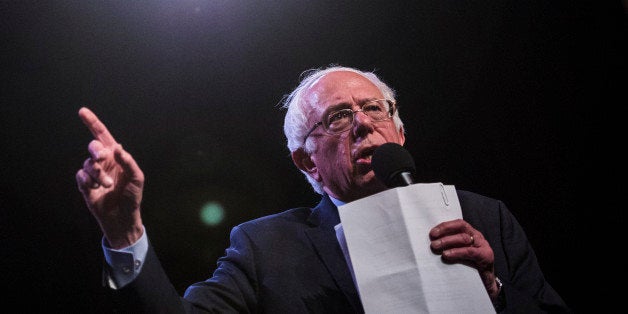 The conventional wisdom is that younger voters are idealistic and impractical, and don't know enough about how the world works, and what can feasibly be accomplished in politics.
Leaving aside that "younger" in this case includes a majority of voters under 50 that support Sanders , there is an alternative explanation that makes more sense. There are times in almost any country's history when important narratives lose credibility, and this expands the range of political possibilities. Younger people are often quicker to recognize these changes and the options that they present.
The Vietnam War is a classic example. Its legitimacy was premised on a deeply entrenched, Cold War narrative that the United States was engaged in an existential battle against communism, which threatened to take over the world. Vietnamese communists were part of this alleged existential threat, and therefore had to be defeated -- even at the cost of more than 58,000 American soldiers' lives, millions of Vietnamese, and many more casualties, as well as hundreds of billions of dollars.
It is now abundantly clear that this narrative was false. The Vietnamese communists won the war in 1975, and for more than 40 years since then, Vietnam has posed no threat whatsoever to U.S. security. But even at the height of the antiwar movement, Americans were divided, and very much along generational lines. And it wasn't simply because of the draft; to put it simply, younger Americans just didn't buy the dominant, false narrative that was used to justify the war. Even if they had less life experience and in some cases knew less about politics or even about history, they knew something very important that most older Americans did not understand.
Today's generational divide has similar characteristics. Younger people are not as steeped in the Cold War narrative, and so Hillary's foreign policy experience -- her support for wars in Iraq, Syria, Libya, and for potential war in Iran -- does not impress them at all. For those who know it, it repels them, and gives them more reasons to distrust Hillary and favor Bernie. The "War on Terror" is in many ways a somewhat flimsier but self-perpetuating replacement for the Cold War as a justification for our current state of permanent military conflict. Many people, especially those not so close to retirement, can see right through the official story.
Obama himself said: "ISIS is a direct outgrowth of Al-Qaida in Iraq, that grew out of our invasion." And the original Al-Qaida, including Osama bin Laden, was also a product of earlier U.S. intervention -- in Afghanistan.
Younger people, more often than older, can also see that the label "democratic socialist" doesn't have quite the shock value that it may have had 20 or 30 years ago. This is corroborated by national polls, where Bernie does very well not only among Democrats but generally also better than Hillary in face-offs against the Republican candidates. For many respondents in these polls, the label "democratic socialist" is one of the very few things that they know about Bernie, thanks to the major media's including it in most of their reports, and giving Bernie a fraction of the coverage that they have given to Donald Trump. Yet independent voters -- whom the Democratic candidate needs in order to win the general election -- favor Bernie over Hillary by a wide margin.
There is evidence from exit polls that many of Clinton's voters are more driven by fear than those who voted for Sanders. This includes a fear of terrorism, or the fear that the Democratic candidate might lose in the general election. Younger voters, for the reasons noted above and more, are not so easily scared. They are more likely to vote their hopes, rather than their fears. If they continue to organize and turn out in higher-than-usual numbers, as they did for the Obama campaign in 2008, they will make history once again.
Popular in the Community