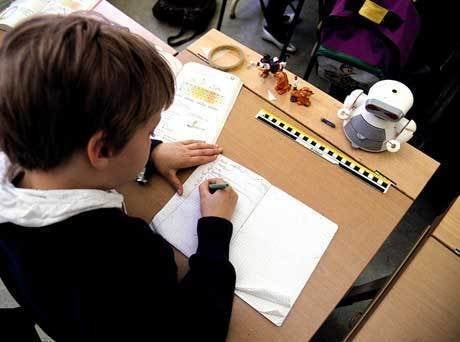 Classrooms are ready-made for great stories. Comprised of twenty-some children and one adult, bound by a common mission, they are intersections of youth and experience, energy and discipline, empowerment and failure. They are fascinating spaces, and given schools' task of preparing our next generation, the stakes couldn't be higher.
And yet, the day-to-day, on-the-ground reality of teachers and students is largely obscured from view. What are teachers, the lifeblood of schools, thinking? What keeps them going? What pushes them out of the profession, accounting for the staggering fifty percent who leave within five years?
At twenty-two, fresh out of college, I signed up for the New York City Teaching Fellows, a Teach For America-like "alternative certification" program that drops idealistic college grads and career changers in the hardest-to-staff inner-city schools. I landed in a fourth grade classroom at P.S. 85: The Great Expectations School. After four years studying storytelling at NYU Film School, I never counted on a concrete neighborhood in the Bronx to reveal my world's gutsiest heroes and desperately flawed shortcomers, the craziest violence and the strangest surprises, the darkest failures, and the most unexpected second chances.
The Great Expectations School is an honest account of what teachers-- especially new teachers-- face every day. Dan's story is a valuable one to share and analyze, because it is a story that is constantly replayed in various forms in classrooms all across America. Though new teachers like Dan bring optimism and the best of intentions to their work, they are also, alas, too often woefully unprepared for the experiences yet to come.

Across the country, some 40 percent of all teachers leave the profession within their first three years. What Dan does so well is put a human face on the calamity behind the statistic. We immediately share his frustration-- indeed, heartbreak-- at losing control of a fourth-grade Halloween party, at being thoughtlessly reprimanded by a callous supervisor, at struggling with the profound disconnect between what is in the lesson plan and what is playing out in the class.

As any educator will tell you, the induction process--specifically support and mentoring--is essential to a beginning teacher's development and success in the profession; and Dan writes eloquently about the manifold costs to be paid when this support is lacking.

Yet despite these struggles, I read The Great Expectations School as, ultimately, a story of optimism, pained as it is. Dan's journey with his fourth-graders and their tiny, remarkable moments of connection--like when troubled Lito Ruiz shows off his newfound talent in creative writing--are exhilarating and priceless. He captures with heart the joyous hilarity that can so often erupt at a moment's notice in a room full of children. The Great Expectations School is a narrative tour of the extraordinary rewards--along with the hand-wringing obstacles--of teaching, and it is one that we are the richer for having.
The Great Expectations School is on sale for $11 at Amazon.com. Check it out--or get it as a just-because gift to score some major brownie points with a teacher you know!
REVIEWS OF THE GREAT EXPECTATIONS SCHOOL BY DAN BROWN
"A lively and searchingly intelligent work on urban education which is also a vivid and compelling story of the highest possible political significance at this moment in our history. Readers will be grateful to Dan for his disarming honesty.
--Jonathan Kozol, National Book Award-winning author of Savage Inequalities and Letters to a Young Teacher
"With introspection and good humor, Brown tells a lively and often appalling story...a vivid depiction of just how hard first-year teaching and its implicit lesson that urban schools urgently need to attract and retain more thoughtful and dedicated people such as Brown."
--Washington Post Book World
"[Brown is] an appealing and sympathetic figure with a seemingly genuine talent for teaching... yet he finds himself in charge of a class that is always on the verge of chaos..."
--The New York Times
"Dan Brown's heartfelt account of the thrills and frustrations of a first-year teacher grips like a novel. A must-read for anyone who has dreamed of a job that makes a difference."
--Anya Kamenetz, author of Generation Debt