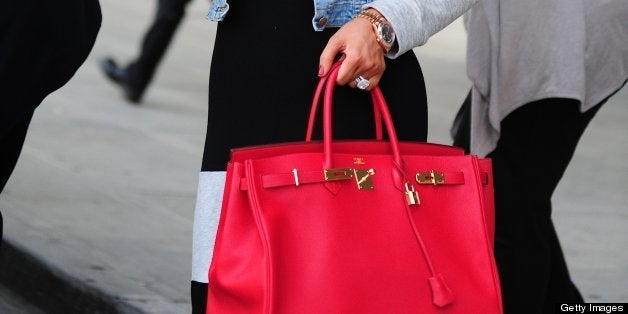 As of late, I've spotted a barrage of highly coveted Hermès Birkins on the streets of Miami to New York to Paris. And seeing as Birkins are extremely difficult to procure and are in high demand, well, let's just say it's hard to believe they're all real. With knockoffs aplenty (and trust me, I've been asked to buy a fakey or two in my day) I'm adamantly opposed to buying fake anythings.
Why? According to Miami's own Consign of the Times owner/self professed "Bag Lady" Carin Kirby, she says:
When you buy a fake, you're basically pooing on generations of expert craftsmanship and design. You're also sacrificing quality and longevity. But most importantly -- and what most counterfeit buyers forget or choose to ignore -- you may be funding things like child labor, terrorism, unsafe work conditions, hazardous materials, drug crimes and human trafficking. Not. Cool.
As a Fashion Editor, the great fashion knockoff debate has always piqued my interest. Which invariably begs the question: What qualities make the iconic Birkin the real deal Holyfield? I chat up Kirby on the heated topic and with 12 years of consignment business under belt -- she knows a thing or two about the knockoff industry and what makes the classic Birkin the so special.
Maria Tettamanti: I don't support the knockoff industry (ew!) but how much does a faux Birkin cost?
Carin Kirby: We have seen and heard of people paying upwards of $5,000 for a known fake. Absurd... we know.
MT: Where are fauxs manufactured?
CK: Most people would assume China, and they wouldn't be wrong. But some high quality copies have also been snatched up recently coming in from Brazil and even Italy!
MT: Have people tried to sell faux Birkins to you?
CK:Unfortunately, yes they've tried. But no Birkin makes it to our floor without being professionally authenticated.
MT: Can one profit from re-selling an authentic Birkin?
CK: Absolutely. These bags are in high demand and very hard to get, especially if you are particular about what you want. The stories you've heard about people waiting months and even years are true. Most of us are not willing to wait, so Birkins are priced at a premium in the secondary market (resale world) because people will pay for instant satisfaction.
MT: Birkins aside, what other handbags hold their value?
CK: The Chanel Classics and any Louis Vuitton Limited Edition bags like the Stephen Sprouse or Yayoi Kusama. There is a caveat: A bag's condition determines what someone is willing to pay for it -- so take good care of your stuff!
MT: Now for the good stuff -- what are the tell-tale signs a Birkin is the real deal:
CK: When it comes to a Birkin, authenticity is always in the details.
1. Stitching: All of them are created in the Hermès workshop and hand stitched by expert craftsmen which means it should be perfect. No stitch will ever (EVER) be out of place.
2. Lock & Keys: The lock will have "Hermes" and a numbered code engraved on the bottom, and the two keys will have the matching code engraved as well.
3. Embossing: Open up the flaps of the Birkin and you will find an embossed letter that identifies the year of production. When buying pre-owned, make sure the age marker makes sense for the wear and tear of the bag! You may also find another short number/letter embossment (2-3 characters) on the flap or within the interior of the bag which identifies the craftsman that produced it.
4. Logo Stamp: It will read "Hermès Paris Made In France" in all caps with a left leaning accent over the second "e" in Hermès. Check for misspellings and smudging, which are indicators that bag is a fake.
5. Zipper Pull: It will sit parallel to the zipper. Any hanging of the interior zipper will indicate it is NOT Hermès quality.
6. Hardware: All Hermès hardware is made out of either Gold plated or Palladium. Tarnishing is very rare.
MT: More, please! What are some other ways to spot a fake?
CK:
1) Hermès uses the highest quality leathers. The leather is heavy and structured but soft and supple. If it smells fake, it probably is.
2) No Birkin will ever come with plastic wrapped around handles. The workshop would never do something so tacky.
3) Hermès does not use authenticity cards like Chanel, Prada or Christian Dior. Ding ding ding! It's a fake.
4) Dust bags will always have a brown drawstring and stamp.
5) There will never be anything out of place, including a stitch or a tiny piece of clumsily placed glue. Any discrepancy and the bag will not pass quality control -- TRUST me on this!