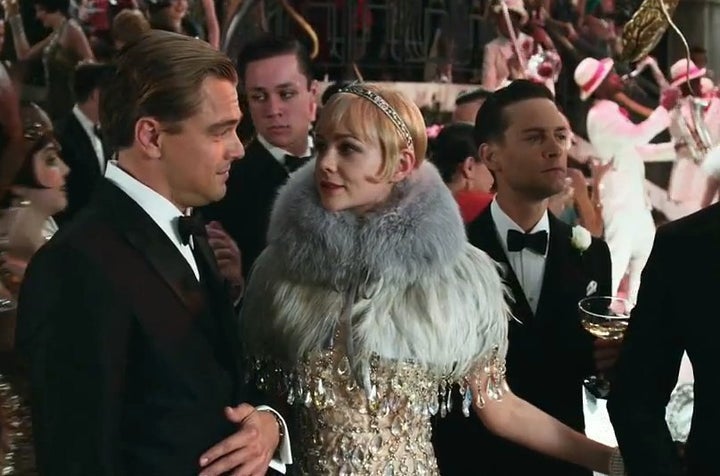 Costumed by Catherine Martin, the new cinematic Baz Luhrmann remake of F. Scott Fitzgerald's classic 1925 novel definitely has style, at least as far as we can tell from the preview. With the glitz and glam of every flapper dress, cloche hat and fur wrap, we definitely felt like we had traveled back in time when watched the trailer. But as fashion sleuths, of course we wanted to know: will the movie accurately depict 1920s fashion?
Our friends over at Fashionista checked out the trailer and voted yes, opining that the movie's costumes are "pitch-perfect" for the era: "Carey Mulligan is the perfect Daisy, clad in an array of flapper dresses, furs and, most importantly, barrettes and bedazzled headpieces that do the time period justice."
"To be clear, I can tell from the trailer that these costumes are not period accurate. They all look like contemporary fashion interpreting 1920s Halloween costumes. The hair and makeup look like they're from the present day. The architecture and interior design look much too contemporary to even pretend to be from the 20s. The colors are a bit too bright and the sparkle is a bit too computer generated."
Is WayneGuite picking up on an actual costume inaccuracy, or is the issue just the typical stylized sartorial flair Luhrmann embellishes most of his period pieces with? (See: "Romeo and Juliet" and "Moulin Rouge," which we think gussied up some of the contemporary style to include outfits that looked better on film.)
With all this disagreement, we had to do some research of our own and perform a good ol' compare and contrast of real 1920s fashion vs. Martin's interpretation. Check out some screencaps of the trailer below spliced with footage of vintage 1920s fashion, and be sure to watch the trailer below to get a full idea of the fashion Luhrmann's film will include.