Joel McHale's character in the new CBS show The Great Indoors, Jack, gives voice to all persons over 35 who went out for lunch at work one day and returned to learn that everything they did no longer mattered and the way they did it was irrelevant.
The Great Indoors, which premieres Oct. 27, was officially confirmed to TV writers Wednesday as a sitcom.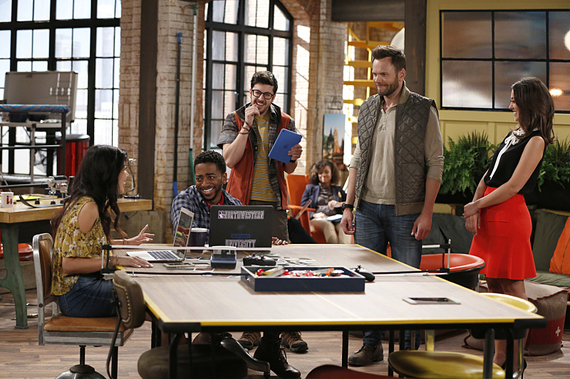 To those who have encountered this situation in real life, it's a horror film.
McHale's Jack is around 40, with an inspiring legacy as an outdoor adventure journalist. He has traveled the world, had wondrous experiences and written them with exquisite flair for Outdoor Limits magazine.
Then his boss Roland, brilliantly played by the British comedian Stephen Fry, tells him the magazine will no longer publish a print edition.
It will print only online, with a staff of millennials whose primary mission is to get lots of clicks and social media attention.
Toward that end, Roland casually mentions that Jack won't actually be going out to have adventures any more. Instead, he will use his expertise to supervise the staff as it creates splashy millennial-friendly content like "Three Things To Do If You're Attacked By a Bear."
Jack's immediate reaction to that particular notion is that there's only one thing you can do: die.
As Gen-Xer Jack meets the millennials, he feels culture shock. Emma (Christine Ko) is outraged that she has been passed over for a promotion twice when she's been there for eight whole weeks. Clark (Christopher Mintz-Plasse) has a podcast where he interviews other people in the office.
Jack is brought before the Human Resources tribunal because he hurt someone's feelings.
Executive producer and veteran comedy writer Mike Gibbons admitted to TV writers Wednesday that he got the idea for The Great Indoors from working with millennials as the head writer on James Corden's show.
Gibbons, who is around Jack's age, said the gap became acute in his mind when someone ordered lunch and Gibbons pulled out his wallet to pay for his share.
"And he was just so bummed out I wasn't paying with my phone," Gibbons recalls. "He's like, 'Don't you have Venmo?' I'm like, 'Ven what?' The writer says, 'Oh,' looking at my wallet. And I realize they don't have wallets.
"When did 40something become the new 80?"
That said, Gibbons insists the mission of The Great Indoors is not to roast millennials.
"It's an equal fight in this workplace," he says. "The millennials are very smart, and we have that in the show in spades. They have a voice, and it's great. But they also have an inability to resist taking four pictures of themselves every day.
"The show really is mostly about this guy being on his heels, not recognizing the place and then having to reacclimate with the help of this new generation, which is incredibly surprising to him.
"It is someone admitting, 'Whoa, I'm out of step. I have to catch up, and I am wrong in many ways that I thought I was right.' And then there are things maybe he's not wrong about, and that's where they are going to learn from him."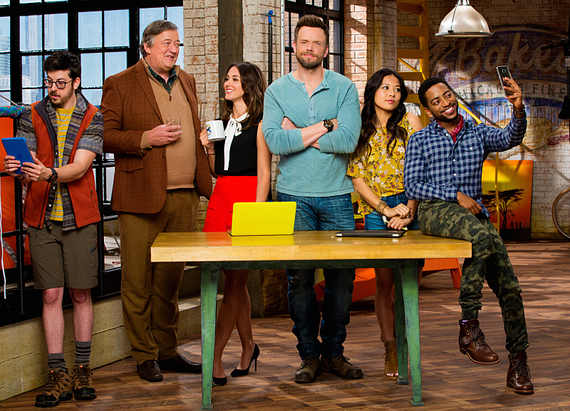 "If we do it right," says executive producer Chris Harris, "both sides are making fun of both sides."
McHale, who's 44, said he has a mixed relationship with technology. "I bought a Tesla," he said, "but I can't open the garage door with it."
He was drawn to The Great Indoors, he says, "because this is a world that's a big sandbox. That's how I felt about Community when I first read it. 'Oh, this can go anywhere.'
"And I bought a new house and I need to pay it off."
REAL LIFE. REAL NEWS. REAL VOICES.
Help us tell more of the stories that matter from voices that too often remain unheard.