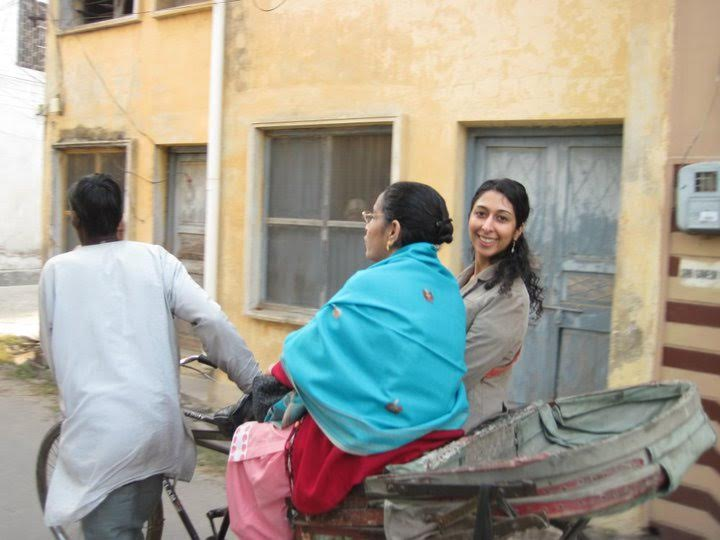 Very rarely, do we stop and ask ourselves, "in this moment, am I willing to care?" Existing in this question will keep you connected to an infinite force steeped in the ability to nurture. And walking with and attending to the answer will grant a life filled with unparalleled moments of tenderness.   
I witnessed the spirit of care nestled in the vibrant colors, cultures, traditions and sacred landscape of India.
It was three in the morning and I was wide awake as my bus driver was dangling on the cusp of cognizant and deep slumber. He took a pronounced interest as his eyes fixated on us, these "Indian foreigners" who have taken holiday. His scrutiny of the unfamiliar was our saving grace and our best option in arriving safely to my father's hometown in Punjab.
I was convinced the family I had not seen in many years would have retired to their rooms for a restful night. As I stepped onto the narrow alleyway leading to the pale white front door, I could hear the entry latch unlock. Just behind the door, joyful cries of our arrival could be heard from miles away. We were finally home. 
A crowd of cousins, uncles and aunties greeted us. I was quickly led into the main room. One of my youngest cousins, nine years old, brought me some tea, "Chai, Pīṇa" she said, as the tilted her head to the side encouraging me. So as instructed, I had my first cup of chai. She watched with a beaming smile for a few minutes and then scurried off. She returned with a sizable amount of cookies. I held my hand up declining her offer, weaving in a slightly weary smile, trying to match the radiance of her expression. She dashed out. I was concerned I had offended her. She swiftly reappeared and presented me with a tray full of Indian snacks. "Have. Snacks." she proudly articulated trying to make the best out of our language barrier. I quietly agreed and thanked her. She stared at me. "Mera Naam Priya," I exclaimed, quite pleased with myself. She giggled, nodded her head again to the side and softly stated, "I know," and continued resting her inquisitive eyes on me.  
My cousin and I lived in different worlds. What brought us together on that early December morning was our curiosity with uncertainty and pleasure in the exploration of it. We were swimming in wonderment. The fascination I have with this moment has been a compassionate companion affecting how I live, give and receive.
The wisdom bestowed to me from my trips to India has reaped simplicity in the complicated and harnessed presence in the spaces that have presumed absence. Here is what I have learned that gently governed my journey as a caregiver to my father.
 His warmth educated our hearts.
Over the years, caring for elders within a family unit has shifted. However, in that small city in Punjab, I experienced the eternal impact that only an elder can grant to the generations that follow. My grandfather never lived in a world of assumptions. He acknowledged others through a lens that was most gratifying to them. It was his loyalty to the human spirit that influenced those who knew him. To know him is to appreciate his full life - in close proximation to its riches and sympathetic to its many revelations of strife. His eighty-eight years could have entailed living on the edge of either spectrum, but he found harmony in the balance. He was our Gandhi- believing that a civilized life could be attained through a liberation of the mind. He rebuffed  the thought of there being a personal space, never a "his home" - it was invariably an "our home" where everyone was received with respect. He fed our souls. His warmth educated our hearts. The manner in which he prevailed through often laborious terrains of life was built from his devotion to peace. On any day at any time, you would have found a mix of children running from the rooftop to and through the doorways of his third floor bedroom, eagerly waiting for his approval on the Indian sweets brought to him or the amusing tale they had just heard. Grounded in his room were the adults of the house, taking a seat on the dark gray concrete floors heeding his guidance on various matters, fixated on a story he was sharing and tending to his needs. As he grew older, our theology of family grew stronger- all due to our great nurturer.
Settling in another country with "only seven dollars in your pocket" has been a common reminiscent statement that I have heard many times over by family members who migrated to the U.S., including my father. With a few dollars and a dream, they persevered through the many challenges after leaving their family - the first of their clan making the trek thousands of miles away. As persistent and perhaps inspiring as that may sound, I always sensed a bit of grief from my father as he shared his stories of youth with us. There was often bittersweet nostalgia and inklings of epiphanies as he heard himself relive the stages of his life. In order for me to realize where I came from and who my parents influencers were, it was insights gleaned from those stories that impelled my trajectory. Through my father's eyes, I understood that supporting his loved ones from afar was shaped by memories of scarcity and his deep desire to preserve the familial ties he so fiercely missed and protected. Taking care of family was supremely the most cherished of all gestures. My father witnessed that with his mother as she dusted off his shoes every morning; with his sister as she helped prepare daily meals for the family; with his brother as he held his hand to comfort in harrowing times; with his father as he diligently worked to provide; and with us as we navigated through the unpredictable path of caregiving. I became a spectator to the inner weavings of the familial bond on the many nights we sat in the courtyard of our four generation-filled Punjab home. It was often full with conversations and deliberations. There were waves of silence and then eruptions of thunderous expression, ultimately ending in understanding and being summoned to a meal. And just like that, a reclamation of what mattered formed again as each person took their first bite, gathered around the dinner table.
She was inspired by caring for others. Her dedication was met without any debate.
SERVICE: THE HEART OF IT ALL
There are spaces in our human existence that ask us to find the deep connection between unease and the discovery embedded in it. For me, it was in a small waiting room of a train station in the later evening hours where I discovered the worth of an experience. We were awaiting a train to New Delhi and time had approached its fifth hour. There was impatient lingering, at times riddled with unrest and frustrated utterances. I felt as if I was experiencing the true dimensions of a crisis, as only my sometimes dramatic nineteen-year-old self could interpret the surroundings. And then, a blown fuse- the limited lighting we had ceased. In the midst of the outage, I could see a vague outline of a shadow and finally, a slow flickering of light. It was in an instant and then she dashed into the next room, the restroom area. She cleaned them. There was nothing tentative about her, very intentional and astute in her actions. She struck up a conversation with my mother about the perils of her current predicament, taking note of the flaws in her thinking and ultimately resting in the humility of it all. Her ability to nourish through difficult conditions was evident as she placed a blanket and food on the table for us- her sustenance for the day. She was inspired by caring for others. Her dedication was met without any debate. I surmised that this came from an inborn devotion to service inherited by the many that preceded her, where she found value in shared prosperity. She remains an analyzed mystery, a reminder that there are countless those who are vessels of kindness and gatekeepers to the beauty of humanity. 
Priya Soni is the Founder and CEO of The Caregiving Effect LLC, a platform and service launched to create a space for adult children who have cared for their parent(s)/parental figures due to aging, illness and/or disability. She has developed a mission to build a movement of mentors, caregiver visionaries, who are utilizing the insights and wisdom from their stories as a tool to help the many who will or are walking the path of caregiving. Through her mentorship and coaching, adult children turn their unexpected role as caregiver into a role of a lifetime—The Caregiving Effect (#thecaregivingeffect), a term she has coined.  In addition, she currently works at a mission-oriented organization focused on educational inequity. Priya has earned a B.S. in Theatre and Psychology from Towson University and M.A. in Disability Studies from City University of New York's School of Professional Studies. She has worked in a variety of settings including working with women who have substance abuse; women who have been affected by domestic violence; and with children and adults with disabilities. One of her greatest passions is creating community. Reach out to Priya at www.priyasoni.net. Instagram: https://www.instagram.com/priyasoni/
Calling all HuffPost superfans!
Sign up for membership to become a founding member and help shape HuffPost's next chapter
This post was published on the now-closed HuffPost Contributor platform. Contributors control their own work and posted freely to our site. If you need to flag this entry as abusive,
send us an email
.