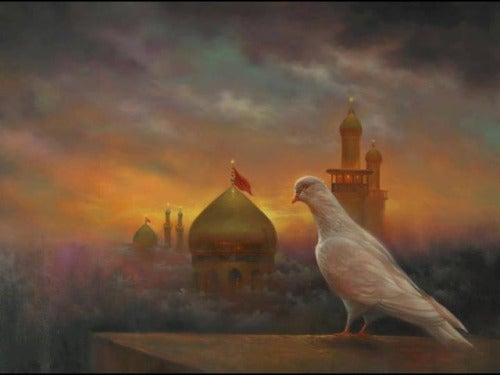 "If you do not have any religion, then at least be free (open-minded) in your present life" – Imam Hussain
In less than a fortnight millions of people will gather in Karbala, Iraq, to commemorate the martyrdom of Imam Hussain ibn Ali, Islam's third Imam and grandson of the Prophet Muhammad – drawing the mourning period to a final close.
A rallying figure who has towered grandest of all by the quality of his character alone, Imam Hussain is arguably the one name throughout History which has echoed of Freedom, Defiance in the face of abject Oppression, and absolute Courage.
A light among all lights, his sacrifice has risen movements, inspired men to stand dignified, and prompted communities to transcend their differences to recognise that in humanity at least they are in fact brothers.
Islam's flag bearer, his grand-father steward, Keeper of the Words after his brother and his father: Imam Hassan and Imam Ali, Hussain sits an immovable anchor of fortitude – together a promise and an allegiance; the one voice which among the darkened multitude broke a path of unadulterated brilliance.
It is said that there is no day like Hussain's day …
And so Islam remembers its Imam! And so the world remembers the courage of Hussain ibn Ali, he, who before an army of several thousands, held his faith closest of all, so man would learn that freedom is not a commodity despots can barter away, and that dignity can only be claimed by a man's willingness to defend the oppressed.
And so Muslims remember their Imam … but they do not remember alone.
If Arbaeen stands today the greatest pilgrimage of all times, it is also the only pilgrimage to include people of all faiths; the only pilgrimage to have commanded such devotion and loyalty … such is the power of Imam Hussain's message. Such is the light he let out as he breathed his last …
Christians, Sufis, Jews, Alawites, Yazidis, Zoroastrians, Hindus, all remember Hussain's Revolution, all realise that Hussain's voice was that of humanity, how his defiance was not for himself but God, how his valour would forever animate the hearts of the faithful. And so they all say: "There is no day like Hussain's day."
In less than a fortnight Karbala will echo of Hussain ibn Ali … there, where his body was laid to rest, prayers will rise in communion, a people's pledge of allegiance to the House of the Prophet Muhammad, a heart-felt promise that when called upon none would desert their Imam.
Arbaeen today is no longer contained within the city limits of Karbala. Today Arbaeen has manifested a movement which communities throughout the world have been keen to celebrate – a grand declaration of tolerance and compassion in the face of mounting radicalism.
For every vengeful cry Wahhabism ever let out against religious communities for it cannot bear any challenge to it diktat, Arbaeen has risen a rampart. For every innocent life claimed by bigotry's blade, it is Hussain's revolution people have remembered; for all the lies and perversions Wahhabis spoke against Islam and humanity, Arbaeen has come to symbolise Resistance, Resilience, living-breathing devotion to the Word.
Beyond the mourning rituals, beyond remembrance and sorrow, lies the beating heart of a faith - this tangible link in between the divine and man.
Today Arbaeen has moved outside the city of Karbala to speak of Imam Hussain's name and tell his story … the story of a people, the story of a faith, the story of the House (AhlulBayt).
Arbaeen today is more than just a pilgrimage, Arbaeen today sits beyond Shia Islam to testify of humanity's inalienable right to Freedom and Liberty. Arbaeen I personally believe is Imam Hussain's last stand; where he shall remain so that we will learn to think ourselves dignified, so that we would learn that Truth ought to be spoken regardless.
In the history of Arbaeen, in the history of Islam never before did the faithful gather in such a show of force. As millions upon millions poured into the holy city to honour their Imam and reflect on the sacrifice Ahlul Bayt offered humanity on Ashura, it is a faith which came to renew its oath of allegiance to the Words.
It is Hussain ibn Ali's message Muslims, and countless others will carry on November 20, across the streets of London.
For the last 36 years (1982) the Hussaini Trust in Britain has devoted its time and energy to the commemoration of Arbaeen, determined to raise awareness to the universality and transcendent nature of Imam Hussain's movement – he, who the Prophet of Islam called his son, and whom he injuncted his community to follow.
Among the many banners which will be raised, and the calls for solidarity among religious communities, it is Terror Muslims will come to denounce, oppose and reject en masse. It is the threat posed by Wahhabism and its Black Flag army Muslims will slam a crime against humanity for the evil it speaks of.
Arbaeen it needs to be said is a grand cry against Terror – the very message Imam Hussain sacrificed his life to defend and affirm.
In an interview with Shafaqna News Agency this October Waqar Haider, from the Hussaini Trust rather brilliantly pointed out that in a world run, and based on falsehood, Truth has become somewhat of a rare commodity – still, we ought to seek what has been dissimulated as to rise truly free.
Islam after all is an expression of Justice.
Related
Popular in the Community