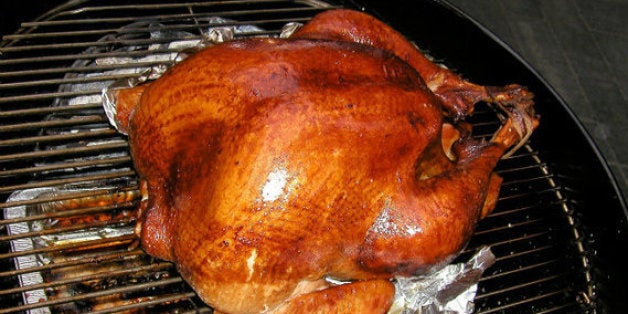 It's the great debate and it takes place every Thanksgiving: How to keep this year's turkey moist and succulent--especially when you subject it to the dry heat of the grill or smoker? Many methods have been put forth over the years, but the two I find most effective are injecting and brining.
With this method you get to play doctor, using what looks like an oversize hypodermic syringe (a.k.a. an injector) to deliver a thin flavorful liquid deep into the turkey's muscle tissue. For turkey and other poultry, the injection mixture usually contains broth and melted butter with optional wine, bourbon, fruit juice, maple syrup, and/or other water-soluble ingredients for additional flavor. Avoid coarsely ground spices, which will clog the needle.
To load your injector, depress the plunger, dip the needle in the injector sauce, then pull the plunger back to draw in the sauce. Insert the needle into the deepest part of the thighs, drumsticks, and breast, pushing the plunger to disperse the liquid throughout the meat. (Try a recipe for Cajun Injector Sauce.)
Advantages of injecting turkey:
Injecting works faster than brining. You can inject the bird immediately before cooking.
Fats like melted butter, duck fat, or olive oil can be delivered deep into the breast meat, increasing its succulence.
Because the liquid is delivered under the skin, the skin tends to come out darker and crisper than that of a brined bird.
You can vary the taste of the turkey by adding cognac, maple syrup, lemon juice or other flavorings to the injector sauce.
The injection process looks a lot more theatrical than brining, and can be done with great dramatic effect in front of guests. You can even let them participate.
Disadvantages of injecting turkey:
Only water- or oil-soluble ingredients can be used in injector sauces. Solid ingredients, including coarsely ground spices, will clog the needle.
Distribution of the liquid is not as uniform as it is for brining. In other words, some parts of the bird might be saturated while others are dry.
The needle will leave track marks in the turkey. (For the record, this doesn't bother me.)
If an injection site is saturated, liquid will squirt from the holes, potentially hitting walls, counters, cabinets, etc. Some pit masters wrap their turkeys in plastic wrap before injecting, then remove it before cooking. I don't bother.
SIGN UP for Steven Raichlen's UP IN SMOKE newsletter to learn more about barbecue!
Steven Raichlen is the author of the Barbecue! Bible cookbook series and the host of Project Smoke on public television. His web site is BarbecueBible.com.