Three years ago my co-founders at SeeClickFix and I sat down on a Sunday for a fixed four hour jam session to create a prototype of a web platform for reporting civic concerns. Today 50-plus journos, entrepreneurs and geeks are working under similar time constraints for the social benefit of New Yorkers. The challenge: "Get people from the City together to builds things for the people of the City." No boundaries except for a 24-hour work period to create socially valuable tools for New Yorkers.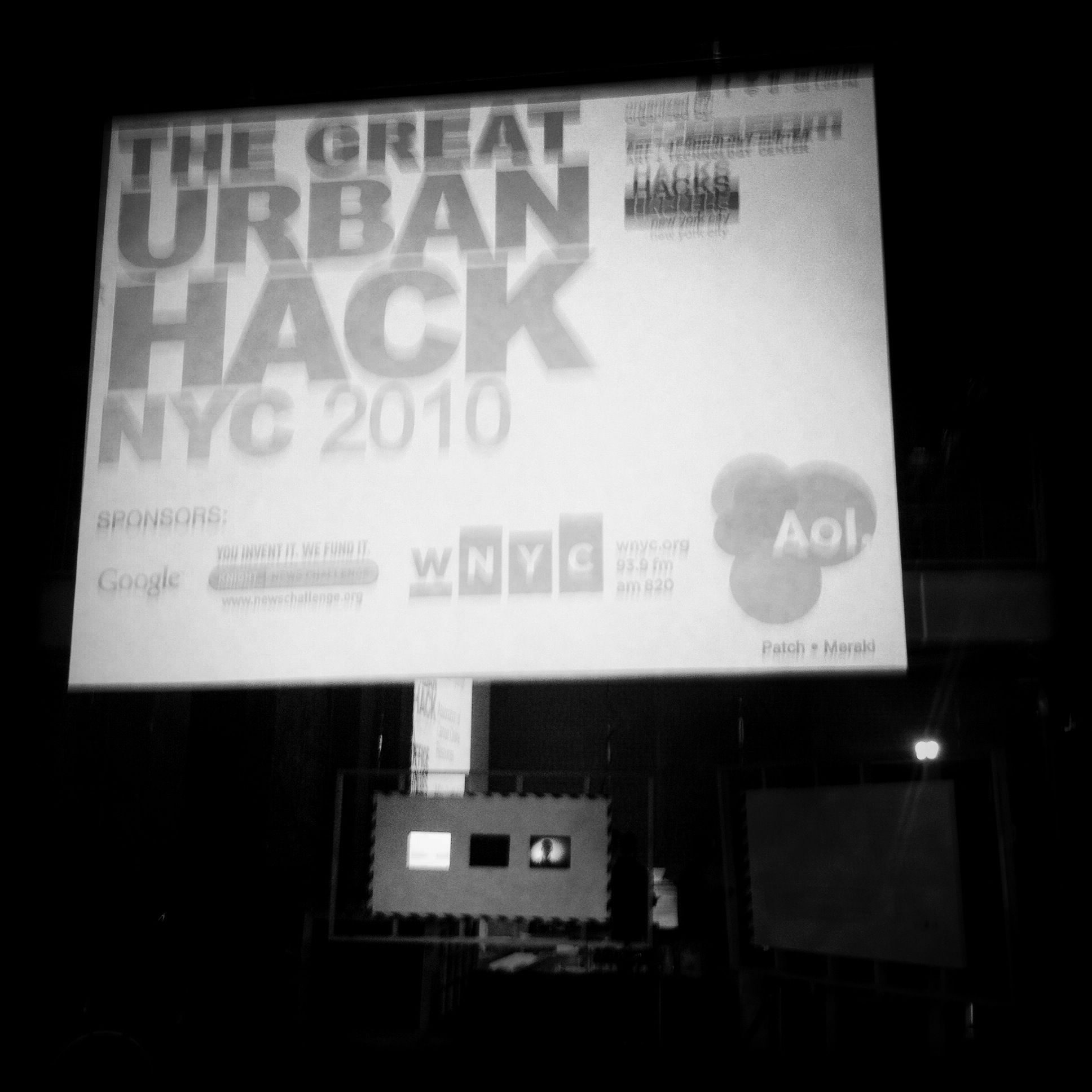 The Great Urban Hack is the product of Hacks and Hackers NYC, organized by Jenny 8 Lee, Chrys Wu and Al Shaw. The group is for "hackers exploring technologies to filter and visualize information, and for journalists who use technology to find and tell stories."
Location
Eyebeam
540 W 21st St. New York, NY
The greatest resource, willing and able "wetware", will be augmented by API's provided by YouTube, Bit.ly, SeeClickFix and others. A number of these platforms kindly provided human API support for the Hacks and Hackers. NYC311 employees, MTA employees and Manhattan Bureau President's employees were also on hand to listen and provide assistance to their API's and projects as well.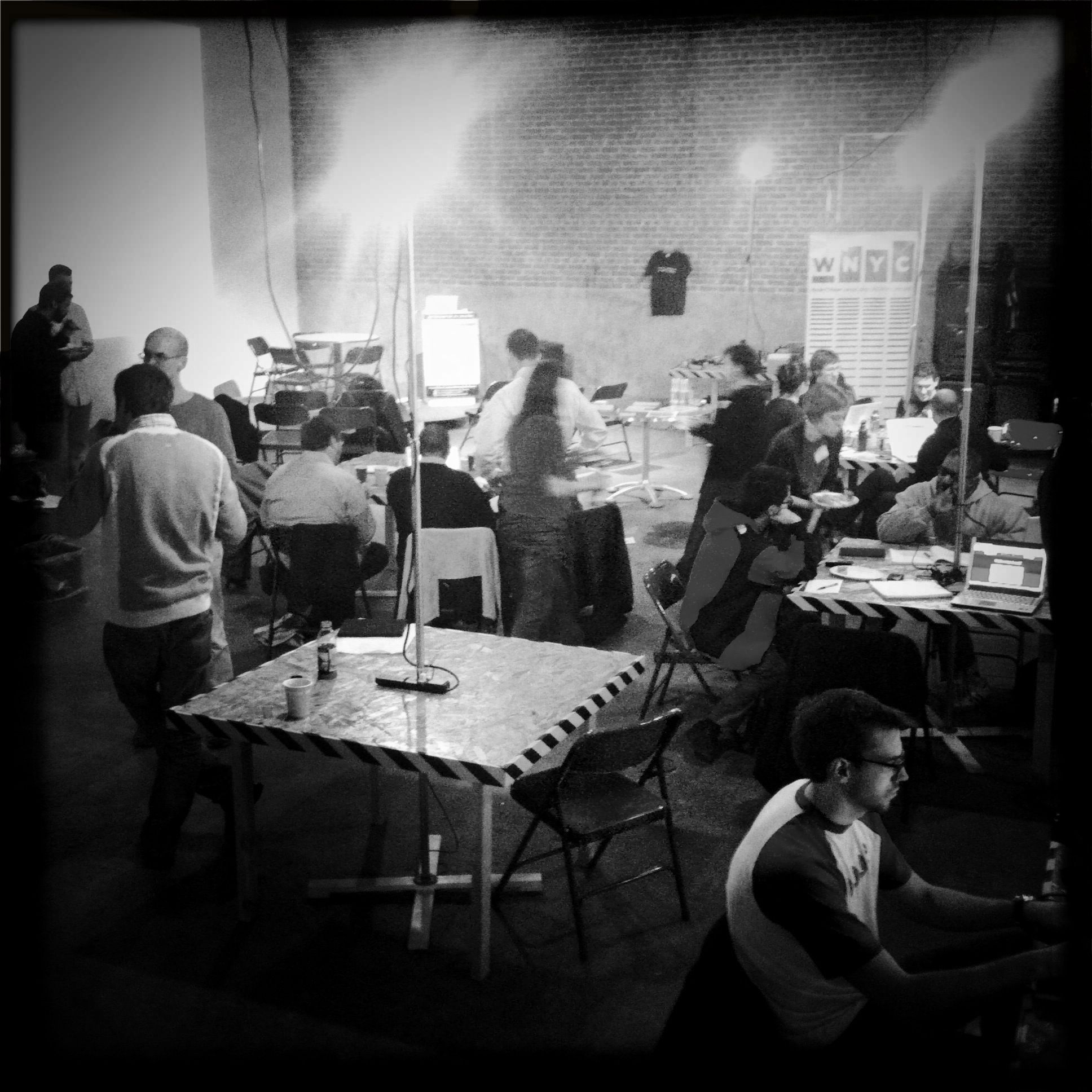 Here's the nearly complete list of ideas and projects that were formulating 6 hours into Day 1:
Taxi use visualization
Data pulled from a FOIA request by Aaron Glazer of NYC T&LC for another app (FareShare) will be used to visualize the use of Taxis in NYC in a beautiful and consumable form.
Out of Context Chat
Why chat in your own words when you could use quotes from famous New Yorkers. Starting with an aggregation of quotes from Seinfeld Characters the users of this chat platform will be able to only communicate with quotable words of local celebrities.
Who's My Landlord
This is journalism driven data based on a story titled Who's My Landlord which identified the shell game that some NYC landlords use to hide from tenant accountability. This web platform will unite neighbors around common building concerns and inform them of who is accountable. The SeeClickFix API will be used to alert landlords to the concerns while various property databases are being scraped to create a list of those accountable.
Community Map
Check into your favorite public art pieces and create a network of like minded public artists in the process. Jeff Larson and Dato Mio are building foursquare for public art.
Hacking Subways
Imagine the dark windows of subway cars lit with L.E.D's of beautiful imagery. Powered by the trains these displays will animate for passengers as the train travels and slow to a halt when the train stops. Minah Kim and Yeonju Shaw got the idea from an app they were thinking of creating for one of their daughters. The idea is a child could blow into the phone and animate a pinwheel, as example, on the screen. Imagine 100's of pinwheels hustling through the dark underground of NYC. Accelerometers have never gone this fast. In the afternoon Jules from MTA showed up and as I write is engaged in a pitch on the idea.
Dot Muncher
Pacman I.R.L. A location based app that allows users to play the ghosts or the man in the built environment by themselves or with other mobile users of the platform.
Buy Your Values
Want to align your retail and food consumption with your political values? Buy Your Values is scraping publicly available data to tell you which business owners have contributed to which political parties.
Rat Map(Now Roach Map)
Using NYC 311 health violation data Data the Rat Map crew is using maps to predict rat infestations and, potentially, other annoying communities in New York such as bed bugs.
Social Collage
Utilizing Yahoo and Twitter's API the group creating Social Collage are building a tool that will visualize your interests in a collage of imagery. The formation of groups of profiles or communities will coalesce into a mash-up of user interests displayed as one Social Collage.
5W Dashboard
A new way to consume stories through visualization. Taking traditional prose out of Who/What/Where/When/Why 5w seeks to make all of these elements visual through maps, timelines and imagery. Malik, Ida and Jay were scheming their platform and looking for geeks to build it.
Speak Up NYC
Though not a "day-of project" Speak Up NY is a web platform that is the brain child of the Manhattan Bureau President's office. Noel Hidalgo, of NYState Senate and @noneck fame suggested Shaan Khan present Speak Up NY at the event and the problems they are looking to solve with their platform. Shaan is currently getting a crash course in drupal from Noneck and looking for assistance to build a community platform that will help neighbors find nearby community groups and locally valuable data as well as their elected officials. The platform will also seek to create a local q&a for neighbors. Anyone who wants to volunteer to create this platform should contact skhan@manhattanbp.org.
As a side note: On a day when so many Journalists were choosing to be entrepreneurial I decided I'd sneak into the journo void. I have to say that playing the role of listener and documenter was an amazing way to talk to nearly everyone in the room. The great thing about a room full of people who are building for the commons is that no one is scared to share, and in a space housed by the tagline, "Think Make Share", why should they be?
It would be great if participants could provide links to their outcomes in the trailing comments.
Popular in the Community