Probably the least-known network covering the Winter Olympics is Universal Sports. In fact, many service providers don't even carry it, despite some high pedigree, owned by NBC Universal. The network is so in need of identification that it even airs a commercial explaining itself, that stars Stephen Colbert. "Universal Sports," he enthuses, that's "the entire universe!! Covering everything from baseball...to space ball." (The network then cuts in and clarifies that they don't carry baseball.)
During the Olympics, it has an excellent broadcast at noon Eastern time, Meet the Olympic Press, with a lively panel of journalists and a guest discussing and debating the day before, hosted by the always-excellent Jimmy Roberts. Various other shows do a breezy job of informing and entertaining.
But perhaps the best thing Universal Sports has done is a joyous one-hour documentary about the U.S. Women's Hockey team, Blood, Sweat and Cookies. (When you see it, the title makes perfect sense. Trust me on this.) It airs again tonight with repeat broadcasts.
A slight disclaimer here. I love watching women's hockey. It's one of my favorite Olympic events. Not because I'm such a massive hockey fan -- I'm not. (I used to love hockey tremendously, growing up in Chicago and following the Blackhawks. But that's time passed.) Women's hockey during the Olympics is something special. The quality is high, but it's played at a slightly slower speed than men's that allows the viewer to take it all in. Much more than that, however, is because this is something that none of the players will continue on a professional level, they are all just playing something this demanding for the pure love of the sport. That's why when you see interviews, the players tend to show themselves as enthusiastic, determined and completely endearing human beings.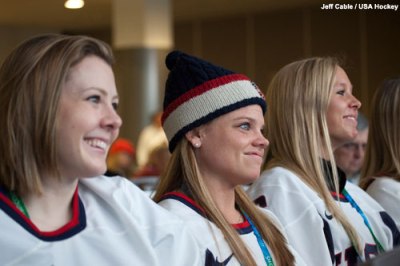 L-R: Karen Thatcher, Erika Lawler, and Kelli Stack
Photo credit: Jeff Cable/ USA Hockey


But even if you hate hockey, even if all sports bore you, Blood, Sweat and Cookies, remains a program well-worth your time. It's involving, eye-opening, entertaining and often hilarious.
The documentary is hosted in by NBC producer Clare Duffy, in sort of a George Plimpton way, as she sets out to train with the aspiring women, all hoping to make the U.S. team. It's done in a way that has the potential of being much too cloying, since Ms. Duffy is the focus, at least at first. But the format ultimately works because it shows the contrast of everyday people to these athletes, which allows us to appreciate their awe-inspiring effort. Normally, when we see athletes training together, it has little impact on us because everyone is at the same high level. (It's like watching an NBA game where none of the basketball players look tall, because they all are.) Here, the impact is clear.
As the women athletes train, pushing themselves intensely and even struggling themselves, we see Ms. Duffy going through complete hell, barely able to explain how painful that was, the hardest thing she's ever done. And then the very next training exercise turns out to be harder. "Half time???", she barely gasps out, when she hears that call from the trainer, in agonizing disbelief that she's only made it halfway through, certain she can't go any farther. And it only gets harder and harder. You become in awe of the dedication it takes for the athletes.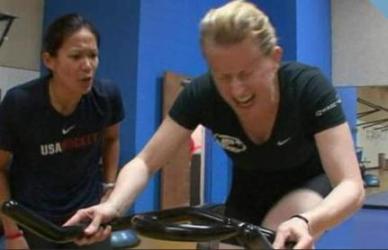 Clare Duffy urged on by Julie Chu


And this reaches its high point, literally, on one numbing challenge, even for the women. "The Incline." It's a run, jog, walk, crawl up - Pike's Peak. Yes, to the top of Pike's Peak. But it's the comradeship of the women, pushing, encouraging each other that gets them all through.
That's the theme of the documentary, it turns out. The bonding that occurs between these women athletes, many of whom won't make the team, yet who build lifelong friendships, and take away lessons that they say will hold them and push them through the rest of their life.
It's the individuals that stand out in the film - which makes watching the hockey contests all the more enjoyable, but are a pleasure even if you don't see a single minute. There's Erika Lawler, who seems to be 3-foot, 6-inches, but with a dynamo enthusiasm that propels her like a pinball. We see hilariously why Kerry Wieland got her nickname, "Monkey." Julie Chu and Jenny Potter show a veteran leadership that is perhaps more nurturing then it is driven. Joceylne Lamoureux competing against her twin sister, Monique. We understand why Natalie Darwitz was named captain. And many others.
The highlight sequence is when the team takes a day off from training and goes to the Minnesota State Fair. It's not just how enthusiastically they are treated by everyone in that hockey-mad state, but the hero-worshiping expressions of young girls who surround them. But the best part of all this, the highlight of the whole documentary, is Karen Thatcher.
I don't want to give it away, but let's just say that this 5-8" dynamic forward demonstrates with all utter clarity that as much as all these athletes are driven, accomplished and impressively talented - they are still young women. It puts the entire panorama is full perspective. There is one shot of Ms. Thatcher that is so joyful and so gut-wrenchingly funny that if it's all you saw, it would be worth it.
Do yourself a favor and try to watch Blood, Sweat and Cookies. It's getting repeated a few more times on Universal Sports, the next being this evening (Wednesday, February 17) at 9 PM Eastern, three hours earlier in the West. But if you don't get Universal Sports, or miss the broadcasts, you can watch the whole thing online, at Universal Sports.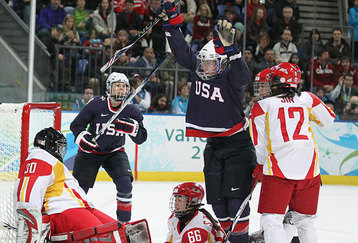 Related
Popular in the Community