When it comes to gadgets, men can't get enough of them. But we're not talking electronics, mobile phones or espresso machines here. Rather men's clothing gadgets, and those shown here have one thing in common: when worn properly, nobody can see them.
"You'd be surprised by how many stylish men wouldn't dream of leaving home without some of these funny looking things inside their clothing!"
Fashion gadgets are nothing new, as Alexandra would be the first to admit.
"Most of them have been around for a long time, but they're making a comeback," she says. "Some of them are genius and some are just plain weird! But when they work they can really create a well-pulled together look."
Here Alexandra gives her opinion on four fashion accessories you've probably never seen and hopefully never will!
"Yikes! At first view you could be mistaken for thinking these little numbers were some sort of elaborate fetish get-up.
"But these babies really do the job, if you're after a super-sleek look, especially if you favour a slim-fit shirt.
'No point in using them if your shirt is loose-fitting, and
if you can't face strapping yourself into this little lot then the alternative is to have shirt grips on the inside of your trouser waistband."
Magnetic collar stays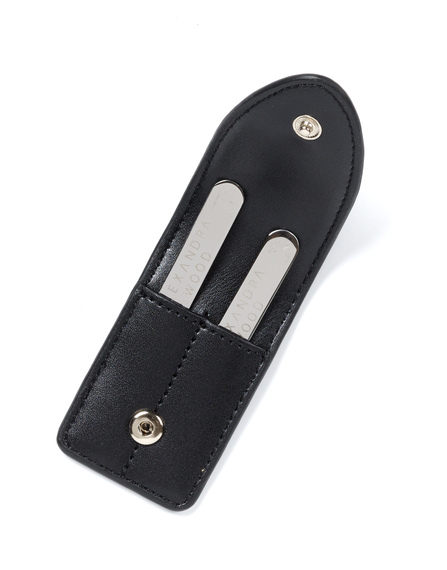 "This is pure genius - using the force of magnetism to hold a collar in place," says Alexandra. "No need for buttons- just an invisible force field ensuring your collar stays exactly where you want it.
"Another bonus is that if you're wearing a waistcoat, they stop the shirt collar from popping out.
I am such a fan that I used them at my own wedding. My groom and his groomsmen loved them so much that they wear them all the time now.
"Just one thing - make sure the magnets are nice and strong, and be sure to take them out before you wash your shirt."
"Yes, I know what you're thinking," says Alexandra. "Who needs an armband, unless you're playing snooker?
"The truth is, armbands are an ideal way for a man to keep his sleeves in the right place if they're a touch too long.
"Some may question whether it would be easier to find a good tailor to make clothing with the correct sleeve length. Nonetheless, armbands do the job!"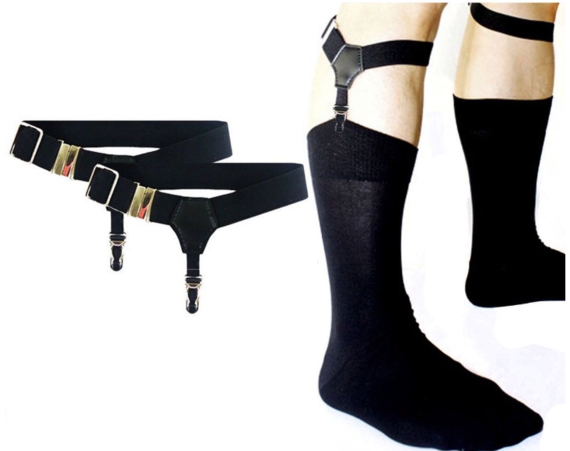 "Go ahead and laugh! I know I find these things hilarious too, but the truth is, if you suffer from sock rage at the thought of your socks slipping and revealing too much leg then these could be just the thing for you."
So the next time you see a really well-dressed man go by, ask yourself - does he have a hidden agenda? And does that agenda take the form of straps, garters, magnets and armbands under his clothes?
"Bottom line is the way a man looks," says Alexandra. "If these strange-looking hidden gadgets help his appearance, I'm all for them!"
www.alexandrawoodbespoke.co.uk