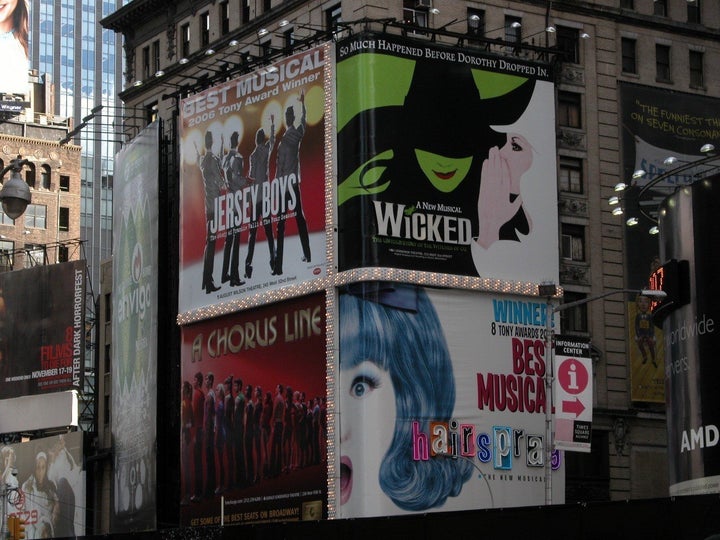 It's rare, indeed close to impossible, when one can make a subjective opinion and have it be objective and demonstrably provable. I believe this is one of those times.
The musical in question won the Pulitzer Prize. Emphatically a notable standard. But further, at the time it won -- 1959 -- it was only the third musical ever to win the award. (The two previous were the renowned Of Thee I Sing by the Gershwins and South Pacific.) So, this isn't only a high honor, but you're in rarified air. Countless great musicals haven't won the Pulitzer Prize. Oklahoma! didn't win a Pulitzer Prize. Neither did My Fair Lady, The Music Man, West Side Story or Gypsy. Or...well, fill in the blank. It's a long blank.
The evidence goes deeper. It won the Tony Award for Best Musical. Among the shows it beat that year was Gypsy. That's a pretty good trick. Actually, it tied as Best Musical that year, with The Sound of Music. But that didn't win the Pulitzer Prize either. (Only this show, just the third ever.)
So, okay, it won the Pulitzer Prize and Tony Award, and beat Gypsy. And tied The Sound of Music. Any objective observer would have to admit its credentials are firmly-established. Are there better shows? That's of course subjective and personal opinion -- and not the point here. The point is that this is the greatest musical that is unknown.
The show is...are you ready? Fiorello!
Right now, theater geeks aside, pretty much everyone is scratching their collective heads, going, "Hunh?"
Considering that oceans of Hunhs, it's a safe bet to say objectively that Fiorello! is the greatest, unknown musical in Broadway history.

No quibbling here. I'm not talking "little known." Not "underappreciated." Not "cult favorite." I'm talking precisely in the truest and exact sense of the word -- literally unknown. "You have never heard of it," that kind of unknown. AND greatest: winner of the Pulitzer Prize and Tony Award greatest. Not "Well, my own personal favorite is...." Not "Y'know what's also good is..." Top these honors and you can chime in.
Unknown and greatest. You have to meet both criteria. Fiorello! is it.
As noted, obviously there are some savants who know of Fiorello! You don't win a Pulitzer and Tony and stay completely blanked out. Yet even among this small group of theatrical archivists who know of Fiorello! and love Fiorello! and defend the honor of Fiorello! -- I would bet cash money that almost none of them have ever even seenFiorello! Not as a movie, not as TV special, not as a community theater production, not as high school show, not as anything. Not. Not seen. Since its initial run on Broadway of 795 performances 49 years ago, the musical just isn't done. So even for those to whom it's not utterly unidentifiable, it most likely is unseen. Unknown.
(Though not unheard. Its score has carried its legend. Written by Sheldon Harnick and Jerry Bock, the team would soon go on to write another Tony-winning Best Musical that brought them far more fame: Fiddler on the Roof. The score of Fiorello! is simply ethereally remarkable. Lush, hilarious, poignant, and vibrantly lyrical yet sounding like everyday conversation. A near-impossible task.)
So, what isFiorello!, I hear you cry. It's the story of Fiorello LaGuardia. (Hunh, you again say?) Have you ever flown into New York City and landed at LaGuardia Airport? He's that LaGuardia. The former mayor of New York who defeated the powerful and criminal Tammany Hall political organization, helping break its back and restore honest government to the city. His own personal story is as fascinating as his political one, including being a World War I hero, volunteering to fight in the Air Force while he was still a U.S. Congressman.
That's one of the likely reasons the show has rarely been done since its initial run. People seem to think it's only of interest to New Yorkers of that era. It's a foolish thought -- no less so than thinking only the early Danes would care about seeing a show on their prince named Hamlet. Fiorello!is a story of decency, humanity and good triumphing over criminal, against insurmountable odds. It's about breaking corruption and injustice, in order to bring good government and responsibility to the American public. And in the midst of it all, a double love story.
There's no reason this musical should not be done by local theaters or schools all across the country. Or revived on Broadway. It's too great and about subjects far too interesting and meaningful to the public.
Next year is its 50th anniversary. If PBS has half a brain and soul (which it does), they should mount a production for "Great Performances." Legions who've only heard of Fiorello! and been dying to see it would flock to watch.
(It should have been done by PBS during the 1976 Bicentennial. I made an effort to interest them at the time, but was just a neophyte with no real access to anyone who mattered. To show how further-stupid it was that PBS didn't do the musical then -- they could have used its original Broadway star to recreate his role. He was unknown when Fiorello! opened on Broadway, but by 1976 he was a Really Big TV Star. Tom Bosley -- who at the time was playing the father, 'Howard Cunningham' on the series "Happy Days." But alas, PBS -- indeed everyone -- missed the opportunity and blew it.)

But there's no reason to blow it again. And if anyone needs even further proof about the viability of Fiorello! today with audiences not from New York, they need only look at the TimeLine Theatre in Chicago.
TimeLine is an excellent company that does shows of historic interest, designing its lobby to recreate a sense of the era. They did Fiorello! two years ago, and it was their biggest hit ever, but were unable to extend the run. They had never before brought a show back, but did this year with Fiorello!, in large part because it is a political year. Much of the same cast is in its revival, and it's again a major hit, selling out every performance. And its run extended again.
(The Chicago Tribune called it even better this time. The Chicago Sun-Times said it was "wildly ambitious, wholly exhilarating" and "every bit as sensational the second time around.")
"Politics and Poker" and "Little Tin Box" are as funny and yet meaningful songs as you'll hear. "When Did I Fall in Love?" may be one of the most gorgeous love songs ever. "On the Side of the Angels" is exhilarating in its elegance, simplicity, hilarity and curmudgeonly counterpoint. "'Til Tomorrow" evokes a bygone era with heartbreaking beauty. And these only touch the surface.
(Though this isn't a review of that TimeLine production, which I saw and was bowled over by, out of fairness I'd like to note such cast members as PJ Powers as 'Fiorello,' Terry Hamilton, Michael Kingston, Rebecca Finnegan, Andrea Prestinario, Maris Hudson and Alan Scmuckler, all superbly and inventively directed by Nick Bowling. The supporting performers were all gems, as well.)
Sheldon Harnick himself was slightly involved with the TimeLine production. He's tweaked a few of the lyrics over the years, and not only smoothed out its one glitch in "I'll Marry the Very Next Man," but with Jerry Bock added a reprise of "The Name's LaGuardia," which richly deepens the show and character's emotion. (TimeLine has a link on their website to a fascinating hour-long interview with Harnick they did before a live audience.)
More companies should learn from the example of TimeLine: Fiorello! deserves to be done, and has shown that audiences will flock to it -- even if they're not from New York, and even if 50 years have passed. (The Reprise! organization in Los Angeles did an abridged version of it to great success a decade ago. UPDATE: And in New York, it was the very first presentation of the Encore! series back in 1994.) Indeed, this TimeLine production should tour -- to New York, even. After all, there's a strong tradition of Chicago to Broadway Tony-winning transplants. With a book by Jerome Weidman and the legendary George Abbott, it's a remarkable, Pulitzer Prize-winning, Tony Award-winning, great musical on its own merits, that perhaps holds even deeper meaning to audiences today bombarded with the trivial in political campaigning, when 81% of the American public are saying the country has "pretty seriously" gotten off-track. Fiorello LaGuardia faced a city that had gotten seriously off-track, and put it back on, showing that decency in politics can succeed.
Here's hoping PBS -- or some network -- does a production next year for the show's 50th anniversary. At the very least, do yourself a favor by picking up a CD of the cast album.
And be enthralled by the greatest musical you've never heard of.


(To see a classic clip of Tom Bosley recreating his role as 'Fiorello' at the 1971 Tony Awards, click here.)

Popular in the Community