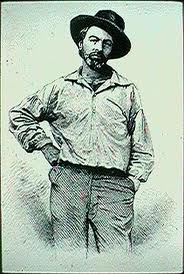 I don't "do" many poetry readings -- as some wag once quipped, riffing off Allen Ginsberg's famous poem Howl, "I saw the best minds of my time bored to death at poetry readings..."
But this one, well, it felt historic, and I got a bit carried away.
Walt Whitman's legendary epic poem "Song of Myself" first appeared in 1855, self-published in Brooklyn by the then-unknown journalist and walker, who was 37 years old at the time. According to West Marinite Robert Hass, Pulitzer-winning former Poet Laureate of the United States, "it was then and is now an astonishment, perhaps the most unprecedented poem in the English language."
Many students are forced to read Whitman in high school. Some of the hundreds of people attending the The New School's mass reading of the poem at Commonweal recently said that was indeed the first and last time they'd looked at it. But I think it a fair guarantee that nobody present will forget it now. As conceived and conducted by artist, author, and Commonweal board member Eric Karpeles, this was a literary event for the ages.
Hass himself introduced the poem, expertly, warmly, and then without fanfare launched into the first section, beginning "I celebrate myself...". Sitting in two rows behind him, readers took their turns at the two podiums, flanking a rare and invaluable original copy of the poem in book form that stood there like some version of the Biblical Ark of the Covenant, admonishing us to do it justice. There were 52 sections of the poem to be read. I did not know everyone who was reading, but of those I did know, there were yes, poets and writers, but also carpenters, dancers, naturalists, winemakers, philanthropists, scientists, healers, lawyers, actors, artists, ranchers, scholars, surfers, farmers, business people ... and many more.
Younger and older, each reader brought their own personality to their section of the poem, with presentations ranging from quiet and meditative to booming and dramatic. The reading flowed seamlessly, for almost two hours. As each person ended, quiet murmurs of appreciation could be heard. Some of the lines prompted laughter, sometimes the mood was somber. As the poem required, we contained multitudes, contradicted ourselves, let forth a barbaric yawp, and much much more.
But it built like a symphony; the power of it was really astonishing by the end, a celebration of life and love and nature and, well, most everything, including, yes, death. Over such a long reading one's mind can wander, and mine did, and I was already exhausted from a very demanding work week, maybe even a bit ill, and my butt grew sore from sitting, but as we neared the end I was fairly shocked to feel that if it went on much longer, I just might burst into tears -- which would have embarrassed me deeply as I was in the front row of readers facing the big crowd. But then I looked around and saw tears on the faces of some others less uptight than myself, and felt vindicated that something extraordinary was indeed occurring.
The end neared -- Karpeles rose to read the poem's final section and read, quietly:
I depart as air, I shake my white locks at the runaway sun,

I effuse my flash in eddies, and drift it in lacy jags.

I bequeath myself to the dirt to grow from the grass I love,
If you want me again look under your boot-soles.

You will hardly know who I am or what I mean,
But I shall be good health to you nevertheless,
And filter and fibre your blood.

Failing to fetch me at first keep encouraged,
Missing me one place search another,
I stop somewhere waiting for you.
At the poem's final word, there was a huge collective exhale, and the whole room erupted into loud, exuberant, sustained applause and cheers. There was a sense of shared purpose and accomplishment in that room that reminded me of certain concerts, perhaps, but without the drugs. We all stood, cheering for one another, and for Whitman. We had "fetched" him, no doubt about that. Walt himself was in the room, in one form or another, for as the very first stanza of his poem holds, "every atom belonging to me as good belongs to you."
Brilliant writer Michael Cunningham (another Pulitzer-winner best known for The Hours) has described Whitman as "a comfortable and comforting admixture of Everyman -- the poet as regular guy -- and a sort of mystical Santa Claus, a visionary Saint Nick who roamed euphorically around America, found it all profound and strange and fabulous, and left Leaves of Grass under the national tree, the greatest imaginable Christmas present, as big bruiser of a book that took a lifetime to write, that declared our land to be astonishing in all its aspects, from the mansion to the mud puddle, and all its inhabitants heroes, from the factory owner to the kid who swept the factory floor."
I found myself wondering what this visionary roamer might have thought of his beloved America now, so much more crowded, sprawling, noisy, full of electronic news and nonsense and political insanity. Who knows? He did experience the carnage of the Civil War firsthand so perhaps he would not be very impressed. But his perspective seemed to encompass both impermanence and what lasts, and on nature in all its guises. I think he would love West Marin -- saved by other visionaries from so much of "progress," surrounded by the natural splendor he celebrated -- and with some people who look just like him. In fact, I bet he'd live there. Maybe he does. He certainly did on that Sunday afternoon.
People still talk of the legendary San Francisco "Six Gallery" reading that some say launched the Beat movement in 1955 with Allen Ginsberg's reading of his own "Howl" (and without Whitman, there would be no such "Howl"). I wonder if, over 50 years from now, this reading might join that one as a truly historic event. Again, who knows? Afterwards, I asked an elated-looking Hass if, in his long poetic career, he had seen and heard anything like it, and he replied "No. This was just amazing."
A recording of the reading will appear on the website of The New School at Commonweal (which co-sponsored this event with the wonderful Point Reyes Bookstore):
It won't quite be like being there, but as close as it gets....
Related
Popular in the Community