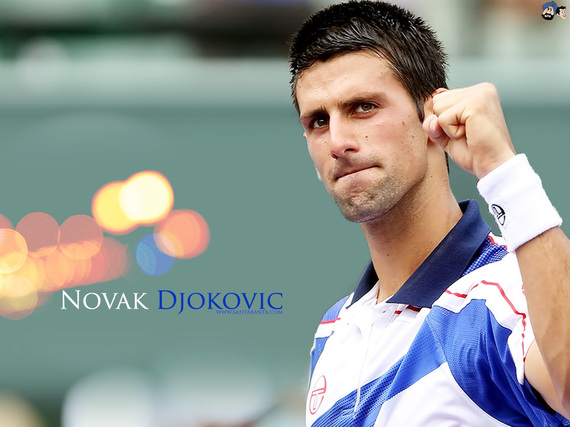 Having watched Novak Djokovic beat Roger Federer in two sets in the final of the ATP World Tour finals (6-3, 6-4) a few days ago, I thought that I would pose the question which will right now be on the tennis worlds lips: Is Djokovic's 2015 the greatest season in the professional era?
Djokovic has said himself said that this is his greatest season, better than his 2011 season. In terms of winning the big titles and his winning percentage over the year, this is indeed true. In 2011 he went 70-6, this year he went 83-6. In 2011 and 2015 he won three Grand Slams in each. But in 2015 he won six Masters titles, the only man to ever do so. And importantly in 2015 he won the big year-end tournament (which has just finished). In 2011 he stumbled at the end of the season, while this year he didn't stumble at the end.
All time, I think any vaguely knowledgeable person on tennis will instantly recognize that his winning percentage this year has not been as good as McEnroe in 1984 (when he went 82-3), or Federer in 2005 or 2006, or even Jimmy Connors in 1974. This year Djokovic has won 11 titles, which is still five titles below Guillermo Vilas in 1977. And still, of the more recent seasons, it is one below the 12 titles of Federer in 2006.
But when we consider the really big titles, the ones that really matter, like the Masters series titles, the Grand Slams, and the big year-end tournament, Djokovic's 2015 stacks up against the best of them. And if you look at a tennis year in the context of winning the big matches, Djokovic is arguably at the very top of that list. In 2015 he had 32 wins against top 10 players. The three spots below that on that list are all owned by Djokovic (2012, 2013, 2011). The only other player that goes anywhere close to Djokovic is Nadal in 2013, who had 24 top 10 wins. Roger Federer in 2006? 19 top 10 wins. The McEnroe and Connors seasons don't even make the top 10. In terms of the Masters titles, in 2005 and 2006 Federer only won 4 titles in each season. In 2013 Nadal won five titles. Winning six in 2015, Djokovic has the record.
The only real blemish to Djokovic's season was Wawrinka beating him in the French Open final. This is very similar to the one blemish in all the other great seasons, obviously apart from Nadal in 2013. In 1974 Connors was prevented from playing in French Open due to an dispute with the World Team Tennis organization at the time. In 84' McEnroe lost to Ivan Lendl after being two sets up in the final. And in 2005 and 2006 Federer was beaten by Nadal in the semifinal and final respectively.
The bottom line for me, is that McEnroe's 1984 is still the greatest season in modern tennis history, perhaps apart from Rod Laver's Grand Slam year in 1969. I don't think that the very early years of professional tennis could be classified as the modern era though. It was a different era back then, and it needs to be recognized as such. If Djokovic has beaten Wawrinka in the French Open Final, and had gone onto win the Grand Slam, then I think that undoubtably his 2015 would have been the greatest season ever. But because he didn't, I don't think that it can be. It does though, need to ranked alongside McEnroe's 1984 and Federer's 2006 as one of the few greatest seasons in "modern" tennis history.
Calling all HuffPost superfans!
Sign up for membership to become a founding member and help shape HuffPost's next chapter