To fully appreciate the great legacy of French designer Christian Dior, one has to understand the perfect timing of his first collection. Think 1947, post-war Paris, a country ravaged and women who did not dress with the verve and glamour we believe French women to possess naturally. In Dior's autobiography, the couturier wrote, "as a result of the war and uniforms, women still looked and dressed like army girls. I designed flower-women, with soft shoulders, ample busts, tightly nipped waists and skirts as wide as corollas."
Thus a design revolution was started, Dior's first couture collection was presented on February 12th, and the fashion world hailed the birth of the "New Look." Beautiful, feminine clothes, in soft pastel shades or bold blacks and reds, ready to be worn at hotel bars, around town by women who weren't afraid to be women, and at parties. Because, and I quote Monsieur Dior once more, "parties are genuine works of art; they are desirable and important."
Fast forward to 2015, to the city of Dubai, and to a mall that features every single hot designer you can imagine, and then some we don't even know about yet, under one roof. And there, in the middle of The Dubai Mall's Fashion Catwalk Atrium, think how perfect it is to find a beautiful exhibit of tiny replicas of highlights from Christian Dior's collections -- from 1947 to the present. Works that range from the collections by the master couturier himself, to enfant terrible John Galliano, to the legendary Yves Saint Laurent when he designed for Dior, to Italian structuralist Gianfranco Ferre, to the most current Raf Simons, who left the house of Dior just two weeks ago. All there, perfectly choreographed inside their precious glass cases, an exhibit titled "Le Théâtre Dior", featuring these lilliputian, perfect versions of fashion looks, the stuff legends are made of. For a fashionista, it's really like heaven on earth.
I believe the timing for this traveling exhibition is perfect as well. The world is in upheaval but, at the risk of sounding like a modern-day Marie Antoinette of sorts, let us wear glamour! Let us be women, who look like women, wearing high heels and nail polish and scented in perfect perfumes of lily of the valley and roses, two of Dior's favorite flowers. In these uncertain times, we need our feminine wiles more than ever, to distinguish the girls from the women. Or perhaps, to rediscover the girl inside ourselves.
The video from the show says it all, really, and the slideshow below is a great way to become enveloped in the magic of these miniature fashions. If there is one name that says it all, it's Christian Dior, and one place that means glamour today, Dubai. Oh, and on my way out of the exhibit, I stopped to buy one of the fashion house's signature scents, Diorissimo, my own little way of feeling more glamorous and experiencing the magic of Dior. Hail to the power of fashion!
"Le Théâtre Dior" lasts through November 24th at The Dubai Mall.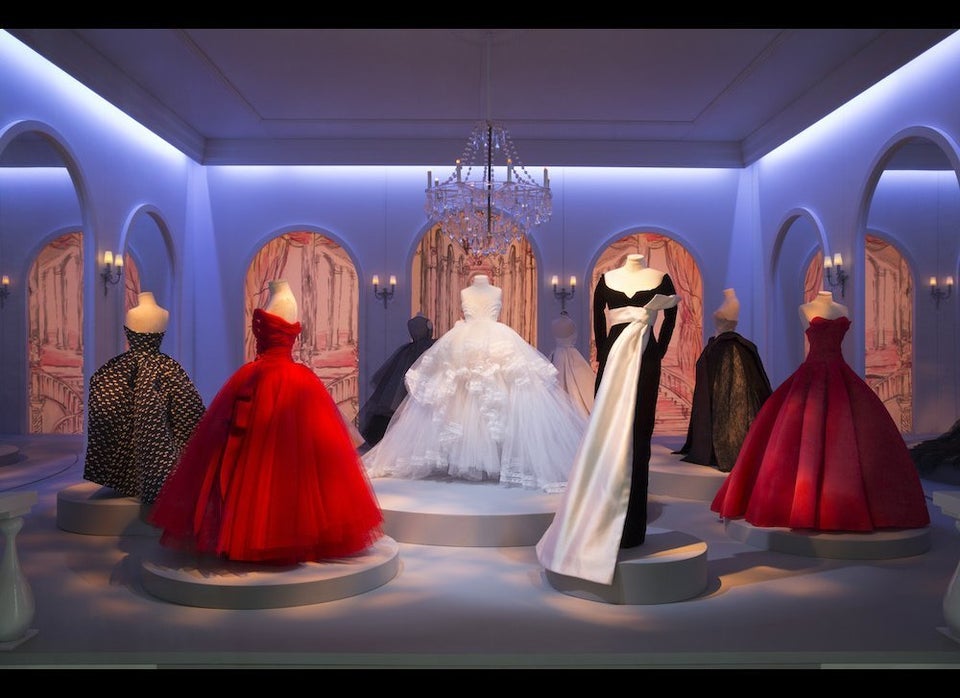 Le Theatre Dior in Dubai
All images courtesy of The House of Dior, used with permission.
Related