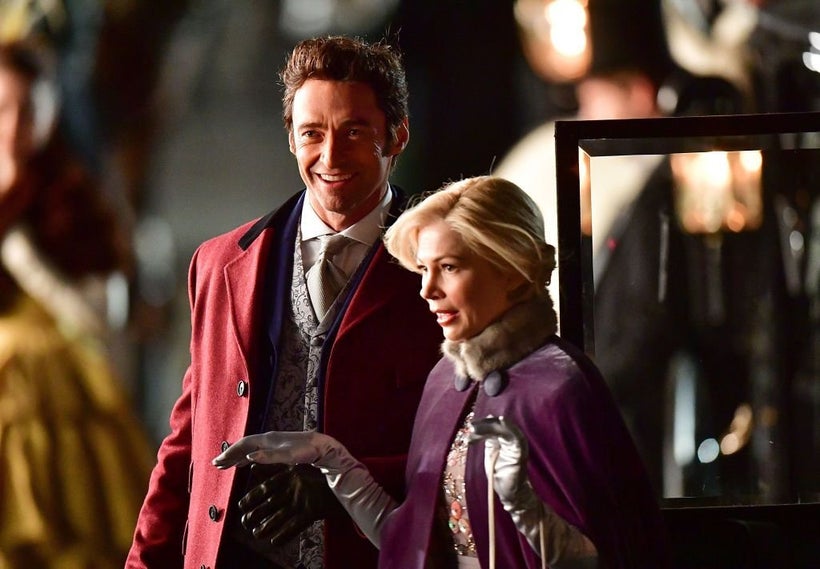 Movie Review - Jackie K Cooper
"The Greatest Showman" (20th Century Fox)
"Les Miserables" was supposed to be the movie that showcased Hugh Jackman's talents as a singer, dancer and actor. It didn't. Somehow the presentation of the story and the role Jackman was given never reached that magical spot his talent possesses. "The Greatest Showman" gives him another chance and this time he knocks it out of the park.
In "The Greatest Showman" Jackman plays Phineas T. Barnum, the show business great. It starts his story when he is a young boy helping his tailor father trying to make ends meet. One day he and his father go to the home of his future wife Charity (Michelle Williams). Her parents do not approve of this impoverished young man and send her off to boarding school. However love persists and eventually Barnum and Charity do marry and have two daughters.
Though poor the family manages to survive and actually enjoy life. Still Barnum is on the hunt for the idea that will bring him fame and fortune. It arrives when he invents "show business" and gathers a group of oddities that manage to attract an audience at his new museum , which is later called a circus. Three of his most outstanding acts are the bearded lady Lettie Lutz (Keala Settle), tiny man Tom Thumb (Sam Humphrey), and trapeze artist Anne Wheeler (Zendaya).
There have been many who have questioned why exaggerations about Barnum's life have been allowed. And if you are someone who wants total accuracy in the story then this movie will disappoint you. But if you can enjoy it as a movie that is loosely based on truth then you will be overwhelmed by the music and magic that explode on the screen.
Jackman has never been in better voice. He has also never been as agile and rhythmic. You love every scene he has in the movie and he is in almost every scene. As Barnum's junior partner, Phillip Carlisle, Zach Efron hits the ground running and is the epitome of the young romantic lead. His romance with Zendaya's character adds another nuance to a movie already saturated with good plot lines.
Ben Pasek and Justin Paul of "La La Land" fame wrote the songs for this film, ands they have exceeded the bar "La La Land" set. I was not that big of a fan of "La La Land." It had its moments but wasn't a cohesive film. "The Greatest Showman" flows from one good musical number to another while keeping the plot moving. Highlights are "Never Enough," "A Million Dreams" and the downright rejoicing of "This is Me." These and other songs always move the plot forward to a destined grand emotional finish.
The movie is rated PG for a mildly violent brawl.
It has been a while since I enjoyed a movie so totally. I liked the acting, the story, and most especially the musical numbers. It all filled my head and opened my heart. It has a message that should resonate with today's world concerning acceptance and courage, and it spreads that word with one anthem after another.
"The Greatest Showman" is a bonanza of musical and emotional moments. Open your heart to it and you will have an exceptional film experience.
I scored "The Greatest Showman" an epic 10 out of 10.
Jackie K Cooper - www.jackiekcooper.com
Calling all HuffPost superfans!
Sign up for membership to become a founding member and help shape HuffPost's next chapter
This post was published on the now-closed HuffPost Contributor platform. Contributors control their own work and posted freely to our site. If you need to flag this entry as abusive,
send us an email
.