As soon as Shoshana Bean was announced for Funny Girl at North Shore Musical Theatre, I knew I had to go. Months ago I wrote that I was going and friends expressed some disbelief. But how could I miss Shoshana Bean in Funny Girl? I've seen her in all her notable theater appearances--Godspell at the York, Hairspray and Wicked on Broadway and Beaches in Chicago. Plus, it's Funny Girl. I'm not stupid, I know how perfect Bean is for Fanny Brice.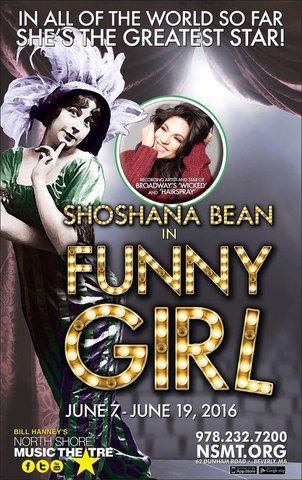 While there is a West End mounting of Funny Girl (with a revised book by Bean's Hairspray costar Harvey Fierstein) right now, the show rarely has major mountings. Plans for a Broadway revival in the 2011-2012 season, oddly with Lauren Ambrose as Fanny Brice, were scuttled. My trip to Beverly, Massachusetts--where the show closes tomorrow after a two-week run--marked the third time I've seen it live onstage. The first time was over 15 years ago, sitting at Paper Mill Playhouse seeing Leslie Kritzer wow the crowd. (Coincidentally when this happened she had just finished costarring with Bean in Godspell.) I had hardly noted her Godspell performance, so I basically had no idea who Kritzer was. She was amazing. I thought: "Why isn't this show done more often?" Of course Funny Girl isn't a perfect musical--many say the shift in character and tone from Act I to Act II is too hard to swallow--but the main reason it isn't done is Barbra Streisand. Most say you can't watch Funny Girl and not think Streisand. The shadow looms too large. And no one is as good at doing Streisand as Streisand herself, despite what many drag queens might think. However, sitting there watching Kritzer I didn't think about Streisand. I simply enjoyed the tour-de-force performance she was giving and the show itself which, despite its flaws, is winning. (Kritzer has gone on to become a New York stage fixture, earning raves for a host of things and winning a Lucille Lortel Award last month for her performance in The Robber Bridgegroom. She enters Something Rotten! next month.)
Number two I won't go into too much detail detail on. An actress who had helped me with my first New York Times story desperately wanted me to see her in a small community production. I of course did. And never have I wished more that I could fake reactions or even delivery a cursory "you were so great" post-performance. Sadly I'm too honest for all that. You need someone who can completely carry this show or else the whole thing comes off as embarrassing. Any good moments are overshadowed by the hollow center. You think "Streisand" to get yourself out of thinking about what is on the stage. Her performance is iconic enough that you can picture it while the orchestra plays.
The thing about Bean is that I thought she could do it. This seems like a role she was born to play. Unlike my trip to Paper Mill so many years ago, the trip to Massachusetts came with expectations. It is hard to live up to pre-existing high expectations, that's why I tell producers to undersell. Bean impressively exceeded my expectations. She was tremendous. I did not love much of the production's staging, as I felt like it did not properly use the in-the-round stage. Half the time in Act I I unhappily watched the back of Bean for full numbers or scanned the crowd to gauge the reactions of people seeing the performance from the front. The start was also a tiny bit rocky sound-wise, which didn't help. (Though shout out to supporting players, and Broadway vets, Rick Faugno, as Eddie Ryan, and Sandy Rosenberg, as Mrs. Strakosh. Most of the time I saw their work, and they were wonderful.)

But in the end it didn't matter--I was so happy I came. Again I didn't think of Streisand. Bean made the role her own, with particularly special takes on "People," "Who Are You Now?" and "The Music That Makes Me Dance." Bean was Elphaba in Wicked, so I think everyone knows she can belt. Those of you, like me, who saw Beaches or have listened to her recordings have a better idea of her vocal range. The thing that is really impressive in this is her inflection, as silly as that sounds. Many folks have heard these songs sung in cabaret performances with varying degrees of success. It is typical to internalize them as the standards that they are. But Bean imbued them with a degree of emotion that perfectly accompanied her performance in the book scenes, so the songs seemed uniquely suited to this particular performance. At intermission I was listening to all the audience members around me talk about how great she sounded. One said he was expecting this, because he listens to her CD during yoga. An older woman said she thought Bean might be better than Streisand. (Jews reading, I would never dare say that. I'm smart enough to fear my people. I'm just reporting.)
Bean is older than Streisand was by a good amount, but she got right the character's naivety and youthful zeal in the first act. You felt her falling for Nick Arnstein (played by Bradley Dean). A certain spunk present in all of Bean's performances (both theatrical and concert) propelled her work here. I was a tiny bit afraid that her final scene wouldn't have the emotional resonance it needed; it's a tricky one to pull off. Fanny has spent the whole first act being swept up, and the whole second act being brought down to earth. The character in that final book scene can come across as too dejected. Bean nailed it because you truly felt that Fanny was going to move on.
I know she is busy touring with her music and more, but I hope Bean returns to the theater soon. I'm thrilled she got to play her dream role, and I'm so glad I made the trek out to see it. Though preferably next time no trek will be involved--Broadway is where she really should be. And that is also where Funny Girl should be. As the West End revival is proving, and as I've now seen twice, this is a show that can shine with Streisand or without.
Calling all HuffPost superfans!
Sign up for membership to become a founding member and help shape HuffPost's next chapter