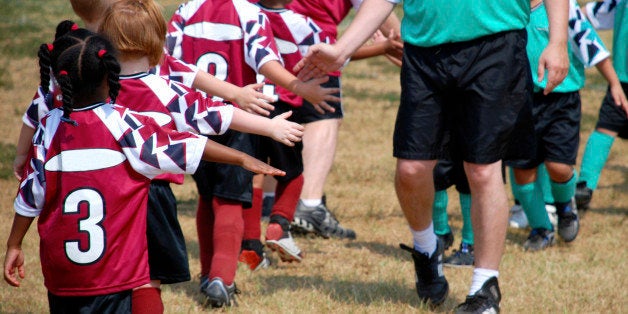 I love watching the Olympics with my daughters. It's one of the only times networks feature women's sports as predominately as men's, and I feel like a better parent having them see girls and boys do stuff (see Claire Vaye Watkins's "On Pandering"). The Olympics also bring a special nostalgia for me, because I spent nearly half my life training toward them (though Winter, not Summer: I was a figure skater).
Some of the well-documented sexism in Rio, though, also brings on a familiar nausea. I've never written about this stuff before, because skaters are generally so privileged, and I figured unfeminist thinking was a problem peculiar to show sports, where appearances are made to matter so much.
But seeing the way commentators and reporters have treated not just female gymnasts, but also swimmers, tennis players, judoka, and trap shooters in Rio, I realize I can't keep this particular brand of sexism from my daughters unless I keep them out of sports altogether.
And seeing sexism double down when it attacks women of color further provokes me.
So, for the first time, I'm sharing this quick story -- unheroic as it is. Because just as we need to continue to battle racism in sports (Olympic hero John Carlos, Joy-Ann Reid, and Alex Abad-Santos have recently spoken on this), and just as we are conversing about sexism in Olympic coverage, we also need to examine sexist practices in the way elite athletes are trained.
As a teen I lived at the Olympic Training Center; I'd won Intermediate Nationals in Ice Dance, skipped two levels and about six or seven years of competitive rise, and placed 9th at Senior Nationals -- the Olympic qualifier -- two seasons later. At 16, I'd been the youngest competitor in my division by three years. Green, but the judges told me I was on my way to Nagano, Salt Lake City, and maybe even Turin. I had a decade or more to get from ninth to the top (our Senior Champions, at the time, were in their 30s; Charlie White and Meryl Davis were 26 and 27 when they won America's first Olympic gold in ice dance in 2014).
But my leap from Intermediate to Senior actually precipitated my failure in the sport, which I quit to attend Yale two years later. I lacked confidence, and rightly so. Hard as I trained (I loved the grueling schedule), my youth and eagerness to please weakened me in competition. I slid from top-ranked athlete in my national division to insecure floater, out of my league too soon, submitting to the whims of trainers and partners across the country without an eye toward what was best for my mental and physical long game.
Why did I do it? Because, in ice dance, regardless of talent or potential, girls are generally treated like disposable baggies. I had the chance to skate with a champion, so I took it, regardless of conditions. My training had taught me to negate myself -- an unsustainable model for any athlete, who needs a disciplined but intact will.
That kind of sexism reflects a larger cultural attitude (or, per Nancy Leong: "this headline is a metaphor for basically the entire world"). The fetishization of male skating partners recalls an episode of The Bachelor. The number of female dancers with real Olympic potential doesn't outnumber their male counterparts, but the broader boy-to-girl ratio in the sport allows coaches, judges, parents, and partners to act as though women are wholly replaceable (not so different from the way many girls are treated in the world outside). This attitude fails the sport, and exhibits a crushing heteronormativity and homophobia. Because, short of changing institutionalized attitudes toward women, abuse of young skaters could be slowed by allowing same-gender skating partners -- which, as June Thomas noted in her 2014 Slate article, is something the federation refuses to consider.
But, of course, the problem goes beyond that. Young athletes are always in training, and they absorb cultural handicaps. As a kid, the books I read, the movies I saw, the coverage I watched, often told me that apologizing and submitting -- usually to a dominant male trainer or partner -- was how girls won. If I could empty myself of all my girl-ness, I could fill it up with something manlier, something tougher, something more Olympian.

This is why it made me heartsick to hear Dan Hicks call Shane Tusup "the man responsible" for Katinka Hosszu's 400m IM world record. Why women were rightly disturbed by Gabby Douglas's dressing-down last week (#Love4GabbyUSA). Why the "Katie Ledecky swims like a man" thing (well-fought by Rowdy Gaines), and the Simone Biles "higher than the men" thing, is about more than nomenclature. If we halt that kind of talk, we teach girls that being a great athlete means neither self-flagellating, nor voiding their female selves.
Hats off to Manuel, Biles, Rollins, Carter, Maroulis, Ali, Castlin, Raisman, Douglas, Muhammad, and all our other chick champions -- women with steely, spectacular nerve. They're already slaying the game. But that doesn't mean we shouldn't straighten the game out, especially when it comes to training attitudes and broadcasting. The more girl sports we see in primetime, the more female champions we'll find. Between Games, we lack consistent coverage of women and woman-ness in athletics (would someone please ask Caitlin Jenner about the Olympics, instead of her wardrobe?). Finally, let's consider whether fetishising male "tough love" actually weakens athletic nerve. Of course elite athletes may occasionally need tough love from their coaches. But too often it's a euphemism for domination, especially when athletes are young and female. If we stop asking girls to lift the weight of sexism, and even sadism, alongside their other training exercises, we'll see an even more competitive batch of Olympic talent (as well as a healthier generation of women).
So I'm writing this as a fan, as well as with a mom's eye on athletes training now. I want them to know their work belongs to them. You heard Ledecky in interviews, over and over: "[I'm] setting goals and working toward those goals." The simplicity of this mantra reflects her self-possession: she gets to choose. She puts the hard work in. Her will and body yield the result of that work.
So let's cut the crap. Especially the kind of crap that Douglas dealt with last week when she was criticized for her hair (again!), and then, outrageously, made to apologize for not smiling enough. Because there's no need to self-flagellate. No need to humiliate. Let's give our daughters the right to own their bodies, own their training, own their wins. Let's give the Olympics the gift of an even stronger pool of women, which is what we'll get if we stop teaching them that girl-ness and greatness are opposed things.
Calling all HuffPost superfans!
Sign up for membership to become a founding member and help shape HuffPost's next chapter