All world religions have a certain amount of mystery about them that is hard to understand...someday, we will, but on earth that mystery sometimes reveals itself in small measure from time to time.
As an Episcopalian, I struggle sometimes understanding the mystery of the Trinity...God being present in three forms...Father, Son, and Holy Spirit.
I have always had an impression of the Trinity as a co-mingled sort of affair. I clearly remember the first time I saw this picture....a friend of mine lives in Geneva, Switzerland and I was looking at pictures of the area and was so taken with this one that I saved it. While reading a post last week in a blog by friend of mine, Chris Glaser about the Trinity, it flashed back...I rummaged through my pictures until I found it.
This image shows where the Rhone and Arne rivers come together in Geneva, each bringing their own color and composition, the beautiful clear blue and the muddy yellow.... some parts immediately mixing to produce the gorgeous emerald green.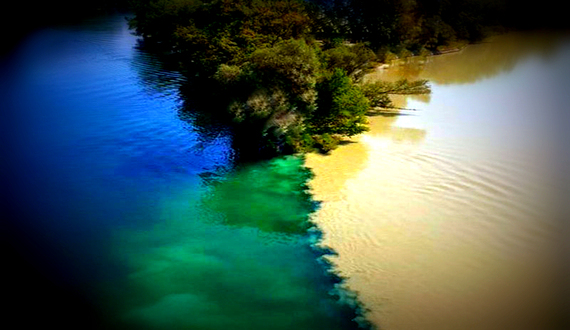 To me, the Trinity is somewhat like that...parts very clearly separate, one so clear you think you can see right through it, the other muddy, appearing to be one thing, but yet unclear what might lie below...but look at the emerald! It's not merely the mixing of the two; it clearly has its own identity, bursting with new life.
I know this sounds simplistic, but when I saw the three colors, the Trinity became much clearer to me, with Christ as the emerald....a beautiful living color, green being the hue of life and hope...much like F. Scott Fitzgerald's Jay Gatsby as he saw the green light blinking across the bay on Daisy Buchanan's dock ....tantalizingly close, and yet somehow just out of reach, separated by water, sometimes a small stream, sometimes an entire ocean.
At times that's how I feel...sometimes swimming and immersing myself in the emerald, while at other times this deep and beautiful green merely beckons and blinks from across the bay.
Of course this is where faith is an integral part in any religion...faith that what we believe as a bellwether is actually a maxim...and that faith needs to be tempered with the realization that there are some things that we just won't understand while in our mortal being.
Real understanding will come for each of us...in its own time.
Calling all HuffPost superfans!
Sign up for membership to become a founding member and help shape HuffPost's next chapter