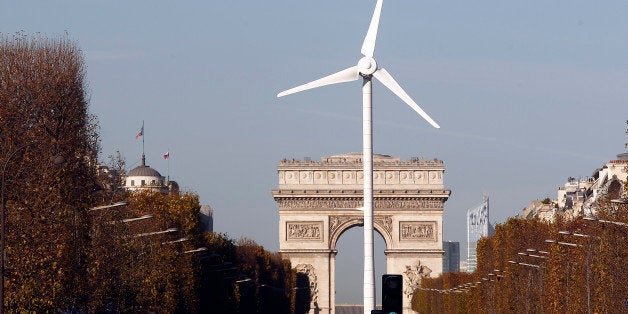 Only by coming together can we change the world. We do not choose our problems, crises and challenges -- but we choose if we will take responsibility or not. The European Union cannot improve the world's climate on its own, but we can lead by example and we have done our homework before the climate conference in Paris. The union of 28 member states has presented an ambitious contribution to the Paris Agreement with a binding domestic economy-wide emissions reduction target of at least 40% by 2030 compared to 1990 levels.
Our climate policies up to now have taught us that it works to set ambitious targets. EU emissions were in 2014 23% below 1990 and we are ahead of the target we have set for 2020. To consolidate Europe's lead in the global drive toward a decarbonised economy, the European Commission -- the executive arm of the EU -- has proposed an Energy Union Strategy to bring about more cooperation between EU countries and better integrate their energy markets.
My own portfolio as Commissioner for competition is directly relevant to making sure that energy from renewable sources is brought to the market in a competitive manner and that nothing hinders the development of an internal energy market. Europe's renewables boom is largely due to generous government subsidies. But as solar and wind technologies become cheaper, the case for government support grows weaker.
Last year, the European Commission reformed the rules to make sure that subsidies in the 28 member states do not distort competition in the European single market. Competition enforcement will make sure that subsidies are well-designed and cost effective. These are important measures to secure the continued support of the European taxpayers to our ambitious climate policies. Market instruments cannot solve long-term problems like climate change alone. We need regulation including competition policies to secure that we solve our long-term problems in a cost-efficient way and to strike the right balance between competition and investor certainty.
Thanks to renewable sources, Europe pollutes less and relies less on imports. But the power produced by wind, solar and other renewables is intermittent and reduces prices for still-needed conventional energy. Therefore national governments have started to grant subsidies to keep enough conventional plants. Competition policy plays an important role in ensuring that these schemes are not used to re-introduce subsidies for conventional fuels through the back door. For this reason, the Commission has launched a sector inquiry into capacity mechanisms in 11 member states.
Subsidising conventional plants is not the only way to offset power fluctuations or ensuring security of electricity supply. EU countries could also build new connections between grids and tear down the regulatory barriers that keep Europe's energy markets fragmented. In a single, Europe-wide market for electricity, wind turbines in the North Sea could offset clouds over a solar plant in Sicily. This is one of the benefits of the Energy Union strategy proposed by the Commission.
To adapt to the future of energy in Europe we also need electricity markets that work better. Power exchanges, which are already a reality in most EU countries, can fit the bill. For example in the Nordic countries the Nord Pool Spot has been successful in integrating the different renewable technologies in member states with a very high share of renewable electricity coming from hydropower, wind, sun and biomass.
But competition policy must make sure that these exchanges operate on an open and competitive basis. It would be a paradox if they -- of all players -- were to erect artificial barriers in the internal market for electricity. As it turns out, we've had to intervene in a few cases. Last year we prohibited discriminatory practices by OPCOM -- the Romanian power exchange -- and a market-sharing agreement between rival exchanges Nord Pool Spot and EPEX Spot.
The low-carbon economy of the future needs fresh ideas, innovation and companies that bring to market the green products, services and solutions we need to save the planet. To make all this happen, markets must be kept fair, open and contestable. Competition policy has pride of place in the array of public policies -- in Brussels and in Europe's capitals -- that will help us reach the ambitious, economy-wide targets the EU brings to the Paris conference.
Margrethe Vestager, age 47, is EU Commissioner for Competition. She previously served as Minister for Economic Affairs and the Interior (2011-14) and Minister for Education (1998-2001) of Denmark. She was Political leader of the Danish Social Liberal Party (2007-14), and has worked for the Danish Ministry of Finance (1993-95). Ms. Vestager holds a MSc in Economics (University of Copenhagen).
This post is part of a "Nordic Solutions" series produced by The Huffington Post, in conjunction with the U.N.'s 21st Conference of the Parties (COP21) in Paris (Nov. 30-Dec. 11), aka the climate-change conference. The series will put a spotlight on climate solutions from the five Nordic countries, and is part of our What's Working editorial initiative. To view the entire series, visit here.
Calling all HuffPost superfans!
Sign up for membership to become a founding member and help shape HuffPost's next chapter