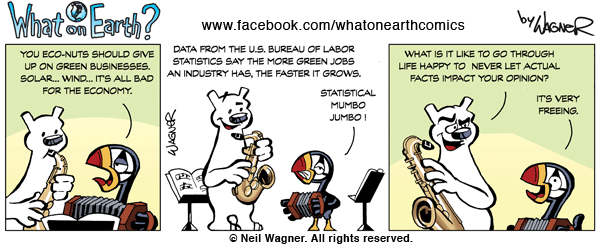 Facts can be funny things and the fact is, some people don't look at the facts when assessing the economic impacts of environmentally friendly business practices.
There has been an ugly rumor floating around that sustainable energy is bad business. Witness the recent U.S. Presidential and Vice-Presidential debates in which Republican nominees Mitt Romney and Paul Ryan implied that over half the green companies receiving federal stimulus dollars have gone bankrupt (actually three out of 28), or that the funds simply amounted to "green pork." That's not likely. As the AP points out, the stimulus helped create both public- and private-sector jobs. By the way: never eat green pork.
Let's avoid the mistakes of Mitt Romney, Paul Ryan and Kito the horned puffin -- let's look at some facts. As What on Earth has previously noted, the research firm IBISWorld has pegged wind power, solar power and environmental consulting as three of the 10 fastest growing U.S. industries between 2000 and 2016.
The Energy Collective reports that U.S. Environmental Protection Agency head Lisa P. Jackson counts 200,000 American jobs in the air pollution control industry since 2003, and over 1.7 million American environmental technology jobs since 2008.
A study by University of California Berkeley says that "investing in renewable energy such as solar, wind and the use of municipal and agricultural waste for fuel would produce more American jobs than a comparable investment in the fossil fuel energy sources in place today."
Since President Obama took office, the number of green jobs in America has grown every year. In 2008, the U.S. Conference of Mayors reported that there were 750,000 green jobs, in 2009, the PEW Charitable Trust reported that there were 770,000 jobs, in 2010, Oxfam America reported that there were 2 million green jobs and in 2011, the Brookings Institution reported that there were 2.7 million green jobs.
And, finally, the Economic Policy Institute (EPI) study cited in today's comic strip analyzed data from the Bureau of Labor Statistics to determine that 3.1 million green jobs were created nation-wide just for the purpose of improving organizations' efficiency or environmental footprint.
The takeaway from the EPI research is that the more green jobs an industry has, the higher the industry's growth rate over the last decade.
When the facts tell us that green business boosts our bottom line and our odds of survival, I say we should listen. And that's a fact.
Related
Popular in the Community