While some of us moan and groan about the unmitigated awfulness of industrial agriculture and our craptastic food chain, others are literally sowing the seeds of an agrarian revival.
The idealistic young farmers and gardeners fueling this ag-revolt have been christened "
" by one extraordinary, exuberant young farmer/filmmaker, Severine von Tscharner Fleming, who's documenting their horticultural heroics in a film by the same name.
America's got more prisoners than farmers these days, and the average age of the farmers we do have is over 60 years old. Strip mall sprawl has displaced the small family farmers who once nourished our nation. Monocrop madness is sucking the life out of our precious topsoil, poisoning our air and water, and giving us really lousy food, to boot.
We young farmers are an emergent social movement. We exist. There are a lot of us from coast to coast, and all sorts of unexpected places between--all over the world. We are serious, and if there were about 20 million of us, we could probably feed the whole United States.
My premise is simple. If I can make a movie showing you what is possible, introduce you to these myriad rockstars, I believe I can inspire more of my generation to become farmers. Our job in this generation is to rethink, recycle, retrofit and restore our land and our community; the Greenhorns have come to this revelation and taken action.
This film is a way to convene a movement that is for now quite thinly spread out on the ground. Population density of young farmers might be as low as 1-2 per county in America. Yet, once seen as a whole in the film, you will find it an attractive and coherent sub-culture: proud, strong, tough, and a little bit nuts.
Actually, that description sounds a bit like Severine herself; she's thrown herself into this project with a passion, but no deep-pocketed patrons to finance the film. So right now she and her feisty team are scrambling to scrape up a few thousand dollars to finish a short version of The Greenhorns to submit to
this May in Bologna, Italy.
My husband Matt and I watched the trailer last Thursday night at a fundraiser for The Greenhorns held in a perfectly pastoral Brooklyn loft full of biodynamic young movers and shakers who shared with us their lovingly prepared local food. They are "onto something good, and real," as Peter Hale, one of the film's fundraisers and host of the party, said.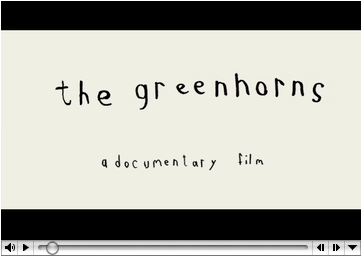 And essential, I'd add. Sadly, Matt and I had to leave before they broke out the s'mores made with homemade graham crackers, but we headed back to Manhattan heady with hope that Severine and her Greenhorns could lure a new generation back to the land to reclaim our food chain.
With dwindling resources, global food shortages, climate change, and the triple threats of peak oil, peak soil, and peak water nipping at our heedless heels, industrial agriculture is becoming a "luxury" we can't afford.
What we have come to call "conventional" farming is, in fact, a total aberration from the way food was produced the world over for centuries. The UK's Soil Association policy director Peter Melchett decried "the malign influence of an unthinking worship of technology" at a lecture in London last year:
"I am convinced that the era of industrial and intensive farming will be seen as a brief blip, a wrong turn, from which we hopefully recovered fairly quickly...
...The evidence shows that we will have to make radical changes in the ways in which food is produced and distributed to meet the challenges of climate change...
...If climate change has one positive lesson for us, it is that we can't conquer nature. We are part of, not superior to, or in charge of, the natural world.
This is a lesson that Agribiz advocates have yet to learn, but while they're busy cloning cows, shoving bogus bio-tech breakthroughs down our throats, and declaring dominion over the American dinner table, Severine and her merry band of urban and rural rebels are plotting to overthrow King Corn and declare our independence from industrial agriculture. You'd better hope this revolution takes root, because we are dying for a better way to live in this country.