Imagine being a teenager with no sense of direction, belonging, or purpose. Raised by criminals, in and out of jail, involved in gangs, mixed up in drugs, with felony charges looming over your head, and no bright "future" to speak of.
This was Ernesto Gonzales' life just a short time ago, before he was introduced to K9 Connection, a non-profit that pairs at-risk teens with shelter dogs needing training to increase their chances of adoption. While teaching his partner dog basic obedience, the dog opened Ernesto's heart and mind to feelings of empathy, patience, pride, responsibility, and loving affection he had not experienced in his childhood or adolescence. With approximately 1.2 million dogs euthanized in shelters annually, and thousands of young offenders serving time in juvenile correctional facilities, a proactive approach that nurtures the positive, underdeveloped capacities in challenged teens -- while giving shelter dogs a second chance -- offers one innovative solution to two seemingly insurmountable challenges.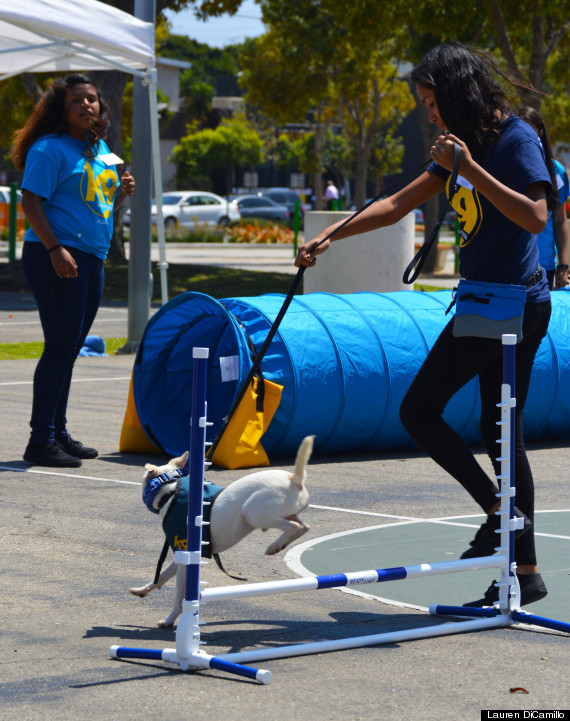 We have read many stories about the amazing healing powers that companion animals provide. The effects are often dramatic in the most vulnerable populations.
For the past 10 years, teens from less-than-optimal circumstances have had the opportunity to overcome the effects of their past, their limitations, and their fears, by training homeless shelter dogs at K9 Connection in Santa Monica, California.
Founded by Katherine Beattie and Pat Sinclair, K9 Connection provides a safe haven for teens and shelter dogs to get a new lease on life.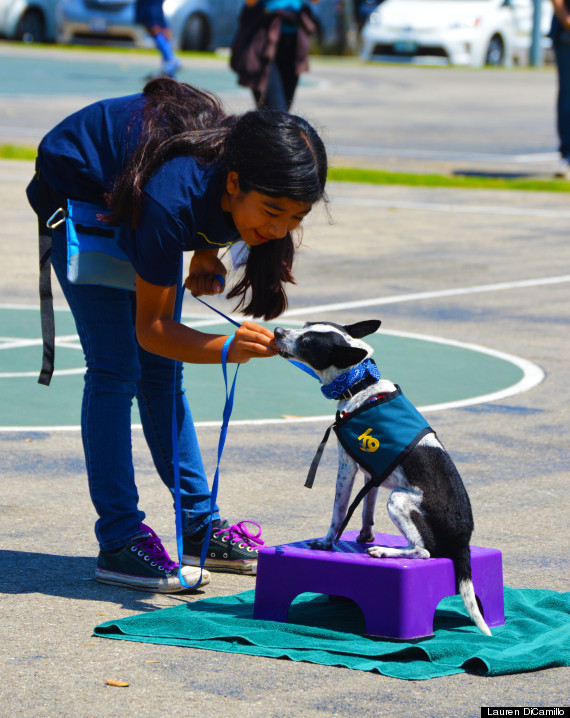 Through their interaction with the animals, the teens gain life-changing experiences such as learning accountability, positive reinforcement over abuse, patience, social skills, goal setting, and -- perhaps most importantly -- empathy; while the dogs receive obedience training that increases their chances of adoption.
To date, K9 Connection has mentored over 620 at-risk teens, and has helped to place over 420 shelter dogs at risk of euthanasia in loving, permanent homes.
What is also remarkable about K9 Connection is its long-term commitment to its participants. After the program's completion, the graduates are supported by K9 staff and volunteers in fulfilling their dreams and goals. Some of the graduates go on to become peer leaders and assist new students entering the program.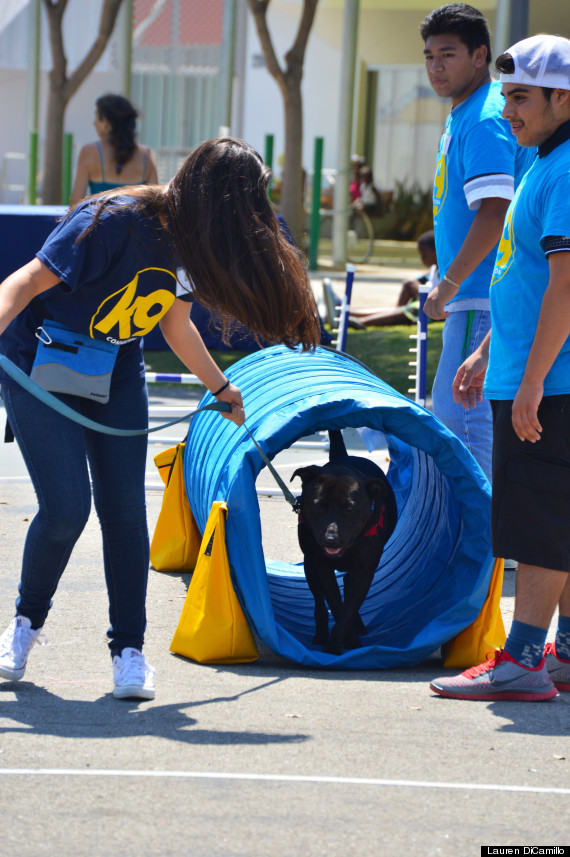 The amazing effects on the teens have been evident to many who have come into contact with the program: supporters, participants, families, volunteers, staff, etc. I have personally attended many of the graduations, and there is not a dry eye in the house. Now a breakthrough study in the field of Human Animal Interaction (HAI) has demonstrated these effects.
Researcher and clinical psychologist Jessica Thomas teamed up with K9 Connection to study the ways these intervention methods can improve the lives of at-risk youth. The study took place over one year (during the 2012-2013 school year) with all consenting youth at K9 Connection. The teens were observed before they began the program and again three weeks after completion.
This study focused on the human-animal interaction and its outcome on the participant's social, emotional, and empathic capacities.
Juvenile offenders often lack the emotional tools necessary for healthy social functioning. Typically learned through healthy attachments in childhood, these skills can influence how children view themselves, perceive the world and relate to others.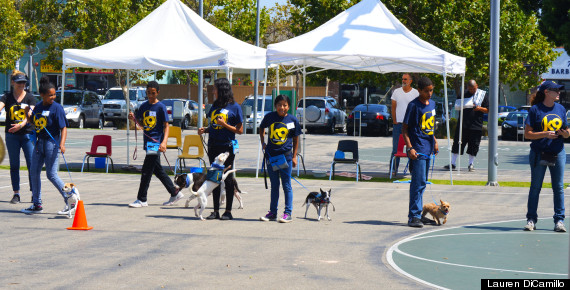 The study demonstrated that youth involved in the K9 Connection showed significantly more developed social and emotional abilities after completing the program, including:
Increased emotional intelligence -- the ability to recognize and express emotions, understand and relate to others, and better cope with stress.
Decreased self-serving/anti-social behavior -- such as blaming others, denying or minimizing one's own responsibility in a situation, and always assuming the worst. For at-risk youth, these behaviors may have developed from poor attachment models (such as parents or caregivers).
Increased empathy -- awareness, understanding, and an appreciation for the feelings of other.
To understand more about the vast implications of this exciting new study, I turned to the researcher Jessica Thomas, for an interview.
PF: Why do you think Human Animal Interaction has such a great impact on challenged teens? JT: We can't know for sure, but I really think what we are seeing in action is John Bowlby's attachment theory and an opportunity for these kids to develop a relationship with the dog in a way that is free from judgment, free from fear, it's free from coercion--and to create what in the clinical field and counseling we are always trying to strive for, [ is ] a corrective emotional experience. So I think, in essence, these dogs became counselors. It provided these kids opportunities to practice these skills that really make us very human and then essentially apply these skills to their human relationships. PF: In addition to the research and the formalized outcomes, did you have anything that surprised or touched you in your interactions? JT: One of the things that really stood out for me when I was collecting the research was what I saw when I would go and do the classes. As a therapist, I work with at-risk youth all the time, and the things these kids would say in the group setting after just days or a week would demonstrate such amazing insight and such reflective capacity, that -- if in a regular therapeutic setting -- would take months and months and months to achieve. They would say things like, "Oh, Fido has a hard time paying attention - kind of like me in class." And that is huge, for a child to be able look at an animal and see pieces of themselves within that animal. That's empathy. That is huge because empathy is what makes us human. So in essence what we are talking about is the possibility is that dogs and the relationship within the Human Animal Interaction is that dogs are teaching us to be human. In closing her dissertation, Jessica shares her hope for the future of HAI: "It is the hope of this researcher that just as the youth were able to develop a more compassionate understanding of themselves in the social world, the current findings might promote a more empirical view of HAI within the field." Such is the case with the young man introduced in the beginning of this article, Ernesto Gonzales. Watch him share thoughts on his life transformation -- from juvenile detention center to peer leader and aspiring vet tech:
Ernesto is just one extraordinary example of how programs like K9 Connection can intercept and change the direction of an at-risk teen's life forever. Below are a few more testimonies from K9 graduates, who represent the heart and soul of HAI research: Roman (with Fred): I've learned a lot of different things from being in K9. We worked on life and social skills, and how to be a team member and work together. I've learned a lot about dogs too; like if you give time for them, they will really respond to you and give back even more. The more care you put into a dog, the more it will open up. Tony (with Amadeus) K9 taught me patience and how to communicate with each other no matter how frustrating things get. Andrew (with Bongo):
K9 Connection helped me to overcome obstacles...This program helped me grow mentally and physically to see how dogs react in different environments. The people and dogs I've met have taught me more in two weeks than I've known my entire life. Melanie (with Bailey): Throughout the last three weeks, we've not only worked with these four-legged love bugs, but also tried to define what our personal goals and feelings mean and how we can use and understand them. Luis (with Chula): I learned at K9 that I see dogs more as family, not just as something walking down the street. I notice and have seen that some people don't see that dogs have feelings. It disturbs me when I think about it... Thank you for helping me see more into the hearts of dogs. Memo (with Angus): Being in K9 has taught me patience, to be calm and that things take time in order to succeed. It's cool you learn dog training, but you also learn how to be sensible. Like you become more conscious of other beings. You feel a sense that any animal is special, like we as human beings are special...each in their own story and their own way of life. What I have felt while being a part of this program is a more profound sense of humanity. Like how k9 does its best to save these poor shelter dogs. Seeing this makes me want to become a better person in humanity. Maya (with Rex): Rex has taught me patience, perseverance, but most importantly, a new experience of happiness. Charlie (with Kincaid): The thing that I most treasure is that Kincaid and I made a bond...that he and I have lots of things in common. I feel that his feelings are almost like mine. The best thing that I like about K9 is that they help me to express my feelings and for letting me talk more. Destiny (with Aggie): When I first saw Aggie, I was the peace and sunshine in her eyes. When I'm around her, anything that's wrong with my life goes away. ****** Hopefully someday it will be the norm, rather than the novelty, that a canine companion is present in therapeutic settings. I'd like to share a profound quote that Jessica referenced during our interview together: "The staff that includes a canine therapist has at least one colleague who is without vanity and ambition, who has no "pet" theories, who is utterly unconcerned with role or status, who is free of intellectual pretensions, who does not fear emotion, and who does not feel that he is being underpaid. In truth, and inspiration and a model for us all." -Jan Loney, Ph.D. Although K9 Connection is based in Santa Monica, California, its founders offer complimentary mentoring to other organizations wanting to start similar programs. To learn more about K9 Connection, or to donate, visit the website.