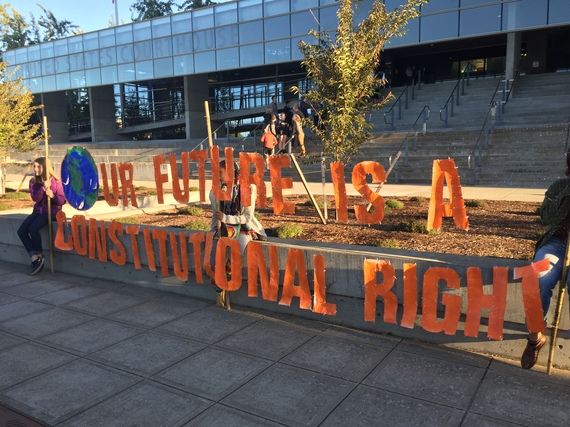 As the international community prepares for the Paris Climate Agreement to take effect on November 4, there are many reasons to celebrate this historic moment. UN Secretary-General Ban Ki-moon shared his reflections: "What once seemed unthinkable is now unstoppable. Strong international support for the Paris Agreement entering into force is a testament to the urgency for action..."
Ban Ki-moon followed this statement with words of caution that echo my own sentiments. Civil society fought hard in Paris, recognizing that this deal on its own is not enough. For those most vulnerable but least responsible for climate change, the Paris Agreement cannot, and will not, deliver transformational change on the scale and timeline needed. Leaving Paris, we knew we would need to continue pushing hard for faster change at home, holding governments accountable to their obligations to defend our right to a safe climate, as dictated by scientific facts--not political compromises.
And one month ago, I witnessed this firsthand at the oral arguments in Juliana v United States. It was a privilege to be in Eugene, Oregon for the hearing, and spend time strategizing with colleagues, catching up with former professors, and getting caught up in the festival-like atmosphere that the youth plaintiffs and their community of supporters bring to this case.
Here is the quick and dirty summary of how we got here, legally speaking...
In August 2015, 21 youth (ages 9-20) from across the United States filed a landmark climate change lawsuit against the US government. They claim that the federal government is violating their constitutional rights to life, liberty, and property, and failing to protect essential public trust resources through its contributions to climate change.
In January 2016, three fossil fuel industry trade associations (AFPM, API and NAM) requested and were granted defendant status in the case, given that it presents a "substantial threat" to their businesses. In other words, the fossil fuel industry voluntarily entered into the case, and now could be headed to trial as defendants. In April 2016, Judge Thomas Coffin ruled in favor of the youth when he denied the government and fossil fuel industry's motions to dismiss the case. This ruling is now under review by Judge Ann Aiken, who heard oral arguments in September. The outcome of Judge Aiken's decision--to be released in mid-November--will determine whether the case proceeds to trial or appeal.
This case presents climate change as a threat to fundamental human rights and constitutional rights. This case is part of a larger movement--that tells the story of who and what is at risk, who is responsible, and the solutions needed.
These 21 youth are not alone. They are part of a broader movement of people and communities around the world who are using courts to hold governments and corporations accountable for their actions (and inactions) to prevent dangerous climate change. Recent cases brought in the Netherlands, Norway, Pakistan, Sweden, and the Philippines highlight the ways in which climate change threatens the rights of present and future generations, while earlier cases, such as the Inuit petition to the Inter-American Commission on Human Rights, paved the way for this generation to articulate climate change as a fundamental human rights issue.
This point was not lost on Judge Aiken, whose first question during oral argument referenced language used in Brown v Board of Education (the landmark US civil rights case that made school segregation unconstitutional). Judge Aiken made clear that this youth climate case could be seen as analogous to those of the civil rights movement, in which the courts played a critical role in protecting those who were denied their civil and political rights.
Judge Aiken is now considering whether the youth have asserted a legitimate claim that can be heard by the court. But on the question as to whether the court is the appropriate forum, Aiken sent a strong signal: she was not impressed with the government's tired arguments that the courts should only be used to challenge or compel regulatory actions (play "whack-a-mole"), while the legislature should set national climate policy. To paraphrase, that ship has sailed and, in these moments, the court should absolutely step in and find ways to bring the necessary players to the table to solve the problem.
As we anxiously await Judge Aiken's decision, I can't help but think ahead to what is at stake in Juliana v US. The plaintiffs are essentially asking the court to determine whether the government should protect the rights of our children to a safe climate or the interests of the fossil fuel industry to earn exorbitant and dirty profits.
In a few weeks time, we will learn whether the court has accepted this challenge and will give these young people their day in court. Stay tuned for more.
Related
Popular in the Community