A growing number of counties throughout the U.S. are demanding safe spaces for gun owners who reject sensible gun control measures.
New resolutions being passed in communities across the country are calling for rejecting gun control measures over fabricated fears that the government will attempt to take people's guns away.
The paranoid movement began in 2018 when Bryan Kibler, a state's attorney in Effingham County, Illinois, called for a "sanctuary county" that would reject proposed laws, including one that would raise the minimum age of gun ownership to 21 and another that would outlaw bump stocks ― a deadly accessory used in the 2017 Las Vegas mass shooting.
"For whatever reasons, people, especially in these communities, have a deep-seated fear that universal firearm confiscation is just around the corner."
Kibler borrowed the term from "sanctuary cities," a popular phrase to describe cities that vow to protect undocumented immigrants by refusing to cooperate with Immigration and Customs Enforcement.
"I said, well, they're creating sanctuary counties for illegals up in Chicago, why don't we just steal their word and make Effingham County a sanctuary county for firearms?" Kibler bragged to a crowd in April, the Chicago Tribune reported.
More than 50% of Illinois counties had passed similar resolutions at the time, according to the newspaper. And now the movement has spread to other states including Colorado, New Mexico, Florida and New Jersey.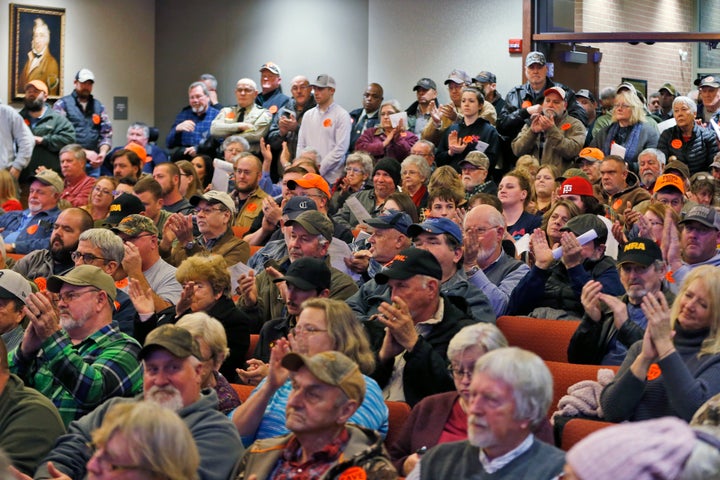 Similar scenes have played out across Virginia over the last six weeks. Gun owners are descending on local offices to demand that their government leaders establish sanctuaries for gun rights.

The resolutions, promoted heavily by the gun rights group Virginia Citizens Defense League, vary from county to county, but most declare the intention of local officials to oppose any "unconstitutional restrictions" on the Second Amendment right to keep and bear arms. In the last two months, more than 100 counties, cities and towns in Virginia have approved such resolutions.
Darrell Miller, co-director of the Duke Center for Firearms Law, described the paranoia to the AP.
"For whatever reasons, people, especially in these communities, have a deep-seated fear that universal firearm confiscation is just around the corner," Miller told the news service.
A bill is currently pending in the state Senate that would ban assault rifles, but it's not clear that it would pass the General Assembly. Virginia Gov. Ralph Northam said in November that he hasn't made any "definitive plans" to confiscate such weapons, according to The Washington Post.
On Monday, Virginia's Fauquier County Board of Supervisors unanimously voted to adopt its own resolution declaring itself a "constitutional county" ― the same thing as a "sanctuary county." On Tuesday, New Jersey's Sussex Borough passed a similar resolution.
But for all the chest pounding and whining over a hypothetical scenario where guns are confiscated from law-abiding citizens, these "sanctuary" communities for guns amount to little more than a symbolic stance.
Virginia Attorney General Mark Herring said the resolutions wouldn't hold water in a court of law.
New Mexico officials had a similar response. Tripp Stelnicki, a spokesman for the governor, told the AP in February that "commonsense firearm safety measures" would not infringe on New Mexicans' constitutional rights.
"These resolutions mark an expression of opinion, and that's fine," Stelnicki told the AP. "State law will be followed."
This story has been updated to note a bill in the Virginia Senate.
Related
Popular in the Community