For years, designers, architects and facility managers have been measuring and improving interior workspace. But, as technology untethers us from set work locations and workplace cultures relax, attention is turning to activate and measure dormant outdoor space with the same fervor. The field of Landscape Architecture no longer is limited to sustainable plantings and beautifully manicured greenspaces. One almost could say the worlds of interior design and landscape architecture are beginning to blur as together, they tackle the new challenge of leveraging outdoor space for optimal engagement and health of workers.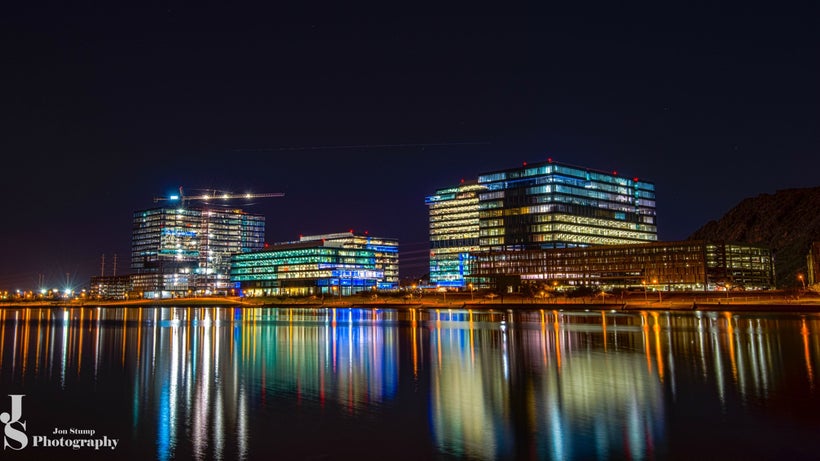 One example of this collective effort can be found at the Marina Heights campus, a 5-office building corporate site in Tempe, Arizona. Architects and interior designers from the firm DAVIS partnered with The Design Element (TDE) the project landscape architect, the development team and key tenants of Marina Heights who from the beginning embraced the idea of activating outdoor space. In their view, it was a way to welcome not only employees on site, but also to attract others as a hub of community.
THE CHALLENGE The impetus for the project was that a key tenant needed to make a big consolidation to operate their business in three regional hubs. The team quickly identified the current location for the Marina Heights campus to became its western hub and call center operation. Comprised of five buildings, encompassing over two million square feet, and 20-acres of land, the goal of the project became to create a space that provided employees with an exceptional work experience -indoor and out. Because call centers can be incredibly high pressure, the team saw an opportunity to activate the extensive outdoor space to allow employees to get away from their desks, recharge and rejuvenate. They did not want their space to feel like a corporate campus, but rather, a public place where employees and non-employees felt welcome and actually wanted to be.
THE SOLUTION Because of their goals of integrating indoor and outdoor space, site selection was of utmost importance. Bordered by a major freeway to the north, the Arizona State campus to the south, and multiple incredible public linear parks, the team partnered closely with the City of Tempe. Due to their close working relationship, it's nearly impossible to discern where the large linear public park just to the North stops and the Marina Heights facility starts. The entire facility was designed with what was titled a "main street concept" where the whole first level features retail, dining establishments, fitness facilities, access to public transportation and plentiful public parking. The design team wanted it to be somewhere workers and the public could go for coffee, dinner, or to just hang out outside of work.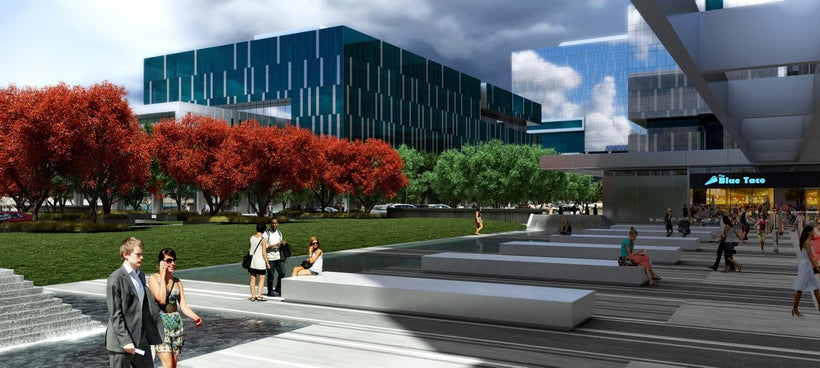 A big part of the interior and exterior space was designed to empower employees with choices. Employees have their desks where they sit for the majority of the day, but the outdoor spaces provide many additional options for work and breaks including:
• A main, open, central park space that seamlessly flows into the vast Tempe Town Lake Linear Park.
• Outdoor dining facilities adjacent to green-space and water where people can engage and sit for lunch.
• A secondary commons space, smaller in scale and designed for small group interactions or individual reflection featuring a massive public art sculpture centerpiece.
• The Arizona Room. This is an even more intimate space where people can sit in smaller groups or even individuals to recharge, refresh, work, reflect and collaborate. It is a very unique setting located between two buildings so it is out of the way of the main traffic and provides a space to seek refuge.
• Each of these spaces are furnished to support different behaviors in the space, inviting different postures and individual as well as group gatherings.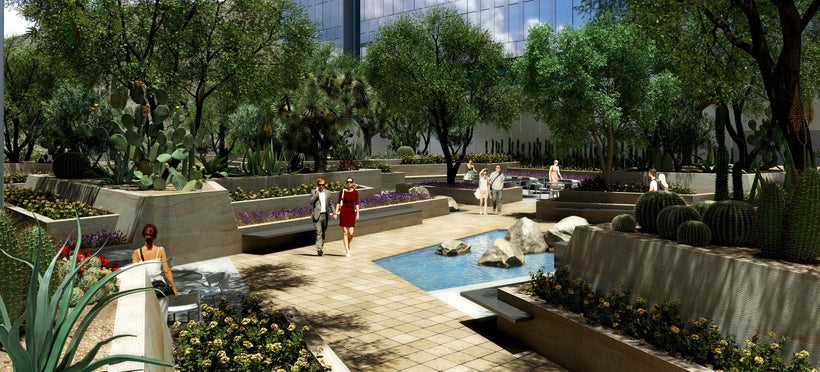 The client invested in these spaces because of the desire for employee retention, believing that the more the facility can keep employees on campus and allow them to enjoy their work environment, the more long-term retention the campus will recognize. Because call center schedules allow only two 15 minute breaks per day, and a 45-minute lunch break, the Landscape Architect prepared a walking study that included elevator time to see how long it would take to get from the top floor of each building to each of the outdoor amenity spaces. If they only had 45 minutes to take their lunch, needed to be able to get outside, eat their lunch, and come back in, travel distance needed to be minimized to make best use of actual outdoor time. The outdoor space was so critical to the success of this campus, the design team also was required to ensure there were 800 outdoor seats at any one time for people to sit. This also included carved out balcony areas that allowed workers shaded areas that were accessible in the 15-minute breaks.
THE RESULT If you jump on to #marinaheights on Instagram, you will see evidence of a successful workplace. Without prompting, many employees started hash tagging images of themselves at this new and innovative workplace because of their pride in their workplace. Perhaps this is the best proof that great design makes people feel better about their job. The cultural shift for this facility is that they are expanding the boundaries from the enclosed building to the outdoors. Employees come to work, but are not confined to the office building while there. Work can be done both indoors and out, and perhaps more importantly, the outdoor space is leveraged for recharging on site so that productivity and meaningful work can continue to happen.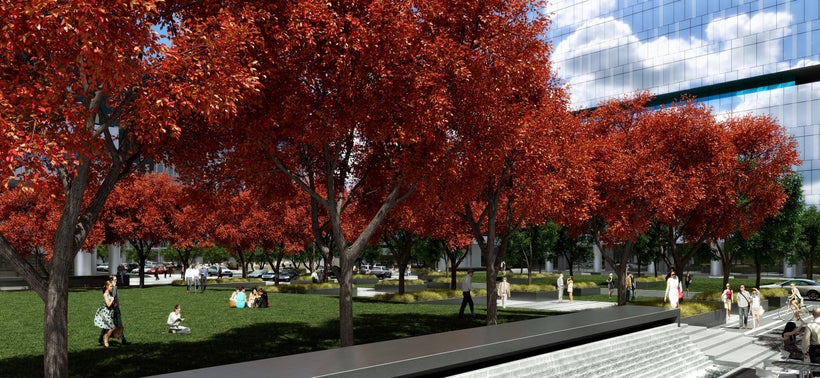 The building will be fully occupied in March 2017. As the years go by, time will tell how active the space becomes with employees and community members. Buck Yee, project architect with DAVIS says, "If you really think about the challenge at the outset, we live in a desert and started with a 20-acre deck of concrete and our charge was to try to get people outside. That was quite a challenge. But the design team had a relentless commitment to realize a clear vision: to thoughtfully activate the outdoor space with as much careful planning as the interior space so that people -employees and community members- felt welcome."
This article originally published in Workplaces Magazine, a division of the Bellow.Press on March 1, 2017. It is republished here with permission.
About the author: Amanda Schneider, LEED AP is a trends researcher, blogger for the Huffington Post, and the founder of Contract Consulting Group www.contractconsultinggroup.com, a research-led strategy firm serving the Contract Interiors Industry.
Calling all HuffPost superfans!
Sign up for membership to become a founding member and help shape HuffPost's next chapter
This post was published on the now-closed HuffPost Contributor platform. Contributors control their own work and posted freely to our site. If you need to flag this entry as abusive,
send us an email
.