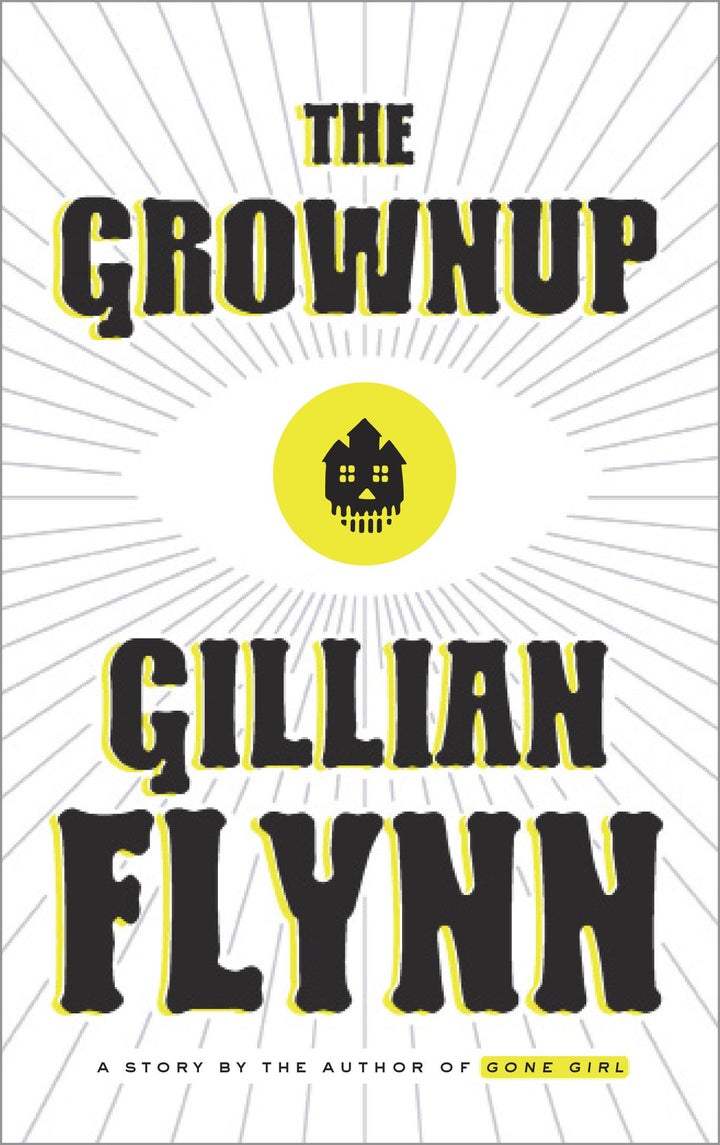 If you've read Gone Girl, Gillian Flynn's domestic thriller with a memorable, if warped, feminist manifesto nestled at its core, you already know the author has a knack for whipping up terrifying scenes that are all too believable. Her schtick is psychoanalyzing the buried resentments of married couples and bringing their worst fears to life -- with surreal levels of violence.
So, perfect for Halloween time!  
If you were seriously rattled but mostly impressed by Rosamund Pike's performance in the Gone Girl adaptation, you needn't revisit her chilly portrayal of psychopathic wife Amy to get your annual dose of scary. A newly republished scary story by Gillian Flynn is a pithy shot of spookiness that is definitely movie adaptation-worthy.
And, as a bonus, in the slim book's acknowledgements, Flynn writes: "Thanks to George R.R. Martin, who asked me to write him a story," probably fulfilling a thousand ideal dinner party guest fantasies.
The story is called "The Grownup," a title that stays enigmatic until its surprising conclusion. Its narrator is a woman just over 30, who's dabbled in petty crimes -- a theft here and there, but enough to keep her wary of the police, and barred from applying for a white-collar job. Still, she's ambitious: she put herself through school and made all As, mostly by making money from begging, a skill she learned from her lazy mother, who's got an affinity for daytime soaps and Zebra Cakes.
Her ambition lands her a job at Spiritual Palms, ostensibly a New Age aura-reading shop, but the company's main source of business is administering hand jobs. The narrator mostly does this diligently, taking pleasure in brief chats she has with some customers, who warm up to her by talking about books -- The Haunting of Hill House, The Turn of the Screw. But the narrator's years of begging for money finely honed her sense of intuition, so she's promoted to the front of the store, acting as a spiritual guide for the mostly female clientele. It's here that she meets Susan Burke, a beautiful yet disheveled-looking woman (think Amy, post-five year anniversary) who's different from the other clients. She's skeptical of the psychic process, but opens up to the narrator nevertheless: she suspects that there's a presence haunting her home.
On a visit to Carterhook Manor, the narrator encounters more than a few unsettling sites: Susan's son, Miles, appears to be more disturbed and aloof than the average preteen, and there's a mysterious splattering of blood on one of the room's walls. Not one to buy into the witchy advice she touts, the narrator becomes sincerely concerned -- and things only get weirder from there.
Ultimately, in "The Grownup," Flynn does what she does best: externalize inner human anxieties. Once she breathes life into the neuroses people harbor about their personal lives or social statuses, these fears run rampant, leaving destruction in their wake. 
PHOTO GALLERY
10 Sci-Fi And Fantasy Books To Explore
Calling all HuffPost superfans!
Sign up for membership to become a founding member and help shape HuffPost's next chapter