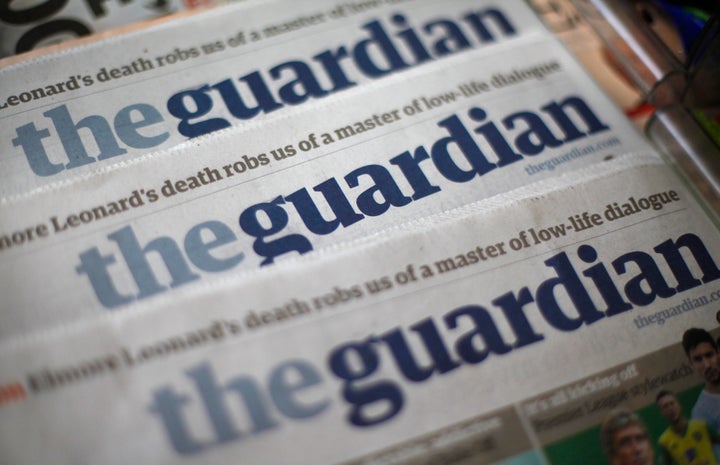 The Guardian plans to cut costs in its U.S. operation by 20 percent and is offering staff members buyouts for the second time in six months, with layoffs possibly to follow, according to sources familiar with the decision.
The British-based Guardian newspaper announced in September it was reducing staff in its U.S.-facing digital operation by 30 percent. Twenty journalists took buyouts in the fall, according to a source who is not authorized to speak on behalf of the publication. Some senior-level staffers have since left the company and have not been replaced.
Management informed staff Wednesday there would be more cuts, and gave employees a two-week window to apply for buyouts. Layoffs could follow if enough employees don't voluntarily leave.
The Guardian US union committee said in a statement it "was disappointed to hear Guardian management announce further job cuts."
"However, management's agreement to re-open the buyout window provides us an opportunity to do what is best for our membership as we did during the previous round of cuts in September," the statement said. "Since then, staff have delivered consistently strong journalism with fewer people. We expect the company to conclude contract negotiations with the same urgency it showed towards restructuring."
The Guardian's continued cuts in the U.S. come as major news organizations, including The New York Times and The Washington Post, battle for journalistic talent as the press adapts to the challenges and heightened interest in Donald Trump's presidency.
While the Times and Post have benefited from an uptick in paid subscriptions since the election, The Guardian ― which doesn't have its content behind a paywall ― hasn't been able to tap subscriptions for revenue. The British paper has tried soliciting memberships in response to the increased public appetite for supporting quality journalism.
Like other legacy newspapers, the 195-year-old Guardian is grappling with industry pressures. It announced plans last year to cut costs by 20 percent over three years in hopes of breaking even.
"Our three-year plan is a response to seismic changes in our industry, not least the shift of new and existing print and digital advertising revenues towards Google and Facebook," Guardian Media Group CEO David Pemsel and editor-in-chief Kath Viner wrote in a company-wide memo on Wednesday. "These structural trends are impacting all media businesses, not just the Guardian, and without continued action now the Guardian's long-term future remains uncertain."
Pemsel and Viner touted successes in reducing costs, but acknowledged they need to "continue to identify cost savings and efficiencies in year two of our plan."
"Over the course of the next year we anticipate this will lead to some redundancies in the UK and any such proposals will be discussed within the relevant departments," they wrote. "We will also close vacant roles across the business, and we will continue to closely manage all recruitment."
There will be "some job losses" in the U.S., Pemsel and Viner wrote, and American staffers were informed Wednesday how the company plans "to stay committed to that market."
The news of additional cuts came two days after BuzzFeed reported the Guardian scuttled plans to move its U.S. newsroom to a Brooklyn, New York, building owned by the family real estate company of Jared Kushner, the son-in-law and top adviser to Trump.
Guardian journalists had expressed concerns that sources may become wary of speaking to them in a Kushner-owned building. The company scrapped the move at a reported cost of $250,000.
Popular in the Community