It's that time again -- Mardi Gras time, that is. The Carnival season of Fat Tuesday is widely and wildly celebrated around the world in places such as Rio de Janeiro, Trinidad and Tobago, Venice and of course New Orleans. None, however, can make the claim that their Mardi Gras offers the chance to get down and dirty -- literally -- in the famed Mississippi Mud! And each year as thoughts turn to King Cake and King Creole, I invariably feel the need to try-out a new Mardi Gras in a different part of the world.
Just about this time last year, I found myself sitting on the dock of the bay in Biloxi, Mississippi but, unlike Otis Redding, I wasn't wastin' time. No, there was far too much to do and see on the Mississippi Gulf Coast and I wasn't about to miss any of it.
Costumes Fit for a Queen
A fine place to start Mardi Gras meanderings is at Biloxi's Mardi Gras Museum. Located in the historic Magnolia Hotel, this museum traces the three hundred year history of Mardi Gras on the Gulf Coast. The costumes are outrageous and quite beautiful, and the photographs of bygone celebrations gave one a true understanding of the history and continuing importance of the Gulf Coast's strong Mardi Gras tradition. Speaking of costumers, the man is Carter Church. In fact, this gentleman bears the title of Costume King. Meeting him was a delight. He regaled us with tales of his experiences through decades of creating exquisite designs. Church's mentor was none other than Romain de Tirtoff, the Russian-born painter and designer known around the world as Erte. They met in New Orleans and later in Paris; a strong friendship developed and Erte's influence can be seen in much of Church's work today. When he sees his creations walk on stage at the balls, Church says "It feels like a million dollars... the pomp, the pageantry... it all comes alive... " If you don't happen to be invited to one of these majestic balls during Mardi Gras, the next best thing is to pay a visit to the Mardi Gras Museum.
Another museum with an entirely different Biloxi bent is the Ohr-O'Keefe Museum of Art, a five-building campus designed by architect Frank Gehry to dance with the ancient live oaks on the four-acre site. Dance it does. As I gazed up at the commanding façade, it seemed there could be no better design than the one Gehry realized -- it so perfectly fits its surroundings. Construction began in 2004 and was delayed by damage during Hurricane Katrina. Finally three of the buildings opened in 2010 including its affecting Gallery of African Art; the last two openings quickly followed.
Food, Glorious Food
The Gulf Coast is a lively destination that seems to just about have it all: casinos, beaches, historic sites and unique activities like kayaking the backwaters of the bayou and bird watching in quaint towns filled with legends and lore. And food? You'll forgive me if I use a very New York phrase here: Fuhgeddaboudit! Simple, complex, off the boards -- it is amazing and you must not miss it! I had breakfast at Daddyz. Is there anything more soothing than smooth, creamy grits and cheese to wake up one's palate? I think not. Another morning found me at McElroy's on the Bayou, besotted by biscuits and sausage topped with pepper gravy. For dinner, I loved Mary Mahoney's Old French House Restaurant situated in a mansion dating back to 1737. The Mary of her namesake restaurant actually once catered a party for President Regan on the White House lawn and she's served many celebrities and dignitaries in her restaurant for over 40 years. Well, shut my mouth... and I mean this literally as I returned home with an extra five wholly unwanted pounds.
Throw Me Something, Mistah!
Perhaps the New Orleans Mardi Gras is the ne plus ultra of this celebration, but for me, I prefer doings that are slightly less frenetic and a lot more intimate. That is the Gulf Coast Mardi Gras. I had the exceptional, once-in-a-lifetime chance to ride on a float in one of the parades. Wow. It is more fun than one can possibly have while still sober (did I say sober?) Tons, yes tons of green, silver, gold and purple throws (beads) lined the walls of our float and it was clear to me at the outset that, for the next several hours, this was our job -- we were the throwers and just one look at the faces of the throwees on the street below told us that tossing the beads was to be taken seriously. We threw and threw and threw. Rest the arm? You didn't dare!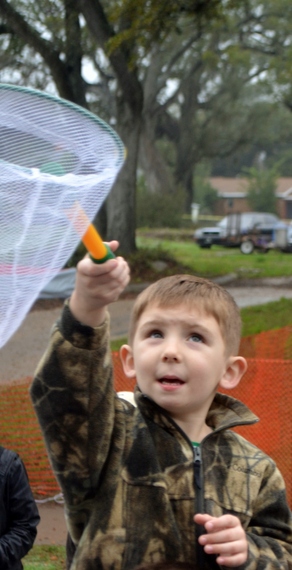 By the same token, because this was a more up-close-and-personal event, it was so much more special. Our float stopped frequently along the route and the spirit and frenzy on the sidewalks below rose up to gob-smack me directly in the kisser -- and in the heart. This is what it was all about, the sweet connection between people. Hey, we've waited all year for this!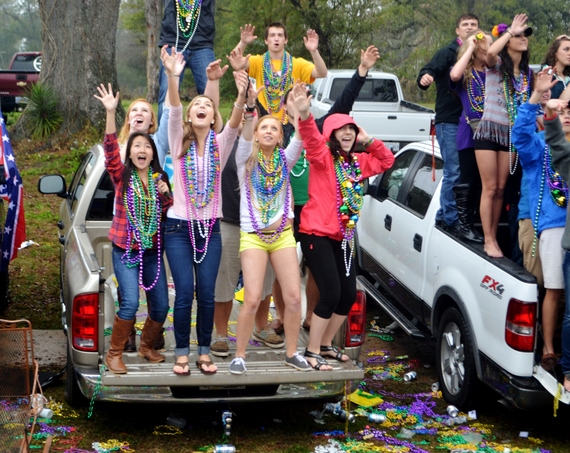 Mardi Gras 2014 promises to be every bit as gay and lively as ever. There's the Mardi Gras Mayhem with a Jambalaya Cook-Off at the end of this month and non-stop from there, parades every day. On March 3, there's a teen Mardi Gras Ball and a Children's Walking Parade for kids 12 and under. This is a non-motorized event so it's bikes, skates, skateboards, scooters and wagons. On the Big Day, March 4, Fat Tuesday culminates in scores of events, including the Mystic Krewe of Seahorse Parade, the Krewe of Neptune Parade and the yearly Gulf Coast Carnival Association Parade.
Whew... right now don't you just wanna find some cute bar, hike up on a stool, look around at all the other dazed and confused faces and order yourself a nice, long Pensacola Bushwacker. I know I did -- works every time!
There are loads of fun festivals coming up in the Gulf Coast Region this spring and summer. In April, the Southern Miss Jazz and Blues Festival, in May the Live Oaks Art Festival; there's the St. Paul's Seafood Festival in June, July ushers in the Gulf Coast Deep Sea Fishing Rodeo and at summer's end, the Shedhead Blues Festival in September. Oh, and one mustn't forget the Piece de Resistance: Christmas on the Bayou, a lighted boat parade at night in December. Exceptional.
People, mark your calendars and come on down to play on land, on sand, and for sure in that rich and lovely Mississippi Mud!