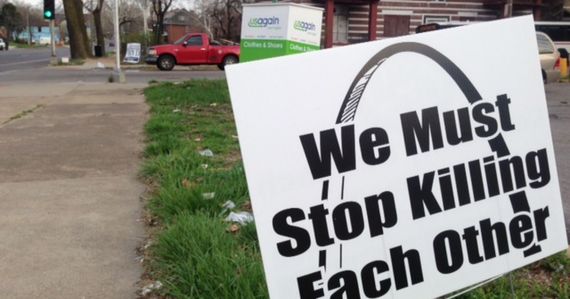 This past week I was privileged to be part of a meeting hosted by Washington University in St. Louis Chancellor Mark Wrighton. The gathering of over 50 community leaders was part of Washington University's year long dedicated initiative through their Institute of Public Health on gun violence prevention.
I was immediately struck by the strength and education level in the large class room, every seat taken either by a MD, PHD or a highly trained professional. Leaders represented our region's hospitals, major universities, faith organizations, law enforcement, prosecutors office, state and local government and dedicated community groups.
The issue is sobering. St. Louis is facing a violent crime crisis with record breaking homicide rates outpacing 2014 already by 66 percent, the majority of those due to firearms. As I write this, the number sits at 151. However, the numbers don't address the story of how families and our community are affected, which include accidental shootings, suicides and children fatalities. Convention business is compromised, corporations considering relocating to St. Louis are thinking twice and neighborhoods in almost every metropolitan zip code have suffered an incident.
I heard the desperation in the meeting from physicians who daily try to keep gun violence victims alive and faith leaders who routinely walk the streets with law enforcement in the dead of night attempting to intervene in dangerous crisis situations. Doctors bemoaned bills passing in other states preventing them from asking about guns when treating patients and a minister/rabbi team spoke of their own safety concerns while ministering in neighborhoods riddled with violence.
The room's brain power was focused on deterrence with several current approaches presented through the St. Louis Circuit Attorney's office, hospitals, faith groups, United Way community mobilization and public schools. The agenda dealt with finding best practices based on data & evaluation and commitment to a long term strategy of reducing gun violence. It was agreed that such a long term solution would require immense funding.
Finally St. Louis Alderwoman Lyda Krewson, herself a gun violence survivor, asked the "elephant in the room" question. "What were we all going to do about the enormous unlimited availability of guns?"
That was the ugly elephant sitting among us.
The meeting's purpose seemed blatantly in conflict with the state legislature's current mission to flood our city with firearms. As we strategized how to produce needed revenue from corporations and philanthropists to implement a coordinated approach to reduce the violence, I was struck by the obvious dichotomy of views.
Not one member of the GOP state legislative majority was in attendance but should have been. Not one GOP member of the St. Louis legislative caucus was there to see the anguish in the room from professionals who are working round the clock to stop the violence. Not one member of the Missouri GOP was there because their own commitment, as stated in their state and national party platform, is to the gun lobby.
Last year one of the GOP priorities was to place a constitutional amendment on the Missouri ballot, a new and improved "right to bear arms," which voters approved in the low turnout 2014 August primary election. Even though prosecutors and mayors from both St. Louis and Kansas City warned legislators of the harmful consequences of felons walking out of court after gun law violations, the amended Missouri constitution is now reality. Instead of making it harder for criminals and abusers to access guns, the GOP's proposal allows many of them to escape prosecution and stay on the streets as our urban gun violence epidemic rages on.
The collective perseverance and utmost passion to save lives exhibited by every single participant in last week's meeting at Washington University tugged at my heart. However that elephant -- the gun lobby who was not invited, had a front row seat.
As we struggle with the enormous cost of implementing various approaches to keep people safe and alive, we realize that many have accepted that gun violence in our region is a given. We are painfully aware that every strategy we attempt will be in conflict with state laws continually being passed which make unlimited guns accessible to anyone, including criminals. We know that our efforts are urgently needed yet at the same time, we watch as the gun lobby works against us. Gun industry profit and political gain are winning in Missouri.
I'm extremely proud and grateful that Washington University in my district is taking the lead to combat this ugly epidemic and has brought serious leaders together with their initiative.
Yet, the ultimate strategy which most of us can access, is to just show up on election day. Plain, simple and easy. Electing legislators who care as deeply about stopping gun violence as do each of the leaders in last week's meeting room is critical.
That life and death choice is up to us.
REAL LIFE. REAL NEWS. REAL VOICES.
Help us tell more of the stories that matter from voices that too often remain unheard.