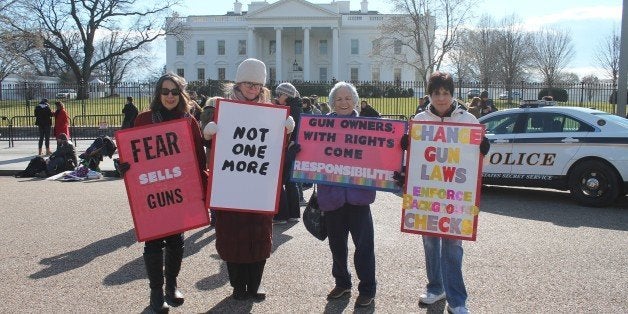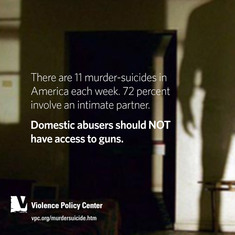 It's a horrific, yet sadly very common scenario.
A murderer (nearly always a man) picks up a weapon (almost always a gun) and takes the lives of others -- usually family members or intimate partners -- before taking his own life.
There are on average nearly 11 murder-suicides a week in America, according to a new study by my organization, the Violence Policy Center. We estimate that more than 1,200 Americans die in murder-suicides each year. Nine out of 10 of these incidents involve a gun, and 72 percent involve an intimate partner.
These tragic events, 81 percent of which occur in the home, are far more common than the public mass shootings that make national headlines. And yet, this is an aspect of our nation's gun violence epidemic that is all too often ignored.
Our study, American Roulette: Murder-Suicide in the United States, was released to mark the end of Domestic Violence Awareness Month in October. This is the fifth edition of the study, which was first released in 2002. To our knowledge, it is the largest and most comprehensive analysis available on murder-suicide in the United States.
For the study, we analyzed news reports of murder-suicides for the six-month period January 1, 2014 to June 30, 2014. We found there were 282 murder-suicide events during this period, or nearly 11 per week.
Within the six-month period, there were 617 murder-suicide deaths, of which 285 were suicides and 332 were homicides. Doubling the total number of fatalities results in a yearly estimate of 1,234 murder-suicide deaths for 2014.
There is no comprehensive national database or tracking system on murder-suicides in the United States. As a result, our study necessarily relies on news reports for its analysis. The estimate for the total number of murder-suicides per year is consistent with the standard range of estimates in medical studies.
Here is one of many horrifying examples of these incidents:
In a Catholic school parking lot in Indiana in April 2014, Remanard Castro, 55, shot and killed his estranged wife, Nina, before returning to his house and killing himself. Both of their teenage children witnessed the incident. Earlier in the year, Castro had been charged with rape and criminal confinement for allegedly assaulting Nina Castro after she had gone to his home to collect some belongings.

While most of the murder-suicide incidents took place at home, some of the murderers killed strangers in public:
In January 2014, Darion Aguilar, 19, shot and killed two strangers working at a shop in a mall in Columbia, Maryland, before turning the gun on himself. Aguilar was obsessed with the Columbine High School shooting, and examination of his journal revealed he had written about experiencing depression and having suicidal thoughts as well as killing others.
Additional findings from our study include:
Of the 282 murder-suicide events in the first half of 2014, 261 (93 percent) were known to involve a firearm.
Of the 72 percent of murder-suicides that involved an intimate partner, 93 percent were females killed by their intimate partners. Among the incidents where females were killed by intimate partners, 94 percent involved a gun.
Most of the killers in murder-suicides were men. Of the 285 suicides, 254 (89 percent) were male, 30 (11 percent) were female, and one was of unidentified gender.
Most of the murder-suicide victims were women. Of the 332 homicide victims, 252 (76 percent) were female, 79 (24 percent) were male, and one was of unidentified gender.
Forty-five of the homicide victims were children and teens less than 18 years of age.
Of the murder-suicides involving a male murderer and three or more victims, 46 percent were perpetrated by family annihilators - murderers who kill their intimate partners and their children before killing themselves.
What can we do to stop the killing? Murder-suicides are nearly always committed with a gun, and it is critical to stop potential killers from having easy access to firearms. One important step would be to restrict access to guns for individuals who have a history of domestic violence or have threatened suicide. Policymakers at the state and federal levels should pass stronger domestic violence prevention legislation to help keep guns away from domestic abusers. States should also establish domestic violence task forces. In addition, we need aggressive enforcement of laws that prohibit individuals with a misdemeanor domestic violence conviction or who are the subject of a restraining order for domestic violence from purchasing or possessing a firearm.
Finally, we should establish a comprehensive, nationwide database to track murder-suicides, in order to fully understand the scope of this problem and how we can stop it.
Suicide is commonly misperceived as a solitary, desperate act. Yet our research shows that murder-suicides claim the lives of spouses, intimate partners, and children -- and nearly always involve a gun. We must immediately take steps to help prevent this especially horrific form of domestic violence.
Popular in the Community